Center For Healthy Aging Blog
Older Adults and a Good Night's Sleep
Sleep research has been a personal area of interest ever since I took a course in it during my undergraduate days. Dr. Raymond Rainwater at the State University of New York in Oneonta taught the course and I dedicate this article to him. After graduation, I moved to Houston Texas to work as a Sleep Lab Technician at Baylor College of Medicine where both clinical evaluation and sleep research were conducted. It was an eye opening experience, which further reinforced my career path!
Sleep Physiology
It's complex! First, a look at brain activity. Each night the brain goes through 4-5, 90-120 minute long sleep cycles. Within each cycle, the brain waves change in frequency, classified as stages of sleep.
What makes us sleep?
Circadian rhythms generated by the suprechiasmic nuclei (SCN) located in the brain. The SCN serves as an internal "biological clock" that controls body temperature, levels of alertness and levels of activity. During sleep, the SCN signals the pineal gland to release melatonin and the pituitary gland it release growth hormone. Melatonin increases sleepiness and relaxation. Several other important hormones are released during sleep such as ADH, Oxytocin, and Prolactin.
Read more about hormones released during sleep and their influence on stress reduction in this article.
The release of hormones is one of the ways sleep is maintains over-all health and wellness! Across a life span sleep changes occur. Infants spend a lot of time sleeping. As we age sleep duration and time spent in REM sleep decreases.
The Sleep Prescription for Older Adults
Quantity versus the quality of sleep.
Sleep quantity

Seven to nine hours per night
Sleep "quality" or "efficiency" a measure based on the number of times one wakes up during sleep

You fall asleep in 30 minutes or less 
You seasonally through the night with no more than one awakening
if you wake up, you drift back to sleep within 20 minutes
Good sleep practices
Go to bed the same time every night. Control your environment by minimizing light, noise and maximizing comfort. Do not have any caffeine containing food or drinks within several hours of your bedtime. Soothing music that lulls you to sleep and turns off automatically may help. Other strategies include relaxation exercises, meditation or restorative yoga just before getting into bed. A glass of red wine may help you relax but excessive alcohol will disrupt sleep.
Try restorative yoga
For More Information
Contact Paula R. Seffens, Ph.D, RYT ACSM Registered Clinical Exercise Physiologist at paula.seffens@ung.edu
Previous Blog Posts
March 6-7, 2019: Symposium on Disrupting Aging
The two-day symposium on "Disrupting Aging", will be held at the University of North Georgia (UNG) Gainesville Campus on March 6 and 7, 2020. Registration fee is $75.
Wisdom Project 2030, Inc., University of North Georgia Center for Healthy Aging, and the Georgia Division of Aging Services are hosts. The Georgia Gerontology Society, Brenau University Center for Productive Living and Brenau University Leisure and Learning Institute (BULLI) are partnering in this event.
This program was approved for 6-related-hours of continuing education credit by the National Association of Social Workers - Georgia Chapter as authorized by Georgia Composite Board of Professional Counselors, Social Workers and Marriage and Family Therapist.
June 4, 2019: Wisdom Project Collaboration Agreement Signed
We are so pleased to announce that on June 4th 2019, the University of North Georgia signed a Collaboration Agreement with Wisdom Project 2030, and the UNG Center for Healthy Aging. We were fortunate that our media team was on-hand to capture the moment.
Past Wisdom Project participants have improved the quality of life in Hall County for all citizens having created the iTN Lanier transportation services for seniors, a docent program at Brenau University Art Galleries, a community education program for Rape Response, and facilitated a joint venture between Gainesville and Hall County to conduct a drill core study that improved the tonnage rating of the Lee Gilmer Memorial Airport. For these initiatives and more, The Wisdom Project has been recognized in national and state publications for its innovation and benefit to the Hall County community.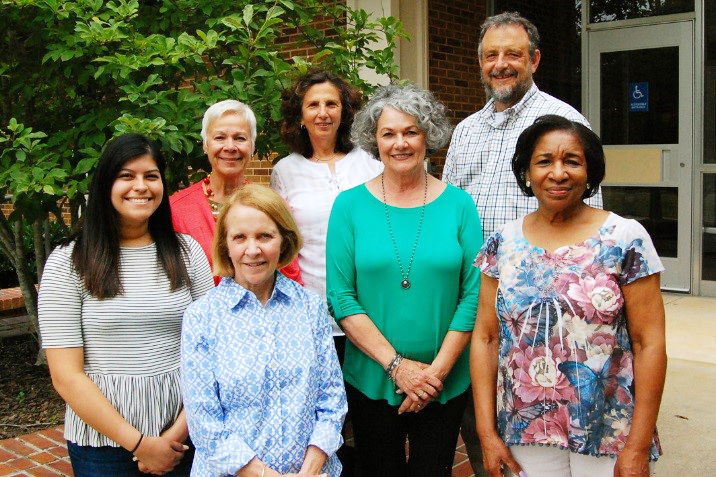 Gerontology program students, at both the undergraduate and graduate level, will be working with the 2019 Wisdom Project leadership education program. 
For More Information
If you have interest in learning more about Wisdom Project 2030 please don't hesitate to contact Pamela Elfenbein, Acting Director of UNG Center for Healthy Aging, at pamela.elfenbein@ung.edu.
March 8-15, 2019: Students Care Internationally for Older Adults
During March 8-15, 2019, six students and two faculty from the nursing department engaged in a health mission trip to Cochabamba, Bolivia. Over 487 patients were seen during the week ranging in ages from 3 months to 99 years. Students truly appreciated how different healthy aging can look in different areas of the world.
The typical chronic diseases we see in America are not as prevalent in Cochabamba, Bolivia. As a matter of fact, older adults in Bolivia are living healthy well into their 90's due to a relatively healthy diet and many hours spent walking and physically working. Although considered a third world country, Bolivia boasts some of the longest surviving individuals.
On a previous trip, students cared for a man who was 102 years of age and walked 5 miles down a mountain to come to the clinic. Bolivia does have a national Medicare type system for adults once they reach the age of 60; however, due to the relative costs of healthcare, many older adults are not able to afford routine preventative care. It is only through charitable health mission work that many of the adults receive basic health care.
For More Information
Contact Carolynn Desandre, Assistant Dean of College of Health Sciences & Professions, at carolynn.desandre@ung.edu