Updates & Events
2021
January
UNG's Institute for Healthy Aging, College of Education's Appalachian Studies Center and the Blue Ridge Campus created the Personal Enrichment, Action and Knowledge Series (PEAKS), which is a monthly program of engaging and seasonally connected presentations designed to meet the needs of the region's rapidly growing older adult community.
Visit the PEAKS page for more information.
2020
June 2020: Generation to Generation Project
The Center for Healthy Aging started the Generation to Generation Project. This project aims to document stories from the elderly by collaborating with faculty and students in the departments of Human Services, Gerontology, and Physical Therapy. 
May 19, 2020: Virtual Town Hall
2019
March 6-7, 2019: Symposium on Disrupting Aging
The two-day symposium on "Disrupting Aging", was held at the University of North Georgia (UNG) Gainesville Campus on March 6 and 7, 2020. 
Wisdom Project 2030, Inc., University of North Georgia Center for Healthy Aging, and the Georgia Division of Aging Services are hosts. The Georgia Gerontology Society, Brenau University Center for Productive Living and Brenau University Leisure and Learning Institute (BULLI) are partnering in this event.
This program was approved for 6-related-hours of continuing education credit by the National Association of Social Workers - Georgia Chapter as authorized by Georgia Composite Board of Professional Counselors, Social Workers and Marriage and Family Therapist.
Find more information on the speakers and the schedule of Events on the Wisdom Project 2030 Disrupting Aging Symposium page.
June 4, 2019: Wisdom Project Collaboration Agreement Signed
We are so pleased to announce that on June 4th 2019, the University of North Georgia signed a Collaboration Agreement with Wisdom Project 2030, and the UNG Center for Healthy Aging. We were fortunate that our media team was on-hand to capture the moment.
Past Wisdom Project participants have improved the quality of life in Hall County for all citizens having created the iTN Lanier transportation services for seniors, a docent program at Brenau University Art Galleries, a community education program for Rape Response, and facilitated a joint venture between Gainesville and Hall County to conduct a drill core study that improved the tonnage rating of the Lee Gilmer Memorial Airport. For these initiatives and more, The Wisdom Project has been recognized in national and state publications for its innovation and benefit to the Hall County community.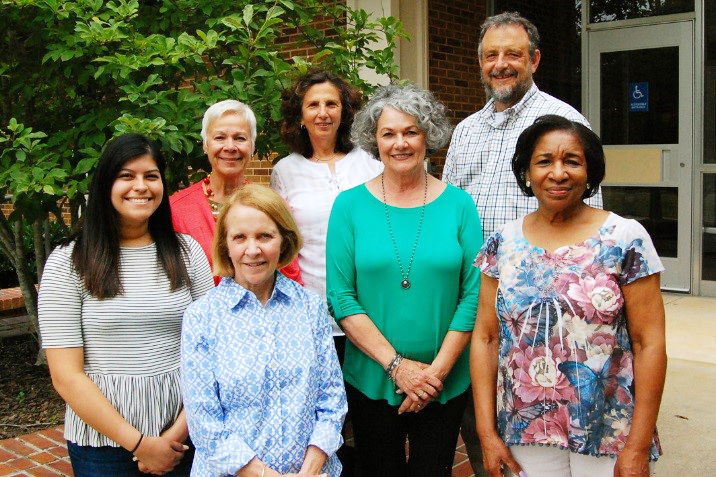 Gerontology program students, at both the undergraduate and graduate level, will be working with the 2019 Wisdom Project leadership education program. 
For More Information
If you have interest in learning more about Wisdom Project 2030 please don't hesitate to contact Pamela Elfenbein, Acting Director of UNG Center for Healthy Aging, at pamela.elfenbein@ung.edu.
March 8-15, 2019: Students Care Internationally for Older Adults
During March 8-15, 2019, six students and two faculty from the nursing department engaged in a health mission trip to Cochabamba, Bolivia. Over 487 patients were seen during the week ranging in ages from 3 months to 99 years. Students truly appreciated how different healthy aging can look in different areas of the world.
The typical chronic diseases we see in America are not as prevalent in Cochabamba, Bolivia. As a matter of fact, older adults in Bolivia are living healthy well into their 90's due to a relatively healthy diet and many hours spent walking and physically working. Although considered a third world country, Bolivia boasts some of the longest surviving individuals.
On a previous trip, students cared for a man who was 102 years of age and walked 5 miles down a mountain to come to the clinic. Bolivia does have a national Medicare type system for adults once they reach the age of 60; however, due to the relative costs of healthcare, many older adults are not able to afford routine preventative care. It is only through charitable health mission work that many of the adults receive basic health care.
For More Information
Contact Carolynn Desandre, Assistant Dean of College of Health Sciences & Professions, at carolynn.desandre@ung.edu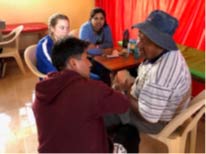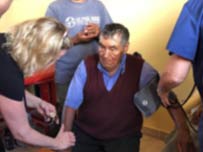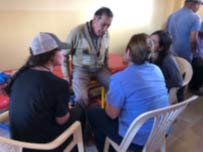 Contact Information
Dr. Pamela Elfenbein
Director, Institute for Healthy Aging
Email: healthyaging@ung.edu