IRB Manager
IRB applications and notifications are submitted, processed, and reviewed through UNG's IRB Manager. Researchers can manage and track their IRB applications and approved protocols on this online portal. All applications to the IRB (including new research applications, applications for continuing review, research modification requests, and course-related research notifications) should be submitted through the IRB Manager online portal. The IRB does not accept paper or emailed applications. To login to UNG's IRB Manager, using your UNG username and password, please visit the following webpage: IRB Manager Login.
IRB Manager FAQs
Do I need to create a username and password for UNG's IRB Manager?
All UNG faculty, staff, and students with a current UNG username and password can use those login credentials to login to UNG's IRB Manager. Non-UNG researchers must follow the link on the login page to register for an account.
How do I begin a new IRB application?
After logging into IRB Manager (UNG IRB Manager Login), click the link in the left hand column entitled "Click here to start the IRB Application Portal." From there you will have the option to start a new regular IRB application (Form 1.1), a new alternative application (Form 1.5), or a notification about course-related research (Form 2.1). The IRB Application Portal also includes a tool to determine which application is required for your projects, as well as tool to determine which CITI Training modules are required for your research.

How to do I submit a form for an existing IRB approved study (i.e. research modification)?
For existing studies approved by the IRB, you must navigate to that study's page on IRB Manager to submit forms for that study. A listing of studies you are associated with are on your IRB Manager homepage/dashboard under the "My Studies" section. To navigate to the study's page, click on the study number. When you are on the study's page, click the "Start xForm" link in the left had column, and click the link entitled "IRB Protocol Portal." Once you are in the IRB Protocol Portal, you have the option to begin forms for your study, including forms for continuing review (Form 1.2), notification of completion of a study (Form 1.3), research modifications (Form 1.4), and reporting of an unanticipated problem or adverse event (Form 4.1).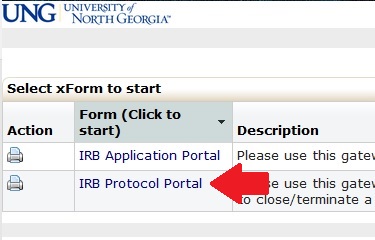 Can I see the questions on an application/form before beginning to complete the application/form?
Yes. Each form has a header section, which includes a drop down menu to the various pages of each form. Using this drop down menu, you can view the main questions on each page. Please note that answers to these main questions may trigger additional questions asked.

I started a form earlier, but did not submit it. Can I go back to that form to complete it?
Once you can begin a form, your progress will automatically be saved, and you can return to the form and continue to edit any response to a question before submitting the form. You can find your forms in progress on your IRB Manager homepage/dashboard under the "xForms" section. Those forms will be marked "unsubmitted."

When I am entering research personnel in the application, I am receiving a "Contact not found" error message. What do I do?
If you receive a "Contact not found" error message, you can add this contact by clicking the link entitled "To add a new contact not in the system, click here." This will open up the Add Contact form which will enable you to add the contact's information into IRB Manager. Once you have submitted the Add Contact form, you can return to your application and add the contact to the Research Personnel table.

Where do I attach my CITI training documents to my application?
CITI training for all UNG faculty, staff, and students listed in an IRB Form 1.1 is automatically checked by IRB Manager at the time of submission. Based on the type of research listed in the application, IRB Manager will check for expiration dates for the appropriate training for that research. These expiration dates will appear on the "CITI Certification Check" page in the application. IRB Manager also checks for completions of the CITI IRB Chair and IRB Member Courses, as those courses can be substituted for other required training. If an UNG student has completed NIH training, a copy of the completion report should be attached in the "Other UNG-Based Research Personnel" table on the "Basic Information" page. Please note that NIH training is only accepted for undergraduate UNG student researchers that are not the principal investigator (PI). Graduate student researchers and undergraduate PIs should complete the appropriate CITI training. To determine which CITI training courses should be completed for IRB approval, please visit the CITI Certification/Training page.
Where should I attach the CITI training documents for research personnel who are not affiliated with UNG?
In Form 1.1, you can attach CITI or NIH training from non-UNG research personnel in the "Other Non-UNG Research Personnel" table on the "Basic Information" page. For non-UNG PIs, you can attach your CITI training documents on the "Other Information and Documents" page, which is one of the last pages of the form.
Why is my or my research team's CITI training listed as missing on my IRB application (Form 1.1) even though it has been completed?
This could occur for two reasons. IRB Manager uses your UNG email to check for CITI training. Please ensure that your UNG email address is listed as your primary email address in your profile on the CITI website. For UNG faculty and staff that email address must be your FirstName.LastName UNG email address. Also, IRB Manager captures CITI training data every 24 hours. If you or a research team member completed CITI training on the day you are completing your application, it is possible that IRB Manager has not captured that data yet. If you know this to be the case, it is recommended that you wait 24 hours to submit your application. When you return to your application after that 24 hours, the completed CITI training should be indicated the CITI Certification Check page.
Can I edit a form after it has been submitted?
No. Once a form is submitted in IRB Manager, it cannot be edited. If the IRB requires changes or clarifications regarding a submitted form, it will be returned to you, and at that time you will be able to make edits and resubmit the form.
My application has been returned to me for changes or clarifications. How do I make changes and resubmit the form?
In the email you receive requesting the changes or clarifications to your application, there will be a link to your application. Clicking that link will allow you make any changes necessary, including attaching any additional or revised documents. You can also find any form that has been returned for changes or clarifications on your IRB Manager home page/dashboard. Those forms will be in the "xForms" section and will be mark as "awaiting your attention." Please ensure you click the "Submit" button on the last page once you have completed your changes. Failure to click the "Submit" button will result in the IRB not receiving your changes and could delay your application's review.

I am submitting a Notification of Course-Related Research (IRB Form 2.1). How do my students complete their form (IRB Form 2.2)?
When a faculty member completes and submits the first portion of a course-related research form, he or she will receive an instructions on how students should complete a Form 2.2, including a link to the form. Once all students/student groups submit their Form 2.2, the faculty member should return to the Form 2.1 and complete the second portion of the form and submit the form to the IRB. Please note that if student research may result in publication or conference presentation, a regular IRB application (Form 1.1) should be submitted, not a course-related application.
Additional IRB Forms
Below is a list of additional IRB Forms that may be attached to applications in IRB Manager. If you have any questions and/or you cannot find a particular form, contact the IRB Chair.
| Form Name | Additional Information |
| --- | --- |
| Informed Consent Template (for research with adults) (Word) | The consent form should be used to give adult participants the information they need to know about the research in order to decide whether or not to participate. This new template is compliant with the Revised Common Rule. It includes instructions and suggested text. Modify the text as needed to fit your specific research project. (Updated Jan 28, 2019) |
| Informed Consent Template (for research with children) (Word) | The consent form should be used to give the parents/guardians the information they need to know about the research in order to decide whether or not to allow their children to participate. This new template is compliant with the Revised Common Rule. It includes instructions and suggested text. Modify the text as needed to fit your specific research project. Note that you will also need to create and submit a submit a separate assent form for the children modeled after the suggested guidelines. (Updated Jan 28, 2019) |
| IRB Form 3.2 – Oral (Informed) Consent | Please include this form for any research in which written consent is difficult or impractical to obtain but passive or implied consent is avoided (e.g. ethnographic research, certain oral history studies). |
| IRB Form 6.1 - HIPAA Data Use Agreement | The data use agreement is a requirement of the Health Insurance Portability and Accountability Act of 1996 ("HIPAA") and the Health Information Technology for Economic and Clinical Health Act ("HITECH Act"). It applies to research that involves individually identifiable health information. While the data use agreement can be waived by the IRB under certain circumstances, the default procedure should be to include it with your application.  |
| IRB Form 6.2 - HIPAA Privacy Authorization | This form needs to be filled out in addition to a potential informed consent form (though the two can be combined) whenever the research aims to use or disclose medical information for a project. Visit the HIPPA Privacy website for more information. |
| IRB Form 6.3 - Application for IRB Waiver of HIPAA Privacy Authorization | Please fill this form out if you think that your research project qualifies for a HIPAA Privacy Authorization Waiver (also see IRB Form 6.2). The form is used by the UNG IRB to determine whether your project involves no more than minimal risk to the privacy of individual participants and that it meets all of the criteria stipulated in the HIPAA Privacy Rule. |
| IRB Form 7.1 - Student Consent for Release of Non-Directory Information | To comply with the Family Educational Rights and Privacy Act of 1974 (FERPA), this form may need to be filled out when a researcher seeks to use non-directory student information for research purposes. For more information, please check the UNG registrar and FERPA websites and/or contact the IRB. |
| IRB Form 7.2 - Revocation of Access to  Non-Directory Information | Researchers that have previously asked students for permission to release non-directory information for research purposes should share this form with their participants. Under FERPA rules this form gives students the right to revoke, change and/or otherwise limit the scope of their initially given permission/s. |
| IRB Form 8.1 - Deed of Gift | This form needs to be filled out when the researcher wishes to transfer the interviewees' rights to their interviews (e.g. in oral history research) to an individual (e.g. the researcher), and/or an institution (e.g. a library). For more information, please visit the following to links: Deed of Gift / Oral History or contact the IRB. |