Kyle Clark
Where do you work, and what do you do in your current occupation?
I work in the University of Michigan (UM) in the Library's conservation laboratory and my job responsibilities consist of performing conservation treatments on bound special collections materials ranging from medieval manuscripts to early twenty first century bound volumes. In addition to performing conservation treatments I also serve on a variety of committees and focus groups. Prior to beginning work here at UM I worked in the conservation laboratory at Emory University after completing a MFA in book arts at the University of Alabama's School of Library and Information Studies
What do you enjoy about your current to occupation? Do you consider yourself successful? In what way?
Working in conservation allows me to work on the front lines of preserving the record of human knowledge. Knowing that I've made a positive intervention into the life of a damaged book, making sure that it doesn't degrade any further, provides me with a feeling of satisfaction. Additionally, working in the conservation lab at the UM Library provides me with the opportunity to work with one of the most impressive manuscript collections in the country.
As a conservation professional with a bookbinding and book arts background, I have been able to explore my research interests. One such interest is the study of medieval and early modern Greek manuscripts. Currently, I'm working on a project with a fellow researcher in which I'm examining the binding/structural characteristics of one of our manuscripts through the creation and documentation of a facsimile binding. The process of examination and production will help inform future book research and better our understanding of the breadth and variation within late medieval to early modern Greek manuscripts.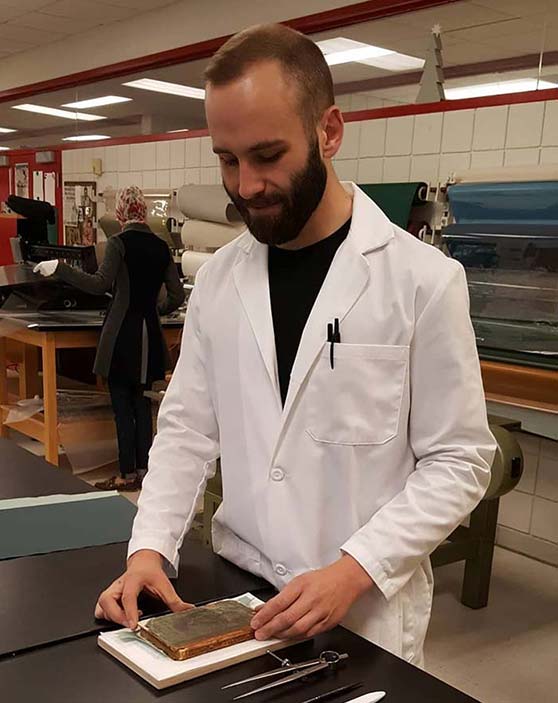 What led you to pursue your current line of work?
While in graduate school at the University of Alabama I spent a good bit of time attending workshops and professional conferences such as Paper and Book Intensive and the Guild of Book Workers Standards of Excellence seminar. At those events I was able to network and meet with book professionals working in fine art, fine craft, academia, and conservation. All of these fields appealed to me but the conservators seemed to be able to work with historic collections, continue to pursue their artistic and research interests, and teach in a variety of settings. Given my own interests in history, art, research, and teaching I felt that conservation would suit me best.
Do the skills and knowledge that you gained as a student in the Department of Visual Arts (DoVA) contribute to your current occupation? If so, in what way?
Absolutely. At UNG I took a wide range of studio classes including book arts, printmaking, drawing, photography, ceramics, and all of the foundation courses. Having technical knowledge of a wide variety of artistic mediums helps inform my daily work within the conservation lab. Knowing about book and paper arts, print mediums, drawing, and 3D design are staples of my work.

Some of the more valuable skills that I learned in DoVA were not directly related to studio work. Working with Dr. Dockery and taking art education courses instilled a high standard for all of my work. The assignments within her classes and the subsequent student teaching pushed me to my academic edge and I'm grateful to have had the experience. Additionally, I find the experience of writing curriculum has been invaluable not just in academia but also in most professional tasks. I constantly find myself relating to the lessons learned in writing curriculum to my committee work, teaching interns, giving presentations, designing workshops, and within my professional development here at the UM Library.

Another valuable experience I had at DoVA was the individual direction and attention that professors are able to give all of their students. Professors Michael Marling, Craig Wilson, Pamela Sachant, Alex Kraft, Jon Mehlferber, Ana Pozzi Haris, Paul Dunlap, and others that I'm sure I'm missing were generous in sharing their knowledge and time. If I had a particular interest in a specific medium or technique I never felt out of place asking for assistance. During my thesis I threw in a few small additions using alternative process photography and printmaking. These were things that I had some experience with but conferring with Michal Marling and Paul Dunlap helped bring my work into focus. To sum it all up, I learned a ton and was never turned away for wanting to know more. 
Now that you have a vantage point to reflect on your art education, what would you do differently?
Knowing what I know now, I think I would have tried to do an additional internship with an independent artist or craft person. Learning about material and technique are important but also gleaning what you can about the practical business side of fine arts and crafts is important even if you don't plan to be a full time artist or craftsperson. In conservation labs you still have to deal with budget considerations, balancing time, managing employees, and conducting outreach. 
Do you have any words of wisdom for current DoVA students?
Network, Network, Network. Attend professional conferences, make friends, collaborate. I wouldn't be where I am today without the friends I've made at places like Paper and Book Intensive and the Guild of Book Workers. Those friendships lead me to internships at Uppsala University in Uppsala, Sweden, Emory University in Atlanta, Georgia, and my subsequent employment at Emory and the University of Michigan