Aquatics - Dahlonega
Pool Closure Announcement
Due to required training for the Corps of Cadets, the Memorial Hall Pool will be closed for morning swim hours on the following dates:
March 25, 2021
April 5, 2021
April 21, 2021
May 3, 2021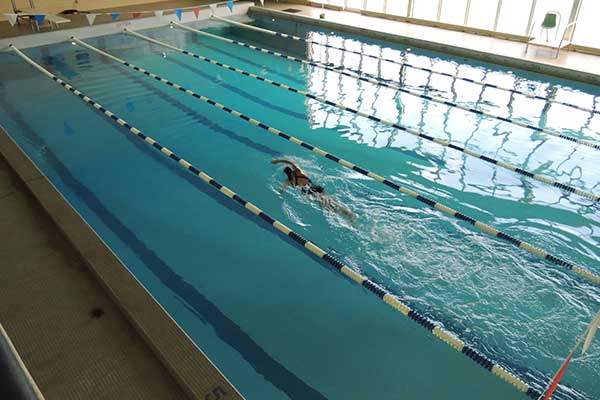 Facility Attributes
75 ft long
Six lanes wide
Approximately 80-83 degrees
12 feet deep end
4 feet shallow end
Locker rooms available
Rules and Regulations
Proper UNG ID must be presented to the lifeguard upon entering the pool.
Swimming allowed only when lifeguard(s) present.
Clean and proper swimming attire is required. Cutoff shorts are not allowed.
Only appropriate sport drinks or water are allowed on deck; all other food and drink is restricted.
No

 

glass allowed in facility.
Do not

 

hang on or swim across lane lines.
No spitting, spouting of water or blowing nose in pool.
No running, rough play or excessive noise.
Long distance underwater swimming is prohibited.
Kickboards, noodles, and aqua joggers are available for workouts; they are not to be used as life preservers.
Minors under 18 years of age must be accompanied by a legal guardian or pre-approved adult and must show UNG ID card upon entrance.
Adults with non-swimming children must be within an arm's reach at all times; this also applies in the water.
Swim diapers or plastic pants are required for children who wear diapers.
The stairs are for entering and exiting the pool, please do not block these areas.
Staff will provide assistance with the chair lift upon request.
Do not

 

swim if you have an infectious or communicable disease.
Do not

 

leave valuables unattended. Utilize day lockers. We do not take responsibility for loss or theft.
No pets allowed.
Lane usage is on a first-come first-serve basis. We strongly recommend sharing lanes with other swimmers as an act of courtesy.
Any activities that could be potentially disruptive to swimmers on other lines of the pool should be limited to outside lanes in order to minimize impact.
The diving board can only be used if the three lanes closest to it are not being used. Individuals must wait to use the diving board until the appropriate lanes are empty, or until swimmers can be re-located to available lanes.
 Patrons using the facility are expected to comply with the requests of the Lifeguard and all other Aquatics staff members.
Locker Room Rules
Department of Campus Recreation and Wellness Staff and internal or external parties or groups utilizing campus recreation and wellness facilities are responsible for the strict enforcement of all rules and regulations. Department of Campus Recreation and Wellness has the right to modify these rules based on circumstance. Failure to comply will result in ejection from the facility.
Parents are responsible for their children in the facility.
Children over four (4) years of age are not permitted in the locker room of the opposite sex and are only allowed in the locker room under the supervision of the same sex parent or guardian.
Department of Campus Recreation and Wellness Staff may assist in checking availability of the locker rooms should other accommodations need to be made.
In some recreation facilities, family changing rooms are available. Please see Department of Campus Recreation and Wellness Staff for availability of these rooms. Should Department of Campus Recreation and Wellness Staff not be available, it is the responsibility of the parent or guardian to make arrangements for their child.
Reservations
University groups may reserve the pool through the Department of Campus Recreation and Wellness by completing the Facility Reservation Request form and returning it to the Department of Campus Recreation and Wellness Business Office. Non-university groups may contact Professional & Continuing Education at 706-864-1918 for rates and availability.
Address
130 College Circle
Dahlonega, GA 30597