The students went through Freshman Recruit Orientation Group training, commonly called FROG Week – held the week before classes start at UNG for more than 50 years.
"The purpose of FROG week is to introduce recruits to the dual responsibilities of life as a student and a cadet at UNG and to their student-led chain of command; provide orientation to our military customs, courtesies and traditions; orient students to the campus; promote teamwork at the squad level; teach the basic standards needed to sustain the maintenance of good order and discipline; and prepare students for academic success once classes begin," said retired Col. Tom Palmer, commandant of cadets at UNG and also a UNG alumnus who experienced FROG Week as a cadet himself.
New cadet recruits arrived on Tuesday, Jan. 3 for in-processing, but the winter storm at the end of the week presented a challenge, according to retired Maj. Richard Neikirk, assistant commandant of Cadets at UNG.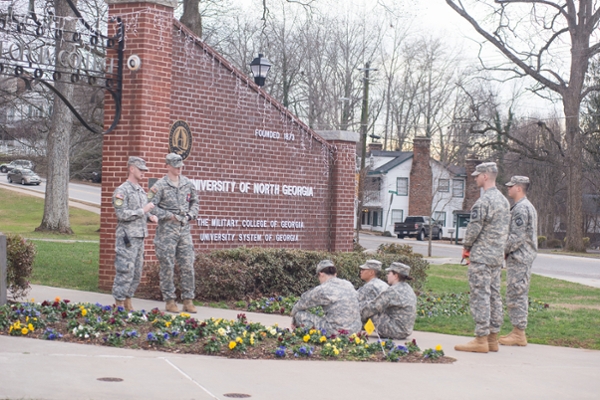 During FROG Week, cadet recruits also learn more about the traditions of the Corps of Cadets and the university.
"Our Operations Staff, retired CW4 Benny Wyrick and retired Sgt. Maj. Terry Baumann did a fantastic job working with our cadet leadership to get the FROGs trained this week," Neikirk said. "We were able to adjust the training schedule to get the FROGs the required training before the ice and snow hit Dahlonega, including rappelling at Camp Merrill and the 6.2-mile road march in the Chattahoochee National Forest early Friday morning. Though we had to cancel the Crown Mountain Run on Sunday due to the weather, we should be able to conduct the run this week to complete their training."
It's not just the weather that makes FROG Week in spring semester different from fall semester. In recent years the training week also was added prior to spring semester as the number of cadets enrolling in spring has steadily grown each year. Many freshman cadets at UNG choose to start their college career in spring after attending Basic Training or Advanced Individual Training as members of the U.S. Army Reserve or Georgia National Guard.
FROG Week also serves as a training exercise for current cadets, according to Neikirk. Like many corps events and activities, UNG cadets plan and execute FROG Week, with oversight from Commandant of Cadets staff and Department of Military Science instructors.
For the recruits, the week of training stresses the importance that UNG's Corps of Cadets places on leadership development.
"The entire week demonstrates to the incoming class that we strongly desire to develop them into highly educated leaders of character," Palmer said. "Importantly, the squad leader who will supervise the new student for the entire semester leads him or her through all six days of FROG Week, clearly establishing the chain of command from day one."