The University of North Georgia (UNG) has been named a Gold-level Military Friendly School Award recipient for 2017.
"All of our Military Friendly Award recipients set the standard for excellence," said Daniel Nichols, chief product officer of Victory Media and head of Military Friendly development. "They offer exceptional examples of what it means not just to build a program that meets federal requirements, but one that serves the military and veteran community from classrooms to careers."
New this year, Military Friendly Awards showcase the most powerful and effective programs of more than 1,200 post-secondary schools that were designated as "Military Friendly" in November 2016. Of those designated, 541 schools were awarded for excellence in different categories; UNG is in the Large Public School category, and was one of only two institutions in Georgia to earn a Gold Medal in that category. To earn a Gold Medal, schools must have scored within 20 percent of the 10th ranked institution.
One veteran who experienced UNG firsthand is recent graduate retired Sgt. First Class Chris Cato, a second-generation UNG graduate who earned a bachelor's degree in general studies and is considering applying to UNG's Human Services Delivery Administration program. While a student, Cato served as vice president of the UNG chapter of Student Veterans of America, and remains a proponent of helping veterans reconnect with education.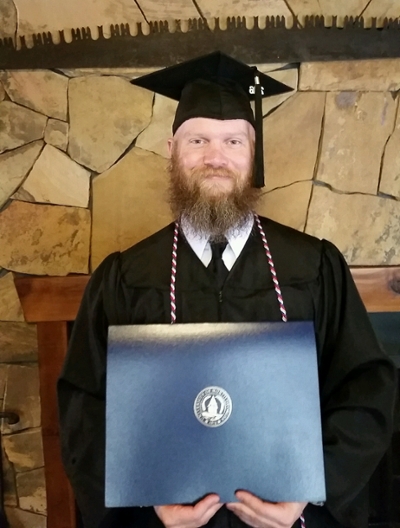 Chris Cato holds his UNG diploma.
"Veterans who begin or return to school are often faced with various other stressors compared to that of their traditional student counterparts — we begin our college journey with years of life already behind us," Cato said. "This is one reason that veterans connect more easily with each other than we do with civilians, and that's why I spent much of my time at UNG trying to help grow the support network for veteran students."
After 20 years in the Army as an Airborne Ranger, it seemed a natural fit for Cato to attend UNG, which is designated as The Military College of Georgia, and is one of six Senior Military Colleges in the nation. He said the university's support of veterans, especially faculty and staff being so veteran friendly, was very helpful. Ever looking for ways to improve the experiences of those who would attend after him, he has advocated for expanding the ways that UNG supports its veterans.
The Military Friendly Schools designation process includes extensive research and a data-driven survey of leading colleges nationwide. The survey, methodology, criteria, and weightings are developed with the assistance of an independent advisory council of educators and employers, and are tested based upon the weightings and methodology established by Victory Media. Schools must have successfully completed a 2017 Military Friendly survey and been designated as a 2017 Military Friendly School to be considered for the Awards program. The names of awardees are published online at https://militaryfriendly.com.