The University of North Georgia (UNG) was announced as the winner of the 2017 NCAA Division II Award of Excellence, an annual accolade recognizing positive campus and community engagement events.
UNG was selected as one of 25 national finalists for its Operation Nighthawks of Honor initiative, which the university's athletics department announced on the 14th anniversary of the Sept. 11 attacks on the United States. The initiative enables each of the university's sports teams to annually celebrate the men and women of the U.S. military who have bravely served or are serving the country, paying specific tribute to service members who have a distinct connection to UNG.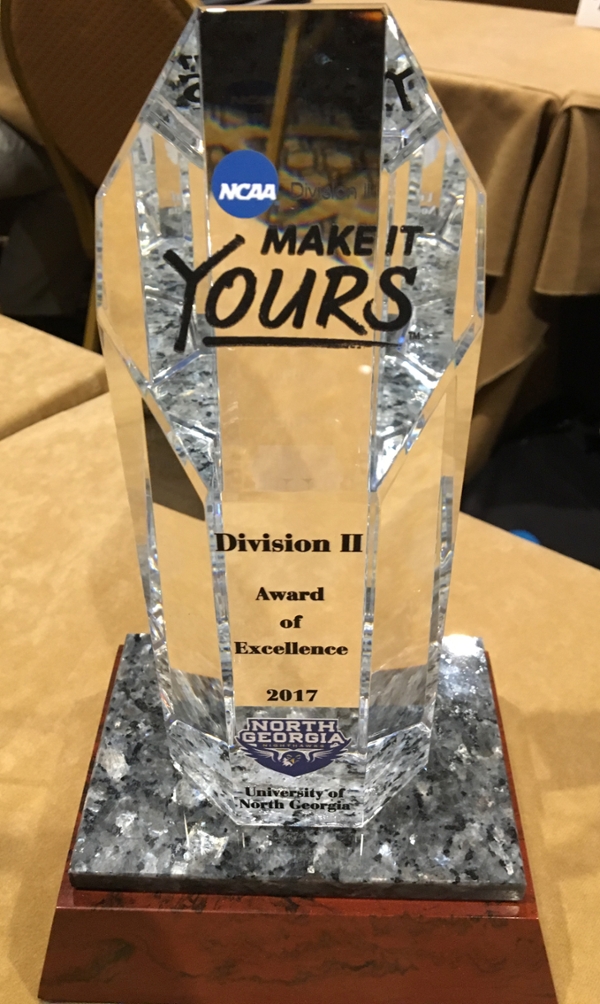 The 2017 NCAA DII Award of Excellence
UNG President Bonita Jacobs, UNG Athletics Director Lindsay Reeves and student-athlete Hannah Peevy, national Division II Student-Athlete Advisory Committee member, accepted the award on Jan. 21 at the NCAA Convention in Nashville, Tennessee. The award includes a $1,500 grand prize for future community engagement initiatives and a nationally televised football or basketball game during the 2017-18 season.
"Winning the NCAA Division II Award of Excellence speaks volumes to our student-athletes' commitment to service and their respect for those that have honorably served our country," Reeves said. "Community engagement and giving back have long been hallmarks of our athletics program, and we wanted to take that to the next level for this important initiative. Operation Nighthawks of Honor is about recognizing those military service members from our university who gave everything, and supporting our ROTC program as it trains the next generations of Army leaders."
Each of the university's sports teams are assigned a UNG graduate or former student who was killed in action while serving the country; the teams commemorate their service members throughout their respective seasons. At the end of each season, memorabilia used to honor the fallen soldier is sold in an online auction, with the all of the proceeds supporting the UNG Boar's Head Brigade Corps of Cadets Endowment Fund.
"As an American it is so easy to take things for granted, freedom being one of them, and it is important for us to realize we were not given our freedom. That freedom has been fought for by American heroes, many of whom made the ultimate sacrifice," said Trevor Sams, a senior infielder for the Nighthawks baseball team. "Although nothing can ever repay them or their loved ones for what they lost, we all will do our best to honor our service members."
One of only six federally designated senior military colleges in the nation, UNG carries the distinction of The Military College of Georgia, and its nationally recognized Army ROTC program attracts students from across the nation.
Each year, Division II selects one finalist from each conference and one independent representative to be recognized for on-campus initiatives or events that exemplify any of the six Division II attributes: learning, balance, resourcefulness, sportsmanship, passion, and service.
This year's Division II finalists hosted events that honored members of the military, benefited local youth, assisted people with disabilities, raised money for positive causes and more.