Several episodes of the new military combat drama series "SIX" on the History channel feature Zechariah Pierce, alumnus of the University of North Georgia (UNG) and assistant professor in the Gainesville Theatre Alliance (GTA).
"SIX" debuted in January, and follows members of Navy SEAL Team Six, modern American warriors, whose covert mission to eliminate a Taliban leader in Afghanistan goes awry when they uncover a U.S. citizen working with terrorists.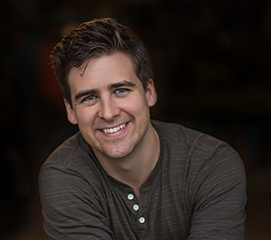 Zechariah Pierce
"Our latest research indicates that 82% of our graduates since 1998 are currently working professionally in the field throughout the country and overseas. That success is the result of the quality of our faculty and our professional guest artist program," said Jim Hammond, artistic and managing director of GTA. "When a theatre major arrives on campus, that student immediately starts working with professional directors, designers, choreographers and actors. Zechariah benefitted from this model as a student, and now 10 years later, he is one of our teaching professionals with the industry training and connections to help our graduates take the next successful step in building a career. Zechariah is so valuable to our students because he's a wonderful theatre artist and also a gifted and inspiring teacher."
In SIX, Pierce landed the role of a pastor who leads a church where one of the SEAL team members attends with his wife. Pierce's character appeared in episode four and is scheduled to appear again in episode six, which will air on Feb. 22.
"A huge part of my training when I was in school was becoming a well-rounded artist and learning everything involved in production, and that has served me very well," Pierce said. "In this role, I've had to come in prepared with a fully realized character without much rehearsal, but GTA helped me feel ready for that."
Pierce earned an associate degree with a concentration in theatre from UNG in 2007. He earned a bachelor's degree at Brenau University and a Master of Fine Arts in theatre and performance pedagogy from Virginia Commonwealth University. He returned to GTA as an assistant professor in August 2016, citing the program's professionalism as a major draw.
"I felt I was able to compete on a much higher level as an artist thanks to my time as a student in GTA, and I wanted to bring that experience to other students as well as what I have gained during my experiences as an actor," Pierce said. "For example, when I teach acting for camera, I'm able to take my experience from professional sets to give my students specific feedback on different aspects of their acting. The more people I work with professionally, the more I am able to bring back to students. This is why I feel it is crucial for me to continue working while I teach. This department recognizes the importance of professional development, so it's a perfect fit."
Pierce has also appeared in AMC's "Turn" and FOX's "Sleepy Hollow," among other productions. He will also be performing in GTA's "Peter and the Starcatcher," which begins April 11.