While many of their peers headed off to beaches and other locales for fun and relaxation, 18 University of North Georgia (UNG) students traveled to Cloudland Canyon State Park in Trenton, Georgia, to spend the first few days of spring break building environmentally friendly walking trails.
"We wanted to provide a dynamic out-of-classroom service learning experience for UNG students from any campus," said Lindsay Bailey, director of student involvement for UNG's Oconee Campus. "Our goal was to provide a civic engagement focused experience that will have a profound and positive impact on their personal development as students and citizens."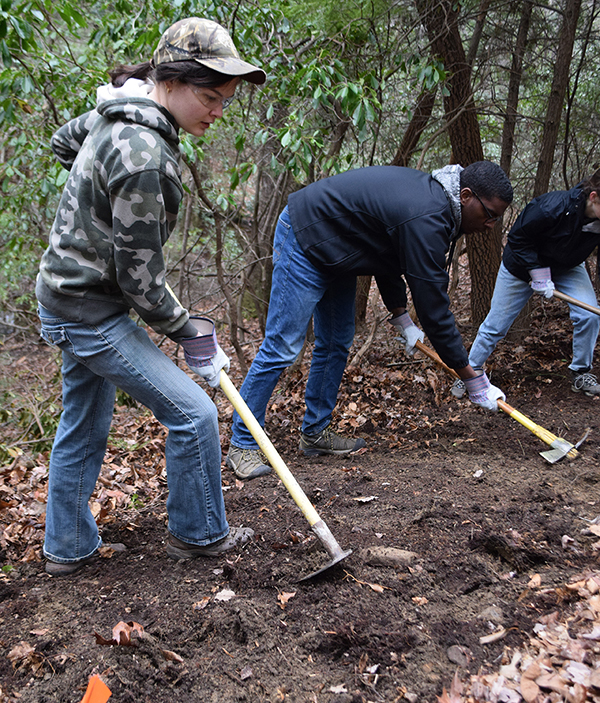 Allison Matoney and Paul Shorter break through
the top layer of soil.
The project was supported by a $5,000 Presidential Innovation Award, part of the Presidential Initiative Awards program instituted by UNG President Bonita C. Jacobs in 2013. Presidential Innovation Awards support full-time faculty and staff members in interdisciplinary and/or cross-functional collaborations or individual pursuits focused on innovations and partnerships to promote implementation of best practice models.
Bailey and co-applicant Mallory Rodriguez, director of student life and leadership programs on UNG's Dahlonega Campus, partnered with Lula Lake Land Trust to teach students about land conservation in a service project that included building the trails.
Devon Cox is pursuing a bachelor's degree in environmental spatial analysis, and said the trip helped him build new relationships, expand his comfort zone and feel accomplished in being part of a team that helped build the recreational trails.
"One of the great things about trips like these is that there are no special requirements or skills needed to be part of the team; you just need a good attitude and work ethic," Cox said. "It's also a great way to make new connections and get involved in your community and with your campus. Not to mention we got to see amazing waterfalls and spend time in nature, and the fact that a bunch of perfect strangers managed to become very close in just a few days."
Caitlyn Onstott, a sophomore majoring in psychology, said the trip was an amazing opportunity to be outside while helping the state park.
"Other students should give alternative break a shot, because it's a great way to serve the community, work hard and have fun," she said.
The trip also served as a pilot for a larger-scale service break, which Bailey and Rodriguez intend to hold during fall break in fall 2017. According to Bailey, this will be the first time that a long-term alternative break program has been established at UNG.