Nearly 550 UNG students turn their tassel and become college grads this summer
Almost 550 University of North Georgia (UNG) students with an associate, bachelor's or master's degree or certificate were released into the real world as their college careers came to an end during the 2017 summer commencement ceremonies.
For two UNG graduates, their post-graduate life will begin with them traveling the globe as Fulbright Scholars. Mitchell Fariss and Anita Renfroe were two of the nine UNG students selected earlier this year as finalists for the program, which offers research, study and teaching opportunities in more than 160 countries to recent graduates and graduate students.
Fariss and Renfroe walked across the stage to accept their degrees July 29 in Memorial Gym on the Dahlonega Campus. This was the second-to-last time the gym will be used for commencement ceremonies. The UNG Convocation Center is expected to open in February 2018, allowing for the spring commencement ceremonies to be held there.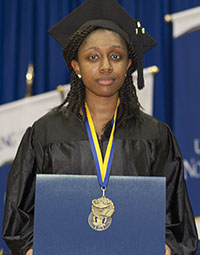 Renfroe said attending the ceremony – after having just returned in June from a yearlong study abroad trip in Morocco – made it feel more real.
"I didn't have a normal college experience," said Renfroe, the Arabic language and literature major. "I went abroad my senior year."
While Renfroe was in Morocco, many of her friends graduated or were commissioned into military service.
"So, that's why I decided to walk, because it doesn't feel like it's over," the former UNG cadet said.
Once she accepts her degree, the 22-year-old Stone Mountain, Georgia, woman will search for a short-term job and introduce herself to the Malay language until her Fulbright assignment starts Jan. 3. Then Renfroe will spend the next 11 months as an English teaching assistant in Malaysia.
 But she will never forget her time at UNG and the study-abroad trips she experienced.
"I feel like I couldn't have gotten this experience anywhere else," Renfroe said. "I made friends for life who I will still keep in touch with."
Fariss, 22, agreed.
"What really made the difference was the people I met at UNG," he said.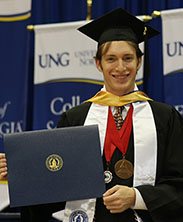 Fariss of Milton, Georgia, explained he was in the UNG Honors Program, which gave him more opportunities to give back to the community and work with other motivated students.
"There are some really smart and motivated kids in the Honors Program," he said. "To be able to connect with them made a huge difference."
Those connections and motivation led Fariss to the Fulbright program. On Sept. 4, he will begin work as an English teaching assistant in Germany.
"Essentially you are working part time in a school," he said, noting he will be responsible for additional projects outside of the classroom. "I will do something related to exercise or physical education since I was a tennis player."
Before he heads off to Europe, Fariss will immerse himself in conversational German language by working at Goethe-Zentrum Atlanta, a nonprofit that fosters German language and culture in Atlanta.
But first Fariss bid farewell to UNG.
"I was only in Dahlonega for three years, but it was a really fun three years," he said. "It was hard to say goodbye."