An increasing number of college students are using the summer "break" for anything but rest –additional courses, internships and study abroad. For cadets at the University of North Georgia (UNG), summer traditionally provides an opportunity for cadet training courses and more advanced courses with active-duty soldiers.
"The required cadet courses give them a better understanding of what their job as an Army officer will entail, while taking the Army courses gives cadets a taste of what active-duty soldiers – like those they will someday lead – go through," said Capt. Weston Layfield, an instructor in UNG's Department of Military Science and an active-duty Army officer. "They get a chance to polish their military skills before going into the Army. This gives them a head start."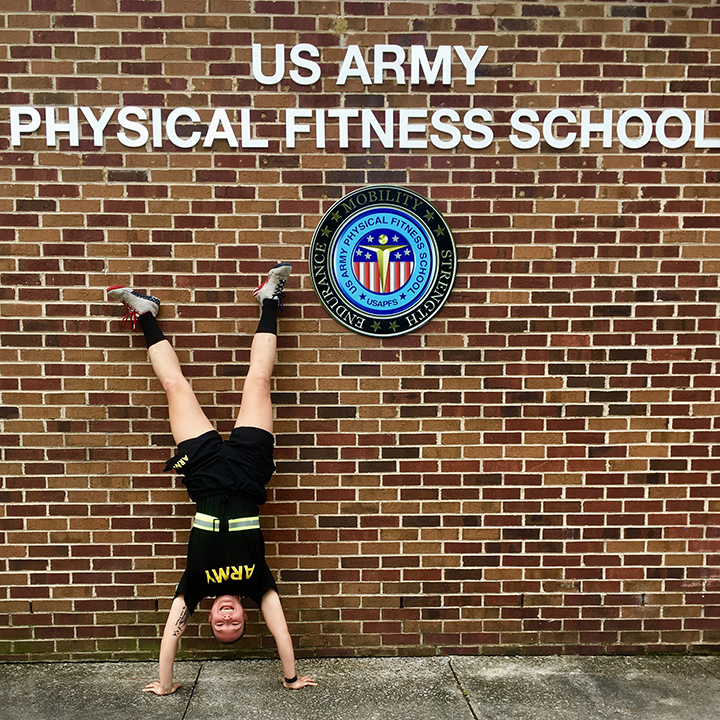 Addyson Albershardt does a hand-stand at the Army's Physical Fitness School.
Cadet Maj. Addyson Albershardt, a UNG senior physical education major from Charlotte, North Carolina, was selected to participate in the Army's Master Fitness course. Part of her motivation for participating in a course not typically offered to cadets is Albershardt will be the commander of UNG's Ranger Challenge Team, a specialty unit of the Corps of Cadets, and the Brigade's fitness adviser.
"Physical training is the backbone to our profession as future officers, not only to set the example for our units, but because fitness is an integral component to being a soldier," Albershardt said. "I will be able to implement what I learned in the Corps of Cadets. Also, when I commission as an officer, I will be able to assist in planning physical training for my unit."
Cadet First Lt. Dustin Nguyen, a competitive swimmer and senior criminal justice major from Snellville, Georgia, participated in a course that saw him training side-by-side with active-duty soldiers – the very selective pre-Combat Diver Qualification Course.
"I gained the experience to work alongside our Special Forces community, learned how to stay calm in the most intense situations, as well as to never take breathing for granted," Nguyen said.
While Albershardt and Nguyen were required to attend Advanced Camp at Fort Knox this summer in addition to their training courses, Cadet 1st Lt. Caleb Swope elected to take part in two courses in addition to Advanced Camp.
Swope, a junior business management major from Cumming, Georgia, successfully completed both Air Assault School, which included active-duty soldiers, and Cadet Troop Leader Training (CTLT), a course through Army Cadet Command.
"I chose to add on two separate training courses on top of Advanced Camp for many reasons, the most prevalent of those being that the soldiers who are serving or have served before me in the Army were successful because of their willingness to go where the Army sent them," Swope said. "Air Assault and CTLT proved to be invaluable experiences to my arsenal of leadership practice and I am thankful for them. I learned a lot about myself and the way that I actually lead soldiers."
Swope was one of a few in his cohort to complete Air Assault School and earn the Air Assault Badge.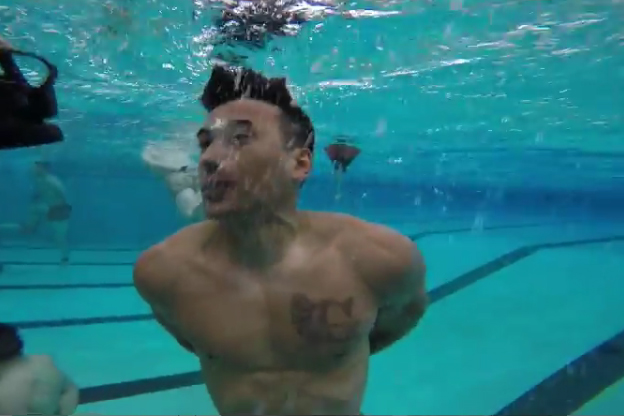 Dustin Nguyen underwater during the pre-Combat Diver Qualification Course.
"I found out my new physical and mental limits at Air Assault School," he said. "And while a class of roughly 180 students started out, I was one of less than 70 that graduated the 10-day course and earned their Air Assault Wings. All in all, this summer will stay with me for the rest of my life."
While the cadet and active-duty programs have long been a part of a cadet's summer training opportunities, a growing number of cadets also are taking part in international programs and internships during the summer.
Cadet Spc. Joshua Swartzell, a junior from Buford, Georgia, attended the New Zealand Institute of Intelligence Professionals Conference – his first time traveling internationally – as a requirement for UNG's Cyber Leadership Development Program.
"My original idea of who an 'intelligence professional' would be was very specific, whereas by the end of the conference my idea was very broad as people work in different areas to help achieve a common goal," Swartzell said. "Thinking outside the box helps in a lot of scenarios."