With reports of hacked databases and other cybercrimes a frequent news topic, it should not come as a surprise that a 2016 report from Cybersecurity Ventures predicts the cost of damages from cybercrime will exceed $6 trillion a year by 2021.
Two cybersecurity experts from Microsoft Corp. talked about their work to prevent and fight digital crimes around the world in an Oct. 19 presentation at the University of North Georgia (UNG). Microsoft executives Herb Quinde and Patti Chrzan provided an inside look at Microsoft's Digital Crimes Unit (DCU). Quinde is public sector director of Microsoft's U.S. Dynamics Industry Group and Chrzan is senior director of strategic programs in the DCU.
"The internet is now a ubiquitous part of everyone's lives and trust in the internet is paramount whether you are a consumer or a business," Chrzan said. "Cybercrime has become increasingly sophisticated and we have seen a shift from individual actors to organized, destructive attacks by crime syndicates and nation states which is threatening this trust. Microsoft's Digital Crimes Unit works in partnership with public and private entities to go after these cybercriminals."
The free event at the Hoag Auditorium on UNG's Dahlonega Campus, which had to be moved to a larger location due to overwhelming interest, was attended by some 120 UNG students, faculty, staff, and members of the public interested in the field of cybersecurity.
The event was one of a growing number of educational opportunities UNG provides as a National Center of Academic Excellence in Cyber Defense, a designation earned by the university last year from the Department of Homeland Security and the National Security Agency.
"The Center for Cyber Operations Education and the Institute for Leadership and Strategic Studies partner to bring speakers to UNG to contribute to the professional development and knowledge of those interested in various security and cyber topics," said Keith Antonia, associate vice president for military programs at UNG.
With unfilled cybersecurity jobs currently at 1 million and predicted to hit 1.5 million by 2019, UNG is filling an urgent industry need by offering a number of related degrees through the Center for Cyber Operations Education, a unit of the Mike Cottrell College of Business.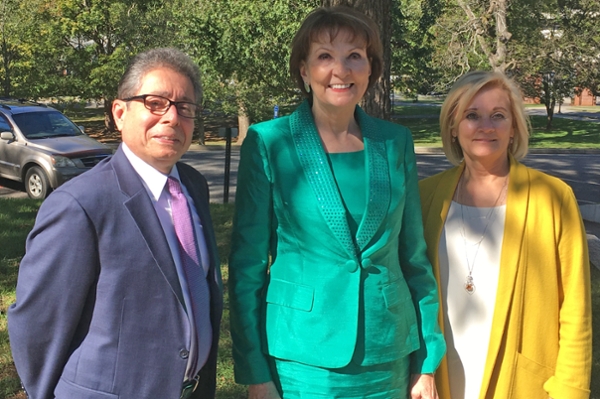 UNG President Bonita Jacobs, center, with Microsoft executives 

Herb Quinde, left, and Patti Chrzan, right.
The speakers provided an inside look at the multidisciplinary approach taken by the DCU, an international cybersecurity team of attorneys, investigators, data scientists, engineers, analysts, and business professionals based in 30 countries. DCU aims to protect people, organizations, and the Microsoft Cloud through enforcement actions against cybercriminals.
"We act on the intelligence that comes from our security-related signals and insights, including those from our DCU operations, and foster a vibrant ecosystem of partners who help us raise the bar across the industry — helping to securely enable our customers' digital transformations," Quinde said.
In addition to the presentation, Quinde and Chrzan met with UNG leadership to learn more about the university's interdisciplinary educational opportunities for cadets and other students in the areas of leadership, cyber, international affairs, strategic and security studies, modern languages, geospatial analysis, and mathematics.