As a composer, David Peoples enjoys sharing his musical creations with audiences far and wide. The part-time adjunct professor of music at the University of North Georgia (UNG) also likes to hear new pieces from his fellow contemporary composers.
Five years ago, Peoples started the Music for Now series to bring together composers to share their work or present works of others at UNG.
"I wanted to make UNG a place to present new compositions and friends and fellow composers could come and share their music, too," Peoples said.
This year's event underwent an evolution. Music for Now joined forces with the New Music Symposium to form the inaugural Research on Contemporary Composition (ROCC) conference.
Dr. Esther Morgan-Ellis, assistant professor of music at UNG, developed the New Music Symposium as a way for UNG students to present research on recent compositional activity. Last year, students presented their research during the public symposium on UNG's Dahlonega Campus.
When Peoples heard Morgan-Ellis was sponsoring the symposium again this year, he approached her about combining the two because both events showcase contemporary music.
"Dr. Morgan-Ellis was doing more research on contemporary composition, and I was doing more performances of contemporary composition," Peoples said. "So we decided to combine our efforts to see if we could get more scholars to present their research and present concerts as a part of it, too."
It worked. Ten scholars, from as near as the University of West Georgia in Carrollton, Georgia, to as far as Microtonal Music Society in Austria, were featured during the ROCC conference Dec. 2 in the John L. Nix Fine Arts Center on the Dahlonega Campus.
Peoples explained he recruited top composers from around the globe since only one other school in the United States sponsors a similar conference. He said a conference on compositions created in the past 10 to 15 years is a rarity.
"It is enticing to participate, because there are not very many places to publically present your research and new compositions," Peoples said. "The speakers can publish their papers that they present. It's a big deal to those who do this kind of research."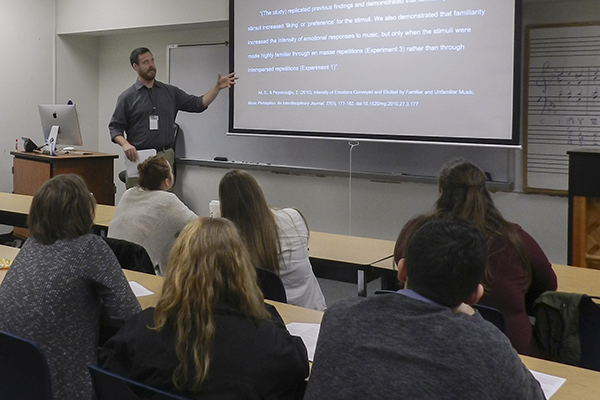 University of North Georgia (UNG) student Justin Baker was one of five students who presented his research Dec. 2 during the Research on Contemporary Composition at UNG's Dahlonega Campus.
While the professional musicians and scholars presented their research in the Gloria Shott Performance Hall, five students from Morgan-Ellis' classes delivered their papers in a classroom in the Nix Center.
"It has pushed my students to do exceptional work," Morgan-Ellis said. "They have done incredible work and I'm really impressed."
Peoples added students gained access to the contemporary composers.
"They could interact with people who are working composers and not interact with just me inside a classroom," Peoples said.
Morgan-Ellis said the conference gave her students a public and formal conference experience.
"It gave them a glimpse into what being an academic is all about and what a conference is like," she said. "Plus, they get to hear two concerts, and that's really cool."
Students are not the only ones who enjoyed the new contemporary composition. The public had access to the music during two Saturday afternoon concerts. The Southeastern Electro-Acoustic Collective and the National Association of Composers USA, Southeast Chapter performed.
"It is not pop music that you listen to on the radio," Peoples said. "Some of the music is driven by mathematics and computer programming."
Overall, Peoples and Morgan-Ellis were pleased with the outcome.
"Through the conference, we learned a lot of things that we would not learn otherwise," Peoples said.