GTA presents musical and book-based play
While most plays and musicals feature actors dressed in costumes for their characters, one of Gainesville Theatre Alliance's (GTA) productions will have students using puppets to play the main parts in "Avenue Q."
"The concept is if 'Sesame Street' was created for adults and dealing with adult issues," said Jim Hammond, chair of the theatre department at University of North Georgia (UNG), and artistic and managing director of the GTA.
GTA is a nationally acclaimed collaboration of UNG, Brenau University, theater professionals, and the northeast Georgia community.
Hammond also stressed the musical is rated R, indicating some theater enthusiasts may not feel comfortable watching the show.
"It is not going to be everybody's cup of tea," he said. "It probably skews toward 'South Park' humor. So if people enjoy 'South Park,' they will love 'Avenue Q.'"
Hammond said he selected "Avenue Q" because the students requested the show and would learn from the intensive puppetry work. 
"It is one of the few musicals that won a Tony Award," he said, adding the awards included best musical, best score and best book. "It premiered the same year that 'Wicked' premiered on Broadway. So 'Avenue Q' won and beat 'Wicked' for the Tony Award."
The musical tells the timeless tale of a bright-eyed college graduate named Princeton, who arrives in the city with big dreams and a tiny bank account. He has to move into a shabby apartment all the way out on Avenue Q where he meets Kate (the girl next door), Lucy (the slut), Rod (the Republican), Trekkie (the pervert), superintendent Gary Coleman (yes, that Gary Coleman) and other new friends. Together, they struggle to find jobs, dates and their ever-elusive purpose in life.
Hammond said the musical explores hot-button issues such as racism and homosexuality, but with humor.
"It's disarmingly funny and takes heat off the issue," he said.
"Avenue Q" performances will be at 7:30 p.m. Feb. 13-17 and 20-23, 2:30 p.m. Feb. 18 and 2:30 and 7:30 p.m. Feb. 24. All performances will be at Hosch Theatre inside the Burd Center on the Brenau University Campus at 429 Academy St. in Gainesville, Georgia. Tickets range from $14-$26. A free opening night reception will be catered by 2 Dog Café.
GTA will host two free events for the show:
a behind-the-scene Stage Tour at 6 p.m. Jan. 30 in Hosch Theatre
a first-time event, a free SING-through "Avenue Q" rehearsal at 1:30 p.m. Feb. 3, at Left Nut Brewing, 2100 Atlanta Highway in Gainesville.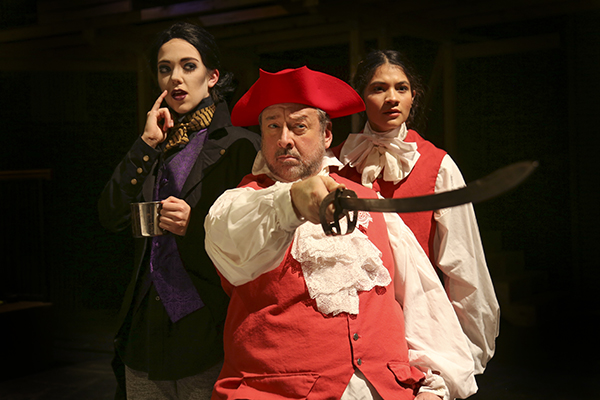 Brenau University students Lauren Hill and Geanna Fuentes play enlisted soldiers under the command of guest actor Bill Murphey, in "Monstrous Regiment," which opens Feb. 16 at University of North Georgia's Cabell Theatre.
Since the show is part of GTA's February Festival of Theater, Hammond suggested that audiences who may not enjoy "Avenue Q," but still want to spend an evening at the theater watch "Monstrous Regiment." The production will be at the same time in the theater on UNG's Gainesville Campus.
Based on the 31st novel of Sir Terry Pratchett's popular Discworld series and rated PG-13, "Monstrous Regiment" is a wickedly funny look at the absurdities of war and ambiguities of identity in Borogravia.
When Polly Perks' brother goes missing in action, she cuts off her hair, stuffs a sock down her breeches and enlists, hoping to find him. Discovering that she passes successfully as a young man, Polly soon finds that she's not alone in protecting a secret and nothing in war is as it appears.
Gay Hammond, associate professor of theater at Brenau and director of "Monstrous Regiment," said she pushed for this script because of its timeliness.
"It was written a while back, but it is a piece about politics, feminism, patriotism," she said, adding Pratchett satires the topics in a gentle and compassionate manner. "He makes wonderful points without being irritating."
Gay Hammond said while "Monstrous Regiment" is anti-war and anti-gender politics piece, it is about the characters learning about themselves while pretending to be some else. And it adds in a little levity with fantasy characters of a troll, igor and vampire.
"I hope the audience will have fun," she said. "Theater is there to wake us up and feel better about our world and not worse."
"Monstrous Regiment" performances will be at 7:30 p.m. Feb. 16, 18 and 20-23, 2:30 p.m. Feb. 17 and 2:30 and 7:30 p.m. Feb. 24 in the Ed Cabell Theatre on UNG's Gainesville Campus at 3820 Mundy Mill Road in Oakwood. A free opening night reception will be catered by All Catered Events (ACE).
Before the show opens, GTA will host:
a free one-hour discussion of "The British Sense of Silly" at 2:30 p.m. Jan. 27, at Rooster's Perch Books, at 210 Bradford St., in Gainesville
a free Stage Tour will be at 6 p.m. Feb. 1, in UNG's Ed Cabell Theatre.
For tickets or more information, visit the GTA website.
Performance Information
"Avenue Q"
When:
7:30 p.m. Feb. 13-17 and 20-23, 2:30 p.m. Feb. 18 and 2:30 and 7:30 p.m. Feb. 24.
Where: 
Hosch Theatre, 429 Academy St., Gainesville
Cost:
$14-$26

"Monstrous Regiment"
When: 7:30 p.m. Feb. 16, 18 and 20-23, 2:30 p.m. Feb. 17 and 2:30 and 7:30 p.m. Feb. 24
Where: Ed Cabell Theatre, 3820 Mundy Mill Road, Gainesville
Cost: $12-$20