Less than a generation ago, Poland and Hungary were in the Soviet Union's orbit and adversaries of the United States. But with the end of the Cold War, these two former Communist countries are now vital allies with the U.S. in the war on terror.
Two officers, Col. Tomasz Smal, professor and dean at the Military University of Land Forces (MULF) in Wroclaw, Poland, and Lt. Balázs Taksás, assistant professor at the National University of Public Service (NUPS) in Budapest, Hungary, are part of a contingent of five officers visiting the University of North Georgia (UNG) this semester to conduct research and serve as guest lecturers, sharing their perspective and knowledge on a range of issues, including cultural differences and political views.
Having served in the Polish army for 28 years, Smal is an expert in the fields of logistics and transportation systems in military and emergency operations and is the author or co-author of more than 180 scientific articles. Previously, he took part in Operation Iraqi Freedom and was a visiting scholar at the University of Defence in the Czech Republic, the University of Cagliari in Italy and the Military Academy of Armed Forces in Slovakia.
Smal's time at UNG is his first researching and lecturing in the United States. He gives one lecture a week, dividing his talks between the Corps of Cadets, Center for Global Engagement and the Department of Political Science and International Affairs. The rest of his time is spent conducting scientific research in military logistics at the library on UNG's Dahlonega Campus. Smal said he was drawn to UNG because of its unique tradition as a military college in a civilian setting and being able to share his experience and knowledge in international policy and affairs.
"It is very important to maintain cooperation between our two countries and my hope is that our relationship is long-lasting and fruitful," he said. "Poland is the gatekeeper between Russia and Western Europe, and we have much to share as to how (Russia) thinks and acts."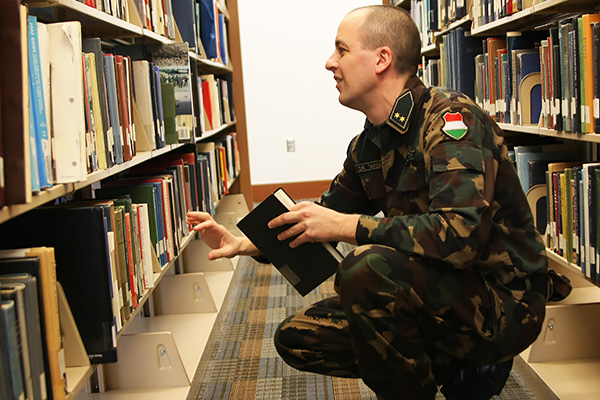 Lt. Balázs Taksás, assistant professor at the National University of Public Service (NUPS) in Budapest, Hungary, and an officer in the Hungarian army, is a guest lecturer and researcher in economics at UNG.
Tony Fritchle, associate director at the Center for Global Engagement, said it is important for students, particularly cadets, to be exposed to foreign military education, leadership, perspectives, and cultural awareness to understand the full spectrum of cultural relations and develop relationships with foreign peers.
"All cadets receive cross-cultural training within the classroom and are offered opportunities to deploy to locations around the world for experiential cultural awareness training," Fritchle said. "As a result, cadets will understand how culture, both military and civilian, affects the environment and how they may apply their skills to affect military and governmental outcomes. As part of the Army doctrine, cultural awareness training is embedded into pre-commissioning requirements and education."
Balázs Taksás has served 12 years in the Hungarian army, with expertise in economics. His research at UNG is to support his "Trinity of Defense Industry" theory, stressing technological excellence, economic competition and supply chain security are critical to a nation's defense.
His lectures deal in political and military theories with a post-Cold War era perspective.
"In Europe, it's a different way of doing things, of thinking," Taksás said. "In the United States, there is much experience to be gained, knowledge to be shared. Being here, for me, is a wonderful opportunity, because I feel the more people you meet and learn from, the better a professor and researcher I can be."
Fritchle said UNG plans to offer more opportunities for scholarly exchange in the future. Maj. William O'Neal from UNG's Department of Military Science will serve as a guest lecturer at MULF in March as part of the scholarly exchange program.