Signs of construction ranging from a new road to building renovations can be seen across the University of North Georgia (UNG) campuses.
One of the most noticeable signs is the mounds of dirt being moved behind the Martha T. Nesbitt building and Hugh Mills Physical Education Complex for a new road on UNG's Gainesville Campus.
"We are building a road to help alleviate the traffic" on the north side of the campus, said Bill Moody, director of facilities and operations for UNG's Cumming, Gainesville and Oconee campuses.
Moody explained the new street, called Loop Road, will connect Facility Drive to Mundy Mill Road, cutting a paved path with sidewalks between the outdoor track and the tennis courts.
Moody said Loop Road will be a "right-in and right-out" street, similar to the entrance north of Thurmon Tanner Parkway and Mundy Mill Road.
"All of the people in the parking deck and behind it will have an option to go a different direction on and off campus," he said. "It also will help future development and help the campus grow."
The road project started in May and is scheduled to be complete by January 2019.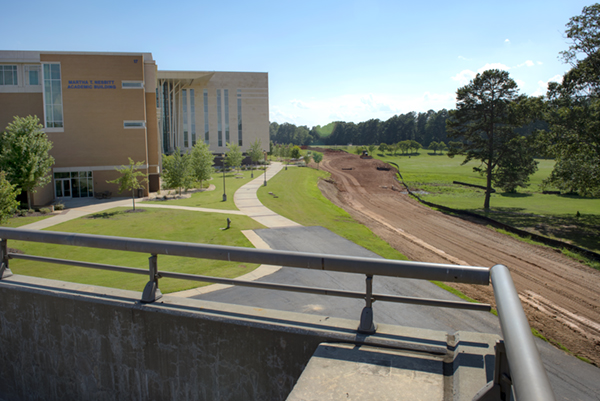 The road project behind the parking deck and Martha T. Nesbitt building started in May and is scheduled to be complete by January 2019.
The new road is not the only project in Gainesville. The Hugh Mills complex is receiving some needed renovations.
"All brand-new locker rooms will be available to students and those who use the gym and fitness center," Moody said.
Other smaller maintenance projects are happening on Cumming and Oconee campuses, but Moody and his team will focus their attention on a large-scale project next year when UNG takes possession of the Lanier Tech campus in early 2019.
"As soon as they transfer it to us, we will start renovations," he said.
The Gainesville Campus is not the only one with construction projects underway. The Dahlonega Campus is dealing with one road-related project.
A traffic signal will be installed at Alumni Drive and Morrison Moore Parkway to help facilitate traffic flow into and out of the Convocation Center, which opened in spring 2018.
"We hope before classes begin, the traffic signal will be fully functioning," said Todd Bermann, director of capital planning and project management for all UNG campuses.
While finishing touches are being completed on the Convocation Center, two other renovation projects are progressing.
One is the preservation project on Hansford Hall.
"We are restoring the front four columns on Hansford Hall, which is adjacent to Price Memorial," Bermann said. "They were damaged by a storm a year ago."
Contractors started restoring the columns in late June. Bermann hopes most of the work will be complete before classes begin Aug. 20. Students, faculty and staff may enter and exit through the main porch doors throughout the project's duration.
"Any closures will be well communicated beforehand," Bermann said.
The Federal Emergency Management Agency (FEMA) awarded $40,000 to UNG through its FEMA Public Assistance Grant. UNG used the funds to remove and dispose of downed trees and limbs on the Dahlonega and Gainesville campuses and replace a glass door damaged at the Library Technology Center in Dahlonega. It also restored the portable water system that was destroyed by a downed tree at Pine Valley.
Memorial Hall is being renovated following the relocation of activities and classes to the Convocation Center.
"The old classrooms are being converted to offices for the P.E. department," Bermann said. "And the athletics administration department is getting a facelift."
Among upcoming construction projects, the Blue Ridge Campus is in the early phases of a growth project. The state legislature earmarked $5.5 million for land acquisition, design, construction, and equipment for a standalone campus.
"We are in process of purchasing property," Bermann said. "We will start the design process in September."