High school students whose native languages include Spanish, Chinese, French, and Vietnamese practiced their English skills and earned course credit during a summer enrichment program at the University of North Georgia (UNG).
UNG's Gainesville and Cumming campuses hosted the Steps-to-College summer enrichment program in partnership with the Gainesville City and Hall, Forsyth and Banks County school systems. About 90 rising high school sophomores through seniors met for five hours four days a week for a month.
Offered courses included civics, economics and college study skills. Each student took one class.
Funded by a state grant and the Goizueta Foundation, the program began in 1999 at then-Gainesville College after a request from local high schools.
Harriett Allison, associate professor of English as a Second Language (ESL) at UNG and director of ESL and summer programs, was instrumental in launching the program and said the half-unit courses help students catch up or get ahead, allowing them to graduate on time.
Juan Valdez, a rising senior at Chestatee High School, said condensing a semester-long class into a month saves time that students can use to work jobs later.
"You learn a lot in a little bit of time," Valdez said.
A teacher's assistant for Steps-to-College, Myles Mann said the flexibility and freedom of being on a college campus appealed to the students. He received his master's degree in international affairs from UNG in May 2018 and has a bachelor's degree in world history.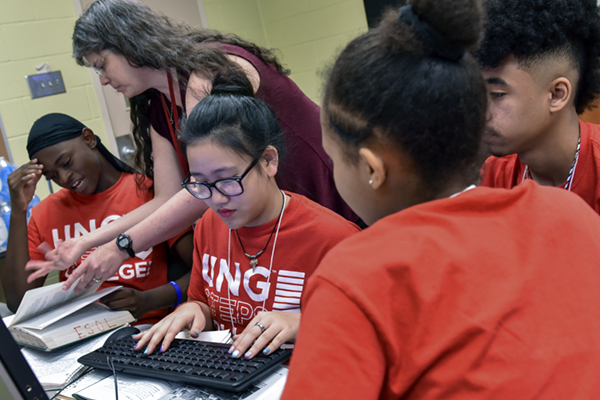 Steps-to-College Director Lisa Diehl said the exposure to college is a vital component, as teachers encouraged students every day to plan for attending college or a technical school.
She said giving students the confidence that they can be successful in college goes a long way in getting them to keep pursuing their education.
"It's getting them to think about what they want to do," said Diehl, lecturer of English at UNG.
Ernest Moore, a Lanier Technical College instructor who taught economics as part of Steps-to-College, said the program provided something constructive for students in the summer. He was blown away by his pupils.
"They're eager to learn," Moore said. "They're easy to get along with."
He said building a team atmosphere was crucial. When that happens, "they don't want to let each other down."
Dennys Espinoza, a rising sophomore at Banks County High School, first found out about the program in eighth grade. Making friends, learning and being exposed to a college campus have all been perks of Steps-to-College for her.
"It gives you lots of opportunities," Espinoza said.
Aaron Hubbard, who plans to graduate from UNG in fall 2019 with a bachelor's degree in sociology and a minor in Spanish, said being a teacher's assistant for the program helped him learn how to educate students. He also works in the language lab on the Dahlonega Campus.
An international lunch was held June 29 to celebrate the end of the month-long program. Everyone brought food, with students chipping in something that was reflective of their cultural background. Games and movies were also a part of the final-day celebration festivities.