Vincent Prior knows the challenges facing college students who transfer from one institution to another from a first-hand experience. He transferred from one Louisiana public university to another a decade ago.
As coordinator of Transfer and Transition Programs at the University of North Georgia (UNG), Prior works with transfer students as part of his job. When he heard UNG and the National Institute for the Study of Transfer Students (NISTS) were offering a post-master's certificate in transfer leadership and practice this fall, he registered for the online program.
"This course offers me the opportunity to focus on the population that I work with," Prior said.
Providing higher education professionals with a one-of-a-kind certificate program featuring an in-depth examination of transfer student issues, research-based information and 12 credit hours toward a doctoral degree is the program's purpose, said Janet Marling, executive director of NISTS, which based at UNG.
"We have individuals who have been solely focused on transfer students. They have been the practitioners," Marling said. "This certificate course gives them the opportunity to explore the academic side of the transfer field."
Marling said the program is both a professional development opportunity and precursor to doctoral work, including UNG's Doctor of Education in higher education leadership and practice.
"Once UNG established its Ed. D. program, it made sense to bring the post-master's certificate to fruition," she said.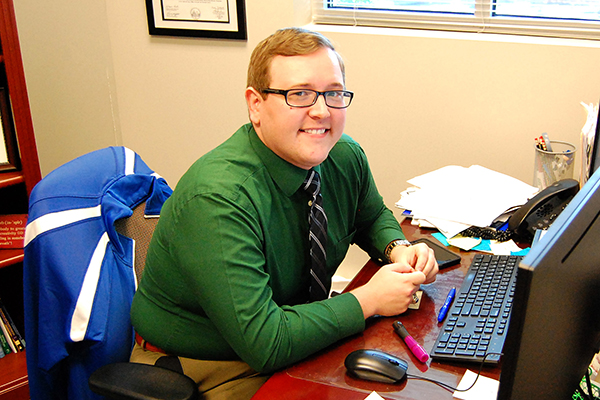 Vincent Prior, coordinator of Transfer and Transition Programs at the University of North Georgia who works with transfer students as part of his job, is one of nine professionals who enrolled in the post-master's certificate in transfer leadership and practice this fall.
Joe Fernander, assistant registrar for graduation at the University of West Georgia who is in the certificate program, said the theoretical and practical sides of the class appealed to him. Earning doctoral credits was a bonus.
"This course is helping me to feel out and see if I can do doctoral courses while I work full time," said Fernander, who also was a transfer and first-generation college student.
The yearlong program is divided into four short-term semesters, with each course focusing on a single topic for eight weeks, including:
foundational elements of administrative program assessment and planning with an emphasis on improving services, practices and policies
historical development of the transfer function in the U.S. higher education system with an emphasis on the major source of transfer students — community colleges
traditional and contemporary pathways to transfer with an emphasis on national, state and local policies and practices
current issues, challenges and successes of diverse transfer student populations
Marling said the nine professionals from different colleges and disciplines enrolled in the inaugural cohort range from faculty to academic advisers and transition specialists, who are on the front lines of student service. The knowledge they gain will trickle down to transfer students, who account for more than 38 percent of all college students.
Julie Conway, senior transfer adviser in the Advising Center at Western Carolina University in Cullowhee, N.C., has already started using a computer tool she heard about from a classmate.
"The people in my cohort have been really supportive, and I appreciate hearing their perspective," said Conway, who has been in the newly created position for six months. "We are all dealing with the same kind of issues and are able to bounce ideas off each other."
Renee Esparza, a transfer resource director at Austin Community College in Austin, Texas, said the information she is learning will aid her in her job.
"I will be one of the first people in the nation to have this certificate, and it will add a little weight to my voice and my opinion on transfer student issues," Esparza said. "It will help the administration support the ideas that I bring forth at our institution."
All of them plan to encourage transfer specialists to take this course.
"I would tell them if they care about the success of transfer students and the trajectory of higher education, this is a program worth pursuing," Esparza said.
National Transfer Student Week activities
Monday, Oct. 15
8:30-10 a.m. Transfer Experience (TREX) Breakfast, Oconee Campus quad
Noon to 1 p.m. Internal Transfer Workshop, NOC 208, Dahlonega Campus
Noon to 1 p.m. Internal Transfer Workshop, Nesbitt 2100, Gainesville Campus
Tuesday, Oct. 16
College "Tees" Day in honor of National Transfer Student Week; all UNG transfer students are encouraged to wear a T-shirt from their previous institution. Faculty and staff may wear a shirt or colors of a former institution or alma mater to show support for transfer students.
Transfer Tuesday Tabling with stickers, bookstore coupons, and free T-shirts for new transfer students only

Noon to 2 p.m. Hoag Patio, Dahlonega Campus
Noon to 1 p.m. and 5–6 p.m. Student Center Patio, Gainesville Campus
Noon to 1 p.m. and 5–6 p.m. SRC Atrium, Oconee Campus
Wednesday, Oct. 17
Noon to 1 p.m. Internal Transfer Workshop, Room 302, Oconee Campus
Noon to 1 p.m. Transfer Experience (TREX) lunch, Nesbitt 3201 Gainesville Campus
Thursday, Oct. 18
Noon to 1 p.m. Transfer Experience (TREX) Lunch, Cumming Campus pavilion
2:30–3:30 p.m. Internal Transfer Workshop, Room 234 Cumming Campus
Friday, Oct. 19
All transfer students are encouraged to wear a UNG shirt to show pride in their new home.
8:30–10 a.m. Transfer Experience (TREX) Fresh Start Friday, Stewart 302, Dahlonega Campus