What started out as a collaboration between two separate musical-related events has blossomed into a full-scale conference filled with performances and research presentations.
The Research on Contemporary Composition (ROCC) Conference brought in 16 visiting scholars for the second annual event Nov. 10-11 at the University of North Georgia (UNG). They were from California, Florida, Kentucky, New Mexico, Texas, China, and Sweden. And more than 30 students, faculty and staff from across the nation and world listened to seven performances.
"I always enjoy hearing the performances," said Dr. Esther Morgan-Ellis, assistant professor of music at UNG. "I feel like that is the best part for the students, because they don't have a lot of opportunities to hear this kind of music during their time at UNG."
The musical interludes were sandwiched between presentations of contemporary composition research. Nine UNG students presented, including Joseph Beal and Daniel Niconovich.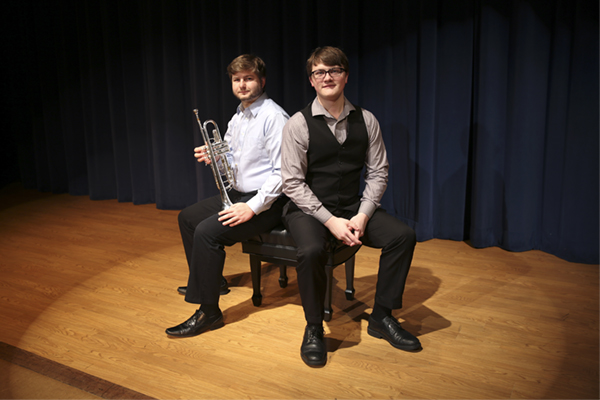 Daniel Niconovich, left, and Joseph Beal presented research papers at the Research of Contemporary Composition conference Nov. 10-11 at the University of North Georgia's Dahlonega Campus. Both men are seniors majoring in music education.
Niconovich, a senior from Dahlonega, Georgia, said the choice to present was easy. At the beginning of a music history class with Dr. Esther Morgan-Ellis, he had two choices: Write a 4,500-word research paper for publication or prepare a presentation for ROCC.
"I figured I would get more out of presenting at the conference," Niconovich said. "And it would give me a better learning experience."
For the music education major who is not fond of speaking in front of large audiences, it proved useful.
"I was a little on edge beforehand," Niconovich said. "But when I went up, I had no hiccups in my presentation, and it didn't bother me talking to them."
He said the presentation helped him build confidence as well as practice, learn and rehearse teaching others. Fellow music education major and senior Beal agreed.
"As a future teacher, you should always be learning," the Chatsworth, Georgia, native said. "And I think it is good to have the experience of presenting at a conference."
Beal said he originally intended to write the paper for publication but switched to the presentation. He was glad he did.
"I feel it was more suited to presentation than publication, and it is based more on my conclusions," he said, adding he looked forward to hearing feedback and listening to the other researchers.
Dr. David Peoples, a part-time adjunct professor of music at UNG, said he enjoyed hearing all of the research presentations. He plans to delve into several topics discussed by the visiting scholars.
"It is something new to put on my bucket list to check out when the semester slows down a bit," he said.
The ROCC's scholarly element makes it different from other well-known and heavily attended conferences that highlight new music, Morgan-Ellis said.
"Ours is focused around scholarship," Morgan-Ellis said. "Most of the performances are paired with lectures and have a scholarship component. I would love to see us become the destination conference for that community."
Based on the participants and attendance numbers, UNG is taking small steps to that end. The number of visiting scholars increased by 33 percent, requiring the conference to allocate two days to fit in the activities. Last year, the ROCC conference was only a Saturday event.
Morgan-Ellis and Peoples created the ROCC conference by combining two separate events. About three years ago, Peoples hosted a conference to allow current composers to present new music. At the same time, Morgan-Ellis sponsored an internal symposium for students to present research on contemporary composition. About 2 ½ years ago, Peoples suggested blending the two.
"David Peoples' inspiration was there wasn't an annual conference for the study of new music," Morgan-Ellis said.
Now, UNG fills that void with the ROCC conference. Peoples and Morgan-Ellis hopes it will grow.
"I would love to see this develop into a larger event that attracts more people," she said. "I would like it to be annual event conference that people in the music field plan on attending every year."