Caleb Hearn scanned a custom QR-based code on a bottle, and a video message of well wishes from his sister popped onto the projector screen. Then Samuel Herrera scanned the same code, and a video telling the story of Etowah Meadery came onto the screen.
Just like that, the two UNG students were off and running with their pitch of the Opus Affinity app at the innovateUNG Pitch Challenge on Feb. 20 in the Dining Hall Banquet Room on UNG's Dahlonega Campus. More than two hours later, Hearn and Herrera were declared winners of the inaugural event, securing a $2,000 prize and a trip to the Georgia InVenture Prize competition, which is sponsored by the Georgia Chamber of Commerce and the University System of Georgia for top college teams from across the state and will award a $25,000 first prize.
They were one of six teams that competed, which included nine students and three recent graduates. Each group gave a short pitch, then received questions and feedback from judges Alan Amling and Chris Colson. Amling is vice president of corporate strategy for UPS, and Colson is program director of innovation in the retail payments office of the Federal Reserve Bank of Atlanta. Colson also teaches corporate entrepreneurship at UNG.
Hearn and Herrera's startup idea targets craft breweries across the state, helping them tell their stories and build brand loyalty by using custom QR-based codes linking to videos in the app. The second part of their plan involves expansion to include options for those giving the craft brews as gifts. A video message can be uploaded and linked to the custom QR-based code.
Hearn and Herrera noted the difficulty people often face in conveying the thought behind a gift and said their product will help bridge that gap.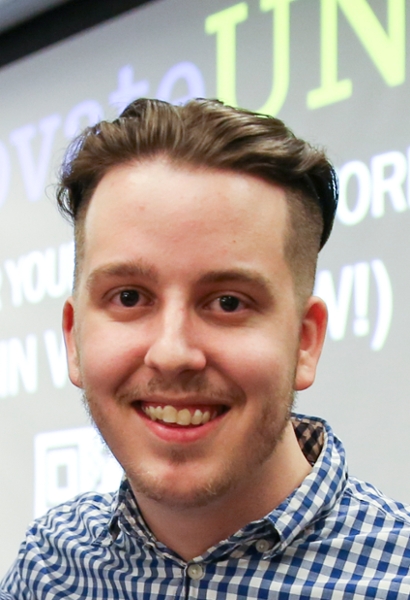 Caleb Hearn
"It really gives me a great opportunity to take this business forward, get investment, get that patent going, really show it off to everyone in the state," Hearn said of the innovateUNG win.
Hearn, a senior from Powder Springs, Georgia, pursuing a degree in business management with an entrepreneurship concentration, said the support and proof of concept from Etowah Meadery, which makes alcoholic beverages fermented with honey, has been vital. Herrera, a senior from Cumming, Georgia, pursuing a business management degree, said they rehearsed their pitch for three weeks.
"It's just great to have the exposure, great to have the practice in front of high-caliber judges in front of a big audience," Herrera said. "It's a treat."
Jacob Mahaffey, Justin Maxwell and Nicholas Blake Morgan took second place and a $1,500 prize for their PopStand pitch, which combines a guitar case and stand into one item. The idea is better protection for guitars and cost savings for the consumer.
Mahaffey, a December 2018 business management graduate from Gainesville, Georgia, was grateful for the positive feedback his team received.
"It gives us a little boost and encouragement to run with it," Mahaffey said.
Gabriel Garcia, a senior from Brazil pursuing a degree in business management, earned the crowd favorite prize and $500 for his pitch to open a restaurant called "Made in Brazil" in Asheville, North Carolina.
"People enjoyed it, and it feels like they hope I open it," Garcia said. "It feels great."
Dr. Ruben Boling, director of UNG's Center for Entrepreneurship and Innovation, was impressed with the quality of the students' pitches.
"The crowd sees the final product. I got to see the amount of work these students put into this. They went all night and worked as hard as they could, practiced their pitches over and over again to try and be the best they could," Boling said. "These are high-quality students. They are focused, and that focus showed in their presentations."
Bob Swoszowski, a UNG Foundation Board of Trustees member and owner/operator of 20 McDonald's restaurants in Northeast Georgia, enjoyed hearing the pitches.
"These students could be successful with them, provided they got the right financing and managed their time, managed their patience and managed their perseverance. Those three things will make you successful," Swoszowski said. "If I was in a hiring position, I'd hire some of these people right now."