More than 30 children from Athens-Clarke and Oconee counties built a bridge with toothpicks and marshmallows or gumdrops, made glue from scratch and developed research skills at a new summer education program on the University of North Georgia's (UNG) Oconee Campus.
The Nighthawks Student Opportunities for Accelerated Readiness (SOAR) program targets economically disadvantaged and English as a Second Language youth who are prospective first-generation college students, said Dr. Cyndee Perdue Moore, executive director of UNG's Oconee Campus. It is designed to bridge the education gap for rising sixth- through eighth-grade students in the summer.
"Research shows that students slide back about 40 percent in the summer if they are not engaged," Moore said. "We wanted to give these students a way to engage in a fun and meaningful way in a science, technology, engineering, art and math or STEAM camp."
Students were engaged with hands-on activities and mind-provoking lessons by two professional educators, a recent UNG graduate and one UNG student. Reese Womack, a rising senior at UNG who is pursuing a degree in early childhood education and special education, said the program's lessons introduced the students to high school concepts like how to write research papers.
Of course, the students weren't the only ones to learn. UNG alumna Tori Nash said just the first few days teaching in the program improved her time management skills and prompted her to develop more classroom structure when she becomes a teacher in the fall.
"I am learning as much from them as I hope they are learning from me," she said.
During the afternoon program, students learned about science, technology, engineering, arts and math, Moore said. SOAR also introduced middle school students to college and unraveled the mystery of the application process. SOAR concluded with students presenting their research projects in a science symposium June 27.
"If we have students here on campus and they know where the restrooms are and how to access the computer labs, it's not as formidable a task for them to go through the college admissions process when they become high school students," Moore said. "We want them to know that they are not only welcome here, but that they belong here."
She said this experience helped them get on track to enter postsecondary institutions. Moore said it is sometimes difficult to fully convey the benefits of a college degree despite research showing high school graduates earn less money than those who receive a degree from a two- or four-year institution.
She conceived of the program after she saw that the summer pace at the Oconee Campus was a bit slower than during the normal school year.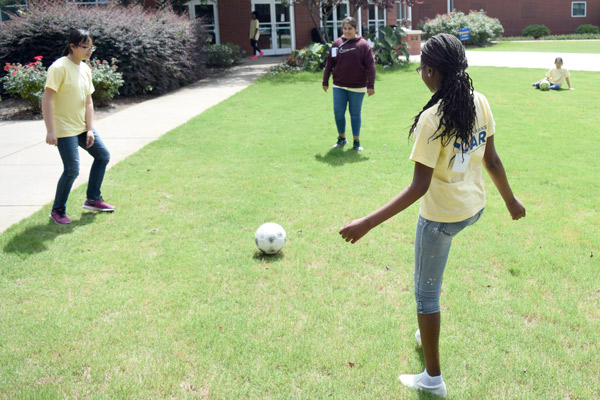 Students in the Nighthawks SOAR program break from their academic lessons to play outside.
"We rarely have extra space so during that small summer window between sessions when we do I thought we should be doing something meaningful," Moore said. "I thought, 'We can offer an accessible and affordable experience to benefit middle school students here because we know that it is a pivotal time for students.'"
This year's participants came primarily from the Athens-Clarke County area for two reasons: proximity to the Oconee Campus and the high percentage of students who could benefit most from the program. Other students came from Oconee County and Commerce City.
Clarke County School District Superintendent Dr. Demond Means agreed to partner with UNG after he heard Moore's proposal and readily signed on to provide transportation for Clarke County students to the Oconee campus, Moore said.
Plans are already underway for next year with expansion of the program into other nearby counties. Donations for the program are accepted online.