Dr. James Conneely, vice president of Student Affairs and Enrollment Management at the University of North Georgia, pointed out a staggering statistic about the school's student body. Forty-two percent had never take an online class of those student responding to a current survey.
Now, 100% of UNG students are learning remotely because of the COVID-19 pandemic.
To ease the stress levels of students, Conneely and his colleagues are offering words of wisdom with regular video messages.
"We want to reassure students about the resources we have available to them online," Conneely said. "And we want to reach out to them in multiple ways through social media as well as phone calls and emails."
Titled "Student Affairs Cares," the short video segments offer advice from different departments and offices such as the Student Money Management Center (SMMC) and Career Services. The videos are posted on UNG's social media platforms including YouTube and IGTV. 
Current examples of the videos include:
While additional videos are on the way, multiple student services already are available online. Here are ways a few departments and offices can aid students.
Student Money Management Center
"We are asking people to come through us first if they need help," said Erick Jones, director of SMMC. "And we want to talk to them before it becomes an emergency."
Jones said many students are dealing with a drop in their income because of lost work. A majority of UNG students work part time or full time.
Counselors will work with students on their budgets in one-on-one appointments via Skype or Microsoft Teams. To schedule an appointment, visit the SMMC webpage.
Emergency funds to pay for rent, food, gas, and other essentials are available through SMMC.
Career Services
Diane Farrell, director of Career Services, said her office is using various digital methods to serve students, such as live chat and online mock interviews. She noted that experience with virtual meetings is beneficial to students.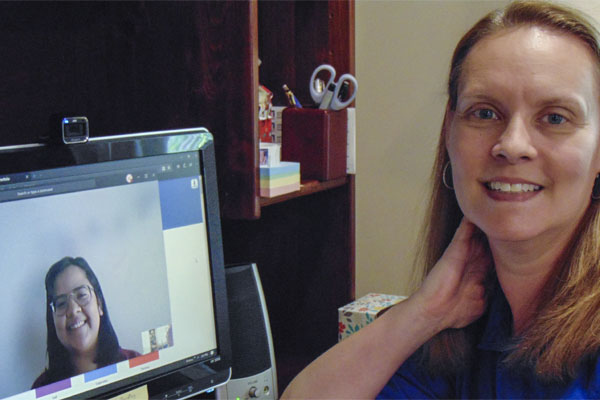 Lori Cleymans, a Career Services specialist, can still conduct mock interviews with students to help them prepare for internship and job interviews.
"A lot of employers are conducting first-round interviews this way," Farrell said. "They can try it out with us first and work out bugs."
Students can conduct a mock interview online. Visit the Career Services webpage and click "Schedule an appointment," call 706-864-1951 or email careerservices-dah@ung.edu.
Career Chats happen at 4 p.m. every Tuesday in April with links on Handshake or UNG Connect.
Career Services specialists will review students' resumes via email.
Three career groups are available on D2L with links to resource tools.
Student Disability Services
The office is also helping students find resources they can access from home.
For example, students who are blind can access the JAWS application program for free until July 1. Braille versions continue to be shipped to them, too.
If students are not registered for accommodations, they can sign up online.
"Intakes have not slowed down for us," said Thomas McCoy, director of Student Disability Services. "We have students who go to the University of Georgia and want to take classes at UNG's Oconee Campus. We have seen 6-7 intakes that have started since March 30, and we expect it to continue."
Students may fill out an intake form online. Once it is processed, accommodations can be made.
Staff members have reached out to current students facing unique issues at home.