Even though Boar's Head Brigade-Corps Alumni Weekend was scaled back this year due to the COVID-19 pandemic, the weekend again included a prominent speaker for the Sept. 26-27 event.
Army Col. Andrew Morgan, an American astronaut who recently returned from the International Space Station, addressed the Corps of Cadets, alumni, and some faculty and staff Sept. 26 in the virtual "First Call" weekend kickoff event hosted by the North Georgia Corps of Cadets Association (NGCCA).
"The cadets had a great opportunity to hear about Col. Morgan's leadership challenges as an astronaut, a medical professional and a member of the special operations community," said retired Col. Joseph Matthews, commandant of cadets at UNG. "His unique experiences enhanced our cadets' understanding of the great opportunities they can look forward to in the Army."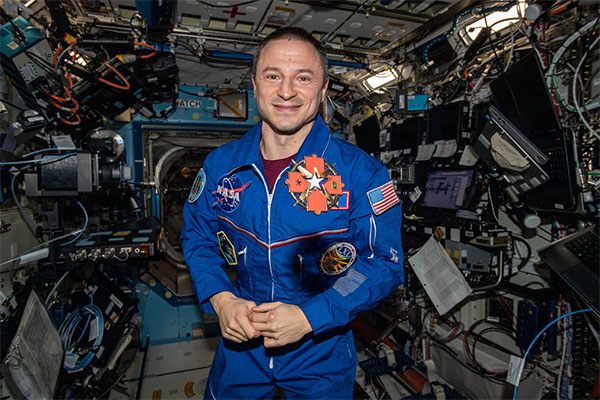 Astronaut Andrew Morgan, an Army colonel, spoke during Boar's Head Brigade-Corps Alumni Weekend. 
Prior to his selection to NASA's 21st group of astronauts, Morgan served in elite special operations units worldwide. He served as flight engineer on the International Space Station for Expedition 60, 61 and 62.
"The association continues to find ways to support the Corps of Cadets," said Jeff Dill, '85, chairman of NGCCA. "This virtual broadcast of a distinguished Army officer and American astronaut who has been to the farthest frontier was an example of how we help provide top-notch learning opportunities for the Corps of Cadets."
Cadet Lt. Col. Victor Ambriz, 1st Battalion commander and a senior from Hazlehurst, Georgia, was thankful to be one of five cadets who was able to ask Morgan a question. He was impressed that, even as an astronaut, Morgan considers serving his country in the Army to be his best accomplishment.
"As a physics major who wants to be a pilot, it was pretty amazing to be able to talk to someone like that," Ambriz said.
Alpha Company 1st Sgt. Callie Regal, a junior from Dalton, Georgia, pursuing a degree in interdisciplinary studies, appreciated the motivational factor of how Morgan's service in the Army helped prepare him to work as an astronaut.
"He was able to build a resume with all these different skill sets that led NASA to hire him," Regal said. "It was neat to see the types of opportunities we as cadets can have once we graduate."
The Corps capped the weekend with a military review on the Gen. William "Lipp" Livsey Drill Field on Sept. 27. NGCCA presented senior cadets with belt buckles to mark the occasion.
While the weekend generally includes the recognition of Distinguished Military Students (DMS), an event for those cadets is planned Feb. 12-14 as part of DMS Weekend. The cancellation of Advanced Camp and the implementation of Operation Agile Leader to make up for that training and evaluation during the fall account for the later-than-usual honoring of DMS cadets.
A second "First Call" event is set for the February weekend, with Medal of Honor winner Staff Sgt. David Bellavia scheduled to speak.
The networking and mentoring from Corps alumni to current cadets, usually held as part of the Boar's Head-Corps Alumni Weekend, is planned for February. It includes sessions that help prepare cadets for careers in both the military and civilian sectors upon graduation.
The nature of all the February events will be determined by state public health guidance about COVID-19 and public gatherings at the time.