One month after Madison Barber started college at a private university in Philadelphia, Pennsylvania, she knew she wanted to transfer. At Christmas break, the Marietta, Georgia, woman filled out an application to the University of North Georgia (UNG) for the fall 2017 semester.
"The reason I chose UNG is people had amazing things to say," said Barber, who noted her father began his collegiate career as a cadet at UNG. "Everyone I talked to who had even heard about UNG said it is a wonderful school."
Barber is not alone. She is one of 519 students who transferred from another university to UNG this semester. More than 1,100 students internally transferred from UNG's associate degree program to the bachelor's degree program in the 2016-17 academic year, said Dr. Janet Marling, executive director of the National Institute for the Study of Transfer Students
and an associate professor of education at UNG.
"Transfer students, both internal and external, add tremendous value to the institution," Marling said. "Research conducted by the National Student Clearinghouse Research Center
indicates that 56 percent of students transferring from a two-year institution earn a bachelor's degree within four years. That number increases to 72 percent for those students transferring with an associate degree."
Transferring between institutions as a pathway to degree completion is becoming a significant part of the national conversation on college affordability, accountability and access.
According to a report published Sept. 13, 2017, by the Government Accountability Office
(GAO), about 35 percent of students transferred from one college to another between 2004 and 2009. In the report
, the GAO discovered transfer students had some difficulty transitioning from one campus to another.
Too often the transfer process is too transactional and lacks the personal attention known for creating smoother transitions, Marling said. Luckily, UNG is ahead of the game. UNG has transfer specialists to help usher students through the process and transition them into their new surroundings.
"By designating specific individuals who are responsible for transfer students has eased the process," she said. "The transfer specialists can talk students through the financial piece, connect them with resources to enrich their college experience and promote academic success. It's a bit like a concierge service."
Transfer specialists also sponsor a Transfer Experience Retreat (TREX), which is unique to UNG. Barber said the retreat helped her connect to her new classmates, confirming her decision to transfer to UNG.
"Everybody I met on the trip, we got really close, really quickly," said Barber, a sophomore biology major. "And I met a girl on TREX named Alaina (Whitmore) and she is my best friend now."
UNG also requires transfer students to attend an orientation to help them become familiar with the campus, its resources and other transfer students.
Renee Clement, a mother of five who transferred to the Oconee Campus, experienced that first hand.
"When I couldn't figure out something, there was always a resource," Clement said, who attended the University of Wisconsin Marinette and the Defense Language Institute through the U.S. Navy in Monterey, California, years ago. "And someone always knew what was going on, especially Vincent."
Vincent Prior is the coordinator of Transfer and Transition Programs and Orientation and Transition Programs at UNG. Clement described him as a "wonderful resource."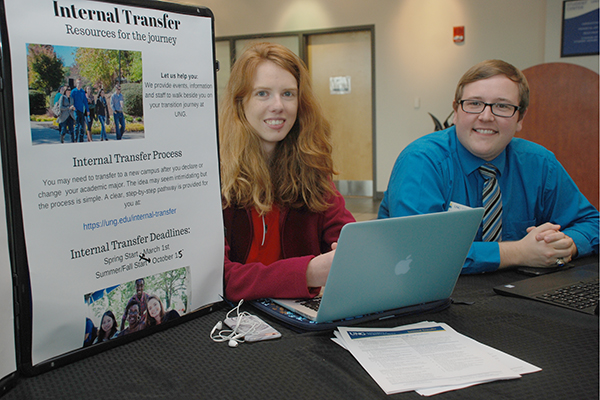 Alexis Nauman, left, transferred from a private Christian college to the University of North Georgia in the summer 2017. She met Vincent Prior, a coordinator of Transfer and Transition Programs, during the Transfer Experience Retreat. During the event, Prior welcomed Nauman and other transfer students to the UNG community.
Alexis Nauman, who transferred from a private Christian college in northeast Georgia to UNG in the summer 2017, agreed. She met Prior and Caroline Samples, a coordinator of Transfer and Transition Programs and Orientation and Transition Programs, during TREX.
"Vincent and Caroline were so helpful in making sure I felt welcome," said Nauman, a 19-year-old sophomore nursing major from Buford, Georgia. "They also have been letting me know when things were going on and inviting me to leadership luncheons."
UNG celebrated National Transfer Student Week
from Oct. 9-13 by hosting student picnics at each campus. The two remaining events will be held:
11:30 a.m. to 1 p.m. Thursday, Oct. 12, on the quad in Oconee
11:30 a.m. to 1 p.m. Friday, Oct. 13, on the Student Center patio in Gainesville
For more information about transferring, contact Prior at vincent.prior@ung.edu or 678-717-2229 or Samples at caroline.samples@ung.ed or 706-867-4459.