About the AASCU's ADP
The American Democracy Project (ADP) is a multi-campus initiative focused on higher education's role in preparing the next generation of informed, engaged citizens for our democracy. The project began in 2003 as an initiative of the American Association of State Colleges and Universities (AASCU), in partnership with The New York Times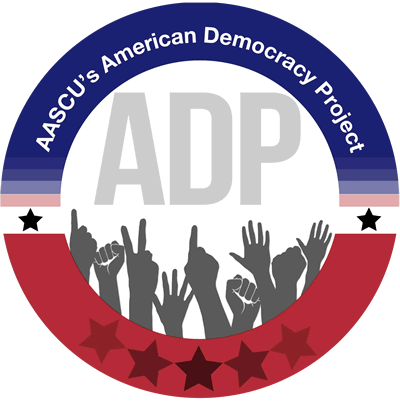 The goal of the American Democracy Project is to produce graduates who are committed to being active, involved citizens in their communities. The 250 participating colleges and universities, as members of the American Association of State Colleges and Universities, have been described as "Stewards of Place." As today's undergraduates complete their studies and return to their communities, universities must prepare the next generation of citizens to become tomorrow's "Stewards of Place."
Since its inception, ADP has hosted 11 national and 15 regional meetings, a national assessment project, and hundreds of campus initiatives including voter education and registration, curriculum revision projects, campus audits, special days of action and reflection (MLK Day of Service, Constitution Day), speaker series and many recognition and award programs.
UNG Faculty Senate Bylaws: American Democracy Project and Constitution Day Committees
Purpose: Each campus within the University shall maintain an American Democracy Project and Constitution Day Committee. The purpose of these committees shall be to create a greater intellectual understanding and commitment to participate in the civic life of the United States, and to recognize Constitution and Citizenship Day.