The Faculty-Undergraduate Summer Engagement (FUSE) program at the University of North Georgia (UNG) continues to grow; this summer's program will consist of 10 projects, comprising 7 disciplines and 3 campuses, and will give students graduate-level research experience.
Similar to the previous year, several student-proposed projects are also being funded, with the students pursuing original research under the guidance of a faculty mentor. One funded project involves the creation of a lithological map of the northwest Khoy region in Iran from recent UNG graduate Logan Moore, who earned a Bachelor of Science in environmental spatial analysis, and is currently pursuing a degree in geology from UNG, with plans to ultimately obtain a master's degree in petrology.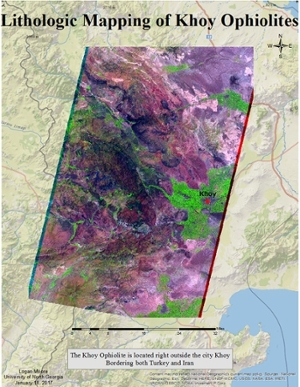 One map that Moore will use for her project.
"In the field of geology, in order to create an accurate lithological map — a map of general physical characteristics of rocks — a geologist is required to collect immense amounts of detailed data. This data is typically collected by strenuous field work, which limits the ability to physically explore large areas in a timely manner," Moore said. "As technology continues to advance, new ways of remotely identifying Earth's materials are now being discovered. I want to generate an accurate map by using remote sensing and geographic information science (GIS) technologies."
She chose the region based on its geological significance and the lack of detailed lithological maps produced by geospatial technology, and worked with Zac Miller, lecturer of geographic information systems, to develop the project.
"I began learning about geology in-depth in fall 2014 with my faculty mentor, Dr. Katayoun Mobasher. At the same time I was learning how to conduct spatial analysis using GIS and remote sensing technologies and various different data types," Moore said. "I realized that this type of spatial analysis has not really been applied to the geology field. I began applying remote sensing to geology for a final class project a year ago, and found that in order to acquire detailed information and to achieve a high level of accuracy, more information and different types of technology were required. This excited me, because it gives me the opportunity to develop a ground breaking method to analyzing geological features."
Of the eight faculty-submitted projects funded, seven feature researchers who are being funded for the first time by UNG's Center for Undergraduate Research and Creative Activities, which operates FUSE. One of those projects comes from Teri Lynn Cameron, a student of Dr. Troy Smith, assistant professor of psychological science. Cameron and Smith are exploring the effects of specific tones called binaural beats on long term memory.
According to research, binaural beats can influence brain function and behavior. If binaural beat therapy improves memory performance, the research could lead to the development of inexpensive tools for improving long-term memory.
"Because there is limited research on the effects of binaural beats on long term memory, we hope to replicate previous studies that found binaural beats increased working memory, and extend it to test the effects on long term memory. We will use UNG's electroencephalography (EEG) equipment to measure subjects' brain activity before, during and after listening to binaural beats," Cameron said. "This research project will also add to the general body of knowledge of specific methods that induce brain entrainment, or causing brainwave frequencies to synchronize with a periodic stimulus, such as sound."
For a complete listing of FUSE projects and awardees, click here.