University of North Georgia (UNG) graduate student Aubrey Lamar had no expectations when she walked into Ability Pediatric Therapy in Clermont to assist in the first DanceAbilities class for children with special needs in April.
After less than an hour of helping children with their flexibility, strength, and dancing to music, Lamar felt reaffirmed to earn a doctorate degree in physical therapy.
"I really loved getting away from school and being reminded why I was in school and reminded of the impact a physical therapist can have on people," the 25-year-old North Augusta, South Carolina, native said.
When Dr. Kimberly Castle, associate professor in UNG's Department of Physical Therapy, opened the DanceAbilities class this month on UNG's Dahlonega Campus, Lamar helped once again. The class meets from 5:30-6:15 p.m. every Wednesday in October in room 311 of the Health and Natural Sciences building, 159 Sunset Drive, Dahlonega.
The DanceAbilities class is geared for children and some adults who have autism, Down Syndrome or cerebral palsy. Participants range in age from 4 to 65 years old. Students may still register for the class by calling Castle's office at 706-867-2945 and providing the child's name, help needed and planned dates of attending the class.
Bria Kellar, an occupational therapist with Ability Pediatric Therapy, is teaching the class with assistance from UNG graduate physical therapy students.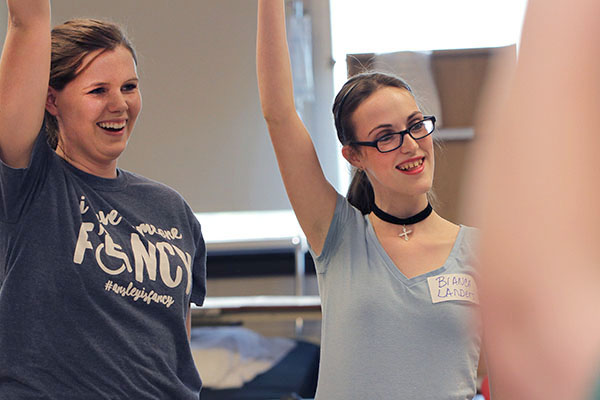 Bria Kellar, left, teaches the DanceAbilities class every Wednesday in October with the assistance of UNG physical therapy graduate students. Together they help children and maybe an adult or two who have special needs with their flexibility, strength and balance in a dance class specifically designed from them.
Kellar, who danced from age 4 through her college years, said she structured the class like a beginner ballet class. The students learn the different ballet positions and dance moves as well as gain the discipline, respect, and confidence.
"Because of the special needs of the students, the activities are adjusted to meet them on their level," Kellar said. "And with the PT (physical therapy) students in the class, the children get individual attention that they wouldn't get in another class."
Castle started a DanceAbilities class for special-needs children when she lived in Wisconsin and said the class achieves two separate goals—one for physical therapy students and one for children with special needs.
UNG graduate students receive hands-on experience with special-needs individuals in a casual, fun atmosphere.
"It was great, especially because you were able to put into action what you learned in class," said Jasmine Williams, a 23-year-old graduate physical therapy student who participated in the spring class.
Physical therapy students also learn how to think critically and creatively about assisting the person in his or her movement as well as motivating them.
"If they needed help with a step or movement, I would demonstrate it," Lamar said, referring to last spring's class. "If they needed balance, I would put my hand on them. And if they couldn't do it one way, I say 'Let's try it this way.'"
She described herself and her fellow doctoral physical therapy students as dancing "buddies" for the young clientele.
The Doctor in Physical Therapy was the first doctorate degree offered at UNG. The program graduated its first class with a master's degree in 1995 and upgraded it to a doctoral program in 2008.
The children in the class receive the benefit of participating in a dance class specifically designed to help them move.
"A lot of them had a hard time with their flexibility," Lamar said. "Some couldn't touch their toes."
With the DanceAbilities class, the movements increased their flexibility and strengthened their muscles. But most of all they bonded with their fellow classmates and the UNG students.
"It's about inclusion and participation for the children," Castle said.
Lamar said she saw the children gain confidence, but she gained more.
"I got more out of it than they did," Lamar said. "I can see the impact I have on patients, and it gives me a breath of fresh air. Learning about these kids and how to help them and making it fun helped me."