Officials broke ground on the University of North Georgia's (UNG) Convocation Center in June 2016 and have anxiously awaited opening the 103,000-square-foot multiuse facility on the southwest side of the Dahlonega Campus. The Convocation Center's official grand opening celebration will take place later this spring.
"We have been eager for this facility to open, and it is very exciting to see it come to fruition," UNG President Bonita Jacobs said. "The Convocation Center will become a focal point of campus life for the UNG community, and I look forward to celebrating its opening and seeing the academic programs and student and community activities that it will house."
The Convocation Center becomes the main arena for large UNG activities such as basketball games, commencement ceremonies, concerts and military training exercises. It will also host community and regional events, such as job fairs, tournaments and large-scale meetings.
Nighthawks' fans can get a sneak peak of the new facility at the university's homecoming basketball games Feb. 24, when UNG takes on Peach Belt rival Georgia Southwestern University.
"The opening of the Convocation Center is a crowning moment for not only our basketball teams, but for the entire UNG campus community and the North Georgia region," said Lindsay Reeves, director of athletics at UNG. "Having perhaps the country's best NCAA Division II facility will have an immediate and visible impact on both our student-athlete and fan experiences. Our basketball programs are honored to be able to call the Convocation Center their new home soon."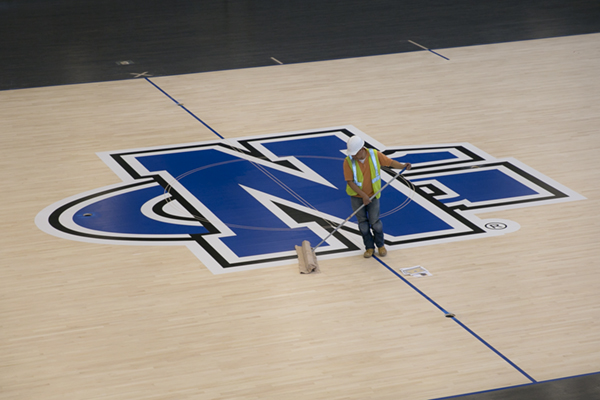 University of North Georgia's Nighthawks will play their homecoming basketball games Saturday, Feb. 24, in the new Convocation Center on the Dahlonega Campus.
During a regular-season basketball game, UNG's Memorial Hall Gymnasium can accommodate about 1,000 students, faculty and staff to cheer on the Nighthawks women's and men's team. The number of fans can triple when UNG opens its long-awaited Convocation Center with its 3,600-seat arena.
"Right behind the goal on the north side of the gym will be 400 seats," said Ken Crowe, assistant vice president of facilities at UNG. "That is almost half the seats in Memorial Hall."
The Convocation Center will also be home to UNG's kinesiology department with four classrooms and three labs. Each classroom has windows facing the campus, revealing a view of UNG's historic buildings as well as the north Georgia mountains.
Of the four classrooms, one is a Technology Enhanced Active Learning (TEAL) lab. It groups students around eight tables or work stations with screens videoing their work and projecting it on a nearby screen. This provides a unique interactive learning environment among students.
"We don't have another classroom like this," Crowe said.
The three labs inside the Convocation Center have dual purposes. For example, students learn how to treat an athlete in the athletic trainer lab. The same lab can be used to assess an injured athlete during a game. The same goes for the human performance lab and the strength and conditioning lab.
"The primary focus of these labs is instructional," Crowe said.
The Convocation Center also will have a huge impact on UNG's commencement ceremonies.  All graduation ceremonies will be held in the center on the Dahlonega Campus. In the past few years because of space constraints of existing facilities and the increasing number of graduates, the university has had to limit the number of commencement tickets occasionally to as few as four per graduate. Recently, UNG has increased the number of ceremonies each semester to provide more tickets per graduate, having as many as seven ceremonies during spring semester.
"With an increasing number of graduates participating in commencement each year, we really have outgrown our other venues," said Anna Brown, director of university events at UNG.
The university plans to hold three commencement ceremonies this May and anticipates being able to offer six to eight tickets per graduate, depending upon the number of graduates in each ceremony.
University of North Georgia's basketball homecoming games
When: 1:30 and 4 p.m. Saturday, Feb. 24; Gates will open at noon
Where: Convocation Center, 180 Alumni Drive, Dahlonega
Admission: $6 adults, $4 children ages 7-18 and free for UNG students, faculty and staff; children 6 and younger; and all Nighthawks Athletic Club members