Each Freshman Recruit Orientation Group (FROG) Week at the University of North Georgia (UNG) has a different flavor. In the spring, one of the most pronounced differences from fall is the number of National Guard soldiers coming from basic training to immerse themselves in Corps of Cadets life.
Army National Guard Capt. Elijah Carroll said having National Guard soldiers as part of the FROG class is helpful to the other FROGs experiencing their first such training. Carroll is commander for the National Guard detachment on UNG's Dahlonega Campus, National Guard liaison to UNG, Georgia Military Scholarship committee member, faculty adviser for the Corps of Cadets' Hotel Company, and an assistant professor of military science.
"It's always comforting to go through something like FROG Week with someone who's already been through the basics," Carroll said, adding about 70 percent of the 70 cadets who completed FROG Week from Jan. 3-6 came from basic training.
The state offers 42 UNG Military Scholarships each year to Georgia high school seniors who attend UNG and commission as officers in the Georgia Army National Guard after graduating with bachelor's degrees. The scholarship pays for room, meals, tuition, books, uniforms, and fees.
Scholarship recipients also receive National Guard weekend drill pay, GI Bill, pay for attending Army basic and advanced training, and Army ROTC contract pay (beginning of sophomore or junior year, if offered a contract to commission as a lieutenant).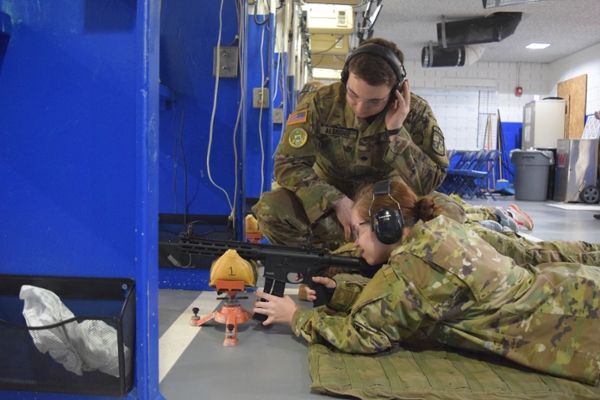 FROGs were able to use the rifle range on UNG's Dahlonega Campus as part of spring FROG Week.
Retired Army Maj. Richard Neikirk, assistant commandant of cadets, said the Corps had to adjust training due to 2 1/2 days of steady rain, adding "we were lucky — this FROG Week was warm." And the timetable condenses all the major training to 3 1/2 days, about half the time dedicated to FROG Week each fall.
"With spring FROG Week being shorter, there's no room for slacking off," Neikirk said. "We have to make the best use of time and resources available."
Terrance Dorsey, a FROG from Riverdale, Georgia, majoring in business administration, was one of those who came from basic training and advanced individual training (AIT). He was grateful to be back in a military environment.
"You benefit from the structure and the order," Dorsey said.
Having so many cadets coming from the National Guard changes the tenor of FROG Week.
"It gives us more time to focus on the little things and the details of the university," Cadet Megan Collins said.
Collins, a junior from Thomaston, Georgia, double majoring in Arabic and nursing, is a soldier in the National Guard. She said the National Guard soldiers are used to the military lifestyle, but it can be quite a change for FROGs who didn't participate in Reserve Officer Training Corps in high school.
"You have people telling you what to do all the time," Collins said. "They have to get used to it."
Trevione Collins, a FROG from New Orleans, Louisiana, majoring in communications, was one of the FROGs who didn't have military experience before entering UNG. She said FROG Week was quite challenging.
"I even thought about quitting. Then I put on my uniform and realized I had to graduate," Trevione Collins said. "It's been hard, but it's been fun, too."
Cadet Jared Pate, a junior from Commerce, Georgia, and National Guard soldier majoring in strategic and security studies, came in for his freshman FROG Week in January 2017 right after it had snowed. The Corps of Cadets leadership's ability to adapt to the weather impressed him.
"I've never seen anything up here where people were having their time wasted," Pate said.
Brittany Townsend, a FROG from Social Circle, Georgia, majoring in nursing, also went through basic training and AIT before enrolling at UNG this January. She can already tell being in the Corps of Cadets will help her grow.
"It's going to instill more discipline and give me a better outlook on how I can lead in the future," Townsend said.