The 22nd annual Hoag Lecture Series features three speakers for the first time and has also expanded beyond the University of North Georgia's (UNG) Dahlonega Campus for the first time. Previous years have included one or two speakers.
Kicking off the series was Hasan Kwame Jeffries, author of "Bloody Lowndes: Civil Rights and Black Power in Alabama's Black Belt," which depicts the African-American freedom movement in Lowndes County, Alabama. The Ohio State University associate professor spoke Feb. 21 in the Robinson Ballroom on the Gainesville Campus, an event that also was part of Black History Month and was co-sponsored by Multicultural Student Affairs.
Lisa Yaszek and Azadeh Shahshahani are the two remaining guests for the speaker series. All events are open to students, faculty, staff and community members.
"Having three speakers from different fields on two campuses this year is great for the university community. These speakers contribute to the development of inclusive and engaging learning environments on our campuses," said Dr. Lauren Johnson, assistant professor of teacher education and coordinator of diversity and recruitment initiatives for the College of Education. She is in her fourth year on the Hoag Lecture Series committee.
Dr. Lauren Oliver, assistant professor of biology, is in her second year as chairwoman of the Hoag Lecture Series.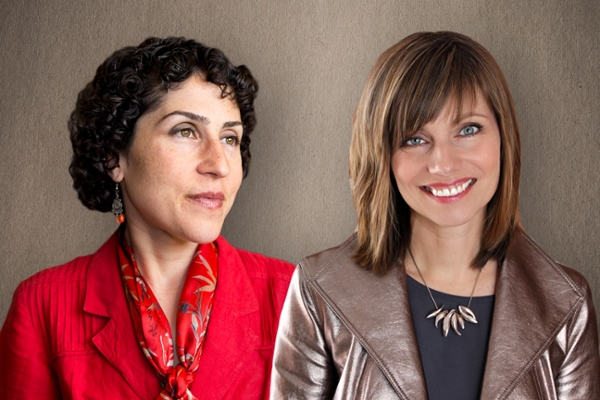 Azadeh Shahshahani and Lisa Yaszek will be the final two speakers of the Hoag Lecture series.
Yaszek's lecture, co-sponsored by the English Department is set for 6-7 p.m. March 28 in the Rare Books Room in the Library Technology Center on the Dahlonega Campus. Yaszek is a professor in Georgia Tech's School of Literature, Media, and Communication, where she explores science fiction as a global language crossing centuries, continents and cultures. Her books include "Galactic Suburbia: Recovering Women's Science Fiction," "Sisters of Tomorrow: The First Women of Science Fiction," and "The Future is Female! 25 Classic Science Fiction Stories by Women."
Shahshahani will lecture from 5-6 p.m. April 11 in the Rare Books Room. She is a human rights immigration lawyer for those in the Muslim, Middle Eastern and South Asian communities. Shahshahani previously served as national security and immigrants' rights project director with the ACLU of Georgia and is a past president of the National Lawyers Guild. She also serves as chairwoman of Georgia Detention Watch, co-chairwoman of the U.S. Human Rights Network Working Group on National Security and on the Advisory Council of the American Association of Jurists.
Nayomi Munaweera is serving as the speaker for the Visiting Authors Program set for March 4-6.
Joining the list of prominent speakers at UNG this spring is Nayomi Munaweera through the university's Visiting Authors Program. The Visiting Authors Program has been held most semesters since 1996.
Munaweera will speak on all five UNG campuses from March 4-6. Her talks will be at 12:45 p.m. March 4 in Room 113 on the Blue Ridge Campus, 7 p.m. March 4 in the Hoag Auditorium on the Dahlonega Campus, noon March 5 in the Faculty Center on the Oconee Campus, 7 p.m. March 5 in Nesbitt 4171 on the Gainesville Campus, and noon March 6 in Room 125 on the Cumming Campus.
Munaweera was born in Sri Lanka, grew up in Nigeria and immigrated to the U.S. when she was a teenager. She teaches at Mills College and at the Ashland University low-residency Master of Fine Arts program. The Sri Lankan Civil War provides an important context for her books. She is the award-winning author of "Island of a Thousand Mirrors" and "What Lies Between Us."
"Students will gain insights about global history and culture, gender relations, and memory and trauma from her readings," said Dr. Kyounghye Kwon, associate professor of English and co-chairwoman of the Visiting Authors Series Committee.