A copperhead, worm snake, scarlet snake, black racer and timber rattlesnake are among the 20-plus species that can be identified with the "Snake ID for Citizens" app developed by University of North Georgia (UNG) faculty and students.
Jessica Patterson, lecturer of biology, collaborated with Dr. Allison Bailey, associate professor of geography and environmental studies in the Lewis F. Rogers Institute for Environmental and Spatial Analysis (IESA) at UNG, and UNG student Jacob Lougee to develop the app. Its purpose is to find snakes possibly suffering from a deadly fungal pathogen and pinpoint their location. This information can then be viewed in a web map in ArcGIS online and shared with the student researchers at UNG's SCALE lab.
"It provides a checklist of a snake symptoms such as crusty skin, swollen face or lesions," Patterson said. "It allows someone to take a picture of the snake with a cellphone."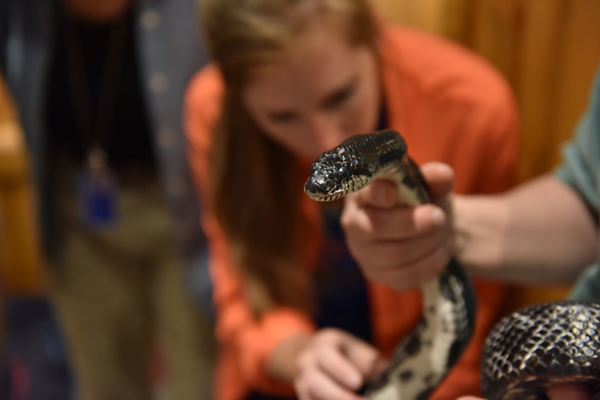 The Snake ID for Citizens app can be used to identify snakes, their characteristics and location in northeast Georgia.
The first step, though, is to identify the snake. Individuals may scroll through pictures of snakes accompanied with its common and species name and select the proper one. Then a drop-down menu also allows people to select the snake's age, weather conditions, and observed behavior. They may also fill out the snake's habitat and more importantly, the health and location of the snake.
"I'm using that information as a guide for where my research team comprised of students can look for snakes that may be sick and need to be tested for snake fungal disease," Patterson said. 
Employees from Elachee Nature Science Center, a regional environmental education center and recreation destination near UNG's Gainesville Campus, will join the effort.
To participate in the survey or download the app, visit  https://arcg.is/18ieS0.