An enrollment increase usually marks a program's success. But feeding more children through the University of North Georgia's (UNG) Summer Food Service Program (SFSP) indicated northeast Georgia's food insecurity issues.
For the past seven summers, Dr. Pamela Elfenbein, a team of staff and students in UNG's Human Services Delivery and Administration (HSDA) program, and community partners worked to feed at-risk children in low-income areas. They served more than 100,000 meals to thousands of students in as many as seven counties in the program's history — some received lunch, some received breakfast, and some received both.
This year the SFSP will operate in Forsyth County only and serve an estimated 400 children, Elfenbein said. It marks the lowest number of participants since the program's inception in 2012, but Elfenbein calls it a success.
"We have done what we set out to do," the professor of sociology and human services at UNG said. "The action UNG and its partners took to serve hungry children educated the public about the food needs and changed the community's attitudes and behaviors."
Elfenbein said counties that previously participated in the SFSP will operate summer food programs in their own borders. They include Hall, Habersham, Jackson, Lumpkin, and Stephens counties.
"They are operating the Seamless Summer program," she said, explaining it is conducted through the U.S. Department of Agriculture's (USDA) National School Lunch Program.
The Seamless Summer program allows school systems to provide free meals to children 18 years old and younger from low-income areas. It enables Georgia school systems to take over UNG's SFSP, which also is funded by a USDA grant.
"They can reach many more nutritionally at-risk children than we could," she said.
Elfenbein and her staff, however, plan to make the program's eighth and most likely final summer end memorably. For example, children at Cumming Elementary School will receive breakfast and a hot lunch four days a week. Last summer, children were treated to a hot lunch on three days.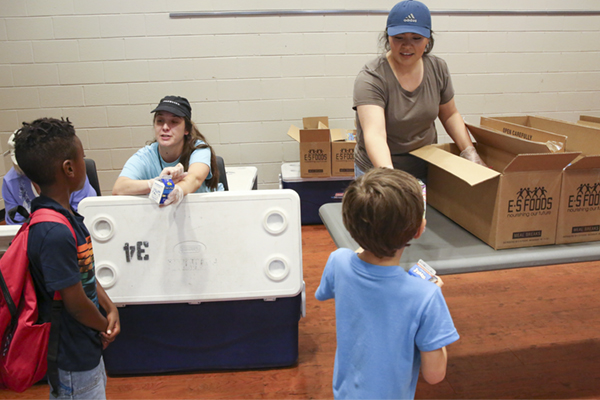 University of North Georgia students hand out food and beverages to children during the Summer Food Service Program in summer 2018.
While many children will receive their meals at Cumming Elementary and two other schools, a bus will take food to three other sites in Forsyth County to reach children who cannot access the school sites.
Gisela Cruz, a senior pursuing a degree in HSDA, is one of the UNG students who will work on site to serve children. The SFSP acts as a service-learning opportunity for UNG students.
"This gives me and other students the opportunity to do hands-on work in our chosen field, and we are helping people in need," Cruz said, explaining it is her second year with the program. "Last year, I got to know the children and shared my stories with them and had one-on-one time."  
This summer, the 24-year-old from Cumming, Georgia, will work behind the scenes with Elfenbein, too.
"It will give me insight on the administrative level and help me determine what kind of master's degree in social work that I want to earn," Cruz said. "This will also further my knowledge of the skills that I will need to overcome any challenges."
Elfenbein said the summer program overcame its challenges thanks to its community partners. This year's partners include United Way of Forsyth County, Cumming First United Methodist Church, Cumming Elementary School, and Forsyth County Nutrition which acts as the food vendor. Previous partners were Georgia Mountain Food Bank, Legacy Link-Area Agency on Aging, the United Way of Hall County, Georgia Department of Early Care & Learning, Georgia Department of Education, and local businesses.
The knowledge and data Elfenbein gained for the past seven years about food insecurity issues in northeast Georgia will not go to waste. She is working with the program partners to identify the hunger hot spots and target children in those areas because nutrition is key for them.
"When children don't have their nutritional needs met, they can't learn," Elfenbein said. "They go back to school with learning deficits."