University of North Georgia (UNG) students graduating in August will hear from one of the top leadership officials from Chick-fil-A.
Rodney Bullard, vice president of corporate social responsibility for Chick-fil-A Inc. and executive director of the Chick-fil-A Foundation, is the commencement speaker for the Aug. 2 ceremony.
A frequent speaker, Bullard focuses on the themes of leadership, community building, economic mobility, and heroism. He illustrates those themes in his 2018 book "Heroes Wanted: Why the World Needs You to Live Your Heart Out."
Before he arrived at Chick-fil-A, Bullard served as an assistant U.S. attorney and prosecuted complex criminal cases thanks to his law degree from Duke University. For his service, the U.S. attorney general presented him with the Department of Justice Director's Award.
Prior to that, Bullard served in the U.S. Air Force for 13 years as a deputy judge advocate, legislative counsel and officer, respectively. He graduated with a bachelor's degree from the U.S. Air Force Academy in 1996 with the honor of being an All-American Mock Trial Attorney.
Bullard also served his country as a White House Fellow, the nation's most prestigious public service fellowship. He was assigned to NASA and worked directly for the NASA administrator. He also previously served at the Pentagon as a congressional legislative liaison in the Office of the Secretary of the Air Force.
Bullard is also an alumnus of the University of Georgia's Terry College of Business and Harvard Business School's Advanced Management Program.
More than 400 degrees will be conferred at 6 p.m. Friday, Aug. 2, in the Convocation Center on UNG's Dahlonega Campus. Of the participating students, a handful will receive one of the newest graduate degree offered at UNG.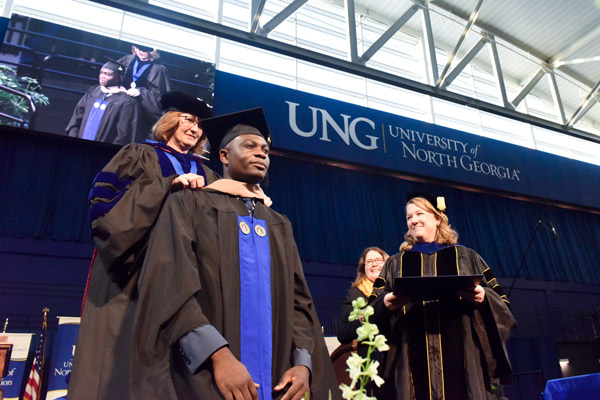 Five UNG students will be awarded their Master of Accountancy degrees during the Aug. 2 summer commencement ceremony.
Five graduate students will be awarded their Master of Accountancy degree. The Master of Accountancy program launched in fall 2018 to address students' needs to acquire additional accounting knowledge desired by employers, to demonstrate a commitment to success in the field of accounting, and for additional education to meet the requirements for licensure as a CPA. Students who want to earn their CPA need to have at least 150 credit hours to be a licensed CPA in Georgia, said Steven Kronenberg, director of the Mike Cottrell College of Business graduate program.
"This program is designed to help our accounting students and others go from the 120-hour accounting program to 150 with the MAcc while greatly increasing their accounting knowledge," he said, explaining students have looked forward to the program's implementation.
Dylan Warren, one of the five earning his MAcc degree this summer, said the program arrived at the perfect time for him.
"This program takes elements you touch on in the bachelor's program and builds upon it," the 2018 UNG graduate from Cumming, Georgia, said. "It takes real-world technology being used by business and accounting firms and helps you learn not only how to use it, but how to apply it. The master's program is the smartest choice to continue learning material that is applicable and relevant to the career that almost all enrolled strive to achieve."
Based on that endorsement and other factors, Kronenberg expects the program to grow as more learn about the MAcc.
"This summer's graduation will mark the beginning of what we hope to be a wonderful MAcc program for many years to come," he said
Electronic tickets are required to attend the ceremony and have been distributed to graduates through an online ticket system.
Graduates should arrive at least an hour prior to graduation to line up for the ceremony. Graduates and guests should allow extra time for traffic and parking. All bags will be checked at the Convocation Center's entrance.
Graduates and guests are invited to share their success via social media using #UNG19grad; posts and photos using the hashtag can be viewed before, during and after the weekend's ceremony at UNG19grad.
To find more information about commencement, including details and instructions for graduates and guests, visit UNG's commencement webpage.