University of North Georgia (UNG) student Brittany Rhodes discovered a piece of history while cleaning out an old estate with her mother about 20 years ago. It was only as the Cumming, Georgia, resident studied in a history class at UNG that she began to realize the full significance of a set of keys they found.
The Rhodes family initially kept the keys, which were in a jar at the estate, because the tag on the keys referenced the Milledgeville state prison and they had family from Milledgeville, Georgia. But as Rhodes, who is pursuing a post-baccalaureate teacher certification in middle grades science and social studies after already earning a political science degree with a pre-law concentration from UNG, delved deeper recently another discovery arose.
One of UNG faculty member Dr. Lauren Bradshaw's classes designs escape rooms with historical significance, including one focused on Leo Frank, a Jewish man who was convicted of the 1913 murder of 13-year-old Mary Phagan in a case shaped by racism and anti-Semitism. Rhodes wanted to share her finding with her professor when research showed J.E. Smith, who also was mentioned on the tag of the keys she had found years earlier, was the warden when Frank was an inmate at the prison.
After Frank's conviction, Georgia Gov. John M. Slaton commuted his death sentence to life in prison in June 1915. Frank was abducted from the Milledgeville prison and lynched on Aug. 17, 1915, in Marietta. He was pardoned by the state of Georgia in 1986 due to the state's failure to protect him and allow him to seek further legal appeals.
"These keys hold a lot of significance," Rhodes said. "It's important we remember the past so it doesn't repeat itself."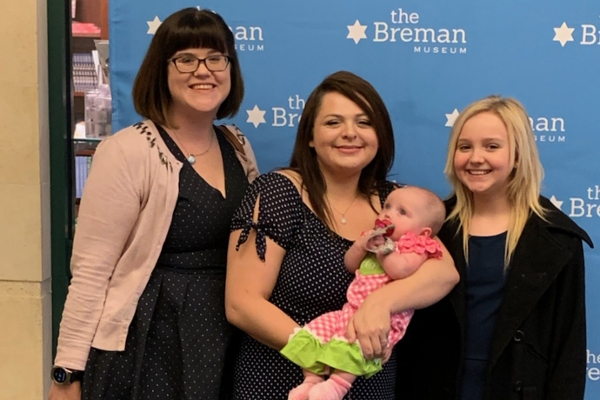 UNG faculty member Dr. Lauren Bradshaw, student Brittany Rhodes and Rhodes' daughters take a picture at the Breman Museum, where Rhodes has put on loan the keys she found so they can be alongside other Leo Frank artifacts.
Once Bradshaw, Rhodes' supervisor for her student teaching and assistant professor of middle grades, secondary and science education at UNG, saw the keys, she worked to find a landing spot for them. By early January, the faculty member and student took the keys to the William Breman Jewish Heritage Museum in Atlanta.
Jeremy Katz, director of the Breman's Cuba Family Archives for Southern Jewish History, was thrilled when he first learned about the keys. The Breman already had the door to the infirmary where Frank was when he was abducted, along with various other artifacts of the Frank case.
"This is the best place for the keys," Katz said. "It's among other Leo Frank artifacts."
The Rhodes family has put the keys on loan to the Breman for five years with a chance to revisit that arrangement later.
"The Leo Frank case reflects so many issues that we are still dealing with today — discrimination, failings of the justice system, and the dangers of mob mentality. Additionally, it serves as a reminder for Georgians to do better, and work toward a more just society," Bradshaw said. "We will not change anything by simply having students memorize other people's version of an event. The goal of social studies and history education is to train others to analyze the historical context and sources related to an event, and have our students create their own historical interpretation. This is why Brittany's discovery is so consequential. She has found another clue to the puzzle."
Rhodes enjoyed a look behind the scenes at the Breman. She and Bradshaw saw Frank's Cornell University diplomas and his marriage certificate.
"It was like fitting in a puzzle piece to completing the story," Rhodes said.