A record 725 higher education faculty and staff gathered at the 18th annual National Institute for the Study of Transfer Students (NISTS) conference Feb. 5-7 in Atlanta to consider ways to reimagine the transfer student experience.
"Creating meaningful change requires continuously thinking about how we can adapt and evolve; tapping into new ideas, influences, knowledge, and inspiration from multiple and perhaps seemingly unrelated sources to create what British designer John Thackara calls 'smart recombinations,'" said Dr. Janet Marling, NISTS executive director, in the welcome letter in the conference program.
"Just like a mashup of your favorite songs that have been recombined into creative and catchy works of art, so too can approaches to transfer be altered to produce something wildly fantastic. These yet-to-be-discovered solutions may make all the difference for our students."
Based on UNG's Dahlonega Campus, NISTS was founded in 2002 by UNG President Bonita Jacobs in response to a lack of professional development opportunities and research literature focused specifically on transfer students. In January, Jacobs was appointed to the American Council on Education National Task Force on Transfer of Credit.
At the 2020 NISTS conference, 12 higher education faculty, staff and students were honored with awards. Four received the Bonita C. Jacobs Transfer Champion Catalyst Award, three were named Bonita C. Jacobs Transfer Champion Rising Stars, four were tapped as Transfer Student Ambassadors, and one earned the Research Grant Award.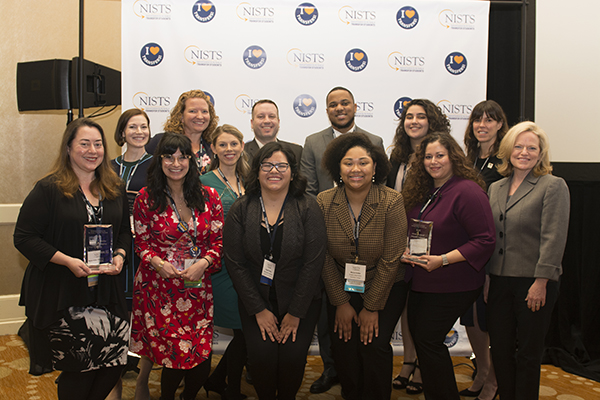 Dr. Janet Marling, the NISTS executive director shown on the far right in the front row, gave awards to these 12 professionals and students at the NISTS Conference in Atlanta.
The Bonita C. Jacobs Transfer Champion Catalyst Award recognizes mid-career professionals who are game-changers in the transfer field and have worked over time to make a significant impact at the institutional, regional and/or state level. The winners were:
Amanda Quintero, associate vice provost for student success and community engagement at California State University, Channel Islands.
Janie Valdés, assistant vice president in enrollment management and services at Florida International University, where she founded Transfer & Transition Services.
Heather Adams, director of College Learning Communities at UCLA.
Kerin Hilker-Balkissoon, director of educational and career pathways at George Mason University.
The Bonita C. Jacobs Transfer Champion Rising Star Award recognizes individuals who make significant contributions in the early stages of their careers, creating or improving programming that is responsive to the specific transfer student population and shows evidence of success. The awardees were:
Jennifer Brown, transfer specialist and chair of the Mānoa Transfer Coordination Center at University of Hawaii at Mānoa.
Sara Price, transfer admissions director at the University of Kentucky.
Alexandrea Deerr, assistant director of academic advising, Ivy Tech Community College, Sellersburg.
Transfer Student Ambassadors were selected through a national competition intended to recognize outstanding students who represent the heart of transfer work. All four demonstrated excellence in leadership, public speaking, and their potential for sharing meaningful information with higher education transfer professionals. They were:
Kaylee Cheng of California State University, Channel Islands.
Jahine Grady of Morehouse College.
Tania Nasrollahi of UCLA.
Macia Outlaw of Mississippi College.
Jason Mastrogiovanni, executive director of the Office for Student Success at Texas A&M University, won the Research Grant Award. The title of his research is "Collaboration in Transfer Student Work: A Cultural Historical Activity Theory Study at Four-Year Institutions."