Several University of North Georgia (UNG) faculty, staff, students and alumni are making innovative use of 3D printing to supply medical professionals with protective equipment as they care for patients who have been infected with COVID-19.
Dr. Jon Mehlferber, a professor of visual arts, is partnering with Enes Aganovic, assistant director of technology integration with Distance Education & Technology Integration (DETI) at UNG, Dr. Mark Causey, a Cumming orthodontist, and John Skorich, an engineering teacher at Dawson County High School, to produce medical masks for Northeast Georgia Health System (NGHS) personnel. Both Causey and Skorich are alumni of UNG.
"Health care workers are on the frontlines of the battle with this disease, and they are growing desperate as they see a dwindling supply of the equipment they need to keep themselves, and their patients, safe from infection," Mehlferber said. "I am honored to be working as part of this team to help them in this time of need."
When Aganovic delivered the first masks to Robert Turner, executive director of strategy and business development for NGHS, the health system official told Aganovic, "I wish I could hug you right now," though that isn't possible with social distancing measures in place due to COVID-19.
"Dr. Mehlferber, Enes and Dr. Causey have all gone above and beyond to help put NGHS in a better position to protect our employees. All it took was one group discussion, and then they made these masks a reality," Turner said. "As a community health system, we sometimes rely on other groups — especially in times of great need — for help. These gentlemen and UNG are the definition of true partners, and we deeply appreciate their support."
Mehlferber, Aganovic and Skorich have updated Causey's initial design to ensure it works on any 3D printer. Mehlferber is printing masks in UNG's MakerBot Innovation Center on the Dahlonega Campus and Aganovic is working in DETI. Between them, they print about 100 masks per day.
"Using digital design and fabrication, we have been able to make changes, test-print those prototypes, and use what we've learned to make additional improvements," Mehlferber said. "Within a matter of days, we finalized three versions of the device — small, medium, and large — to accommodate the variety of health care workers who will be wearing them."
Skorich has been making masks on the 3D printers at Dawson County High School and appreciated the chance to collaborate with UNG.
"As a high school teacher, it's important for us to build relationships with universities," Skorich said. "After the fact, it will be great to have these open lines of communication."
Dr. Ted Forringer, assistant department head of physics and astronomy at UNG, and three of his students have taken the updated design and 3D-printed masks in the Digital Fabrication Laboratory on UNG's Gainesville Campus.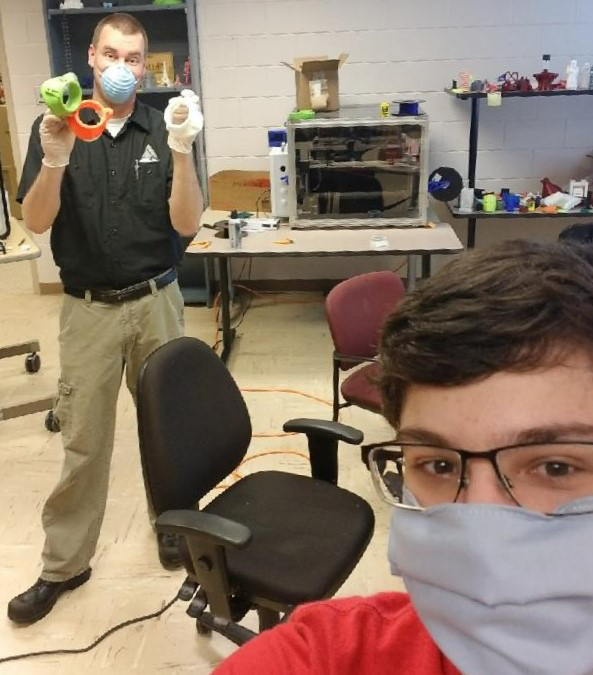 UNG students Forrest Ables and Tyler White have been working with faculty member Dr. Ted Forringer and fellow student Nicholas Schantz on 3D-printing masks for medical professionals.
"This is exactly the kind of project J.B. Sharma had in mind when he had the idea for this 3D lab a few years ago," Forringer said. "I'm glad we're able to use it in a way that is not only helping our students but also the community."
Forrest Ables, Tyler White and Nicholas Schantz are the students working with Forringer. They expect to produce about 150 masks with the supplies they have.
"My sister has a master's degree in nursing, so she works with COVID-19 patients on a daily basis," White said. "So when I heard that hospitals may be running short on these supplies, I felt the need to jump into action."
Gabriel Jones, a student success technology specialist at UNG, found out about the need for ear guards to make masks more comfortable for medical professionals and is able to print five at a time of those.
"I decided to print a few of those and got a big response from friends and family who work in the health care field," Jones said. "One of my friends who works for Northeast Georgia Health System has said she will take all I can print."