The University of North Georgia (UNG) expands its ability to fill critical industry shortages in healthcare and cyber technology with the approval of two new degrees: a Doctor of Nursing Practice (DNP) and a Bachelor of Science in cybersecurity.
The Board of Regents of the University System of Georgia approved the two new degrees at its May 15 meeting, effective immediately.
"We are pleased that the Board of Regents has approved the Doctor of Nursing Practice and the Bachelor of Science with a major in cybersecurity," Dr. Chaudron Gille, vice provost at UNG, said. "We designed these programs to fill critical workforce needs in the region and build on areas of strength at UNG. Each is a natural outgrowth of existing programs and faculty expertise in the College of Health Sciences and Professions and the Mike Cottrell College of Business respectively, as well as being in high demand by students and industry."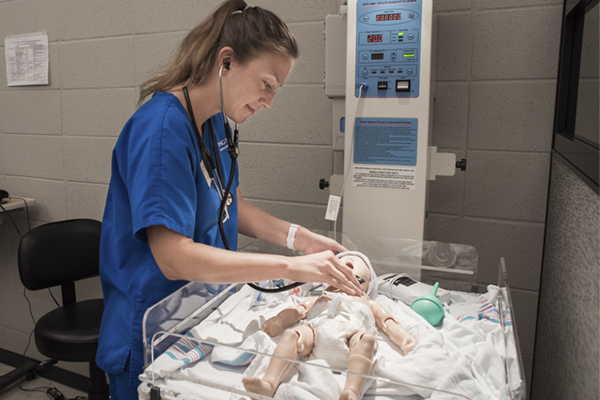 The new Doctor of Nursing Practice was approved May 15.
The U.S. Department of Health and Human Services projects that the shortage of primary care physicians will reach an all-time high in 2025. In the South, the projected shortage is some 13,860 primary care physicians. In Georgia, the 2016 Kaiser Family Foundation report indicates the state only has 60 percent of needed primary care providers, Georgia is ranked 39th in the nation in the ratio of doctors per 100,000 population.
Dr. Sharon Chalmers, interim head of the Department of Nursing in UNG's College of Health Sciences and Professions, said the DNP program will help fulfill a critical need for healthcare in the region.
"The Appalachian north Georgia region is made up of rural counties and populations with many unmet healthcare needs," Chalmers said. "Students in our DNP program will have opportunities to serve these residents by implementing strategies to address their healthcare needs at a system level."
The DNP degree is offered to graduates who have earned a master's degree in nurse practitioner. The 38-hour post-master's program will be offered online with two required face-to-face sessions and also will require the completion of an additional 500 hours of clinical practice beyond the requirements of the master's degree. The DNP represents the preferred educational preparation for advanced practice nurses as recommended by the American Association of Colleges of Nursing and the Institute of Medicine.
Similarly, the number of cybersecurity jobs continues to outpace the number of trained experts. In mid-May, CyberSeek.org indicated more than 10,500 cybersecurity jobs currently open in Georgia, from among 285,000 nationwide; the website categorizes Georgia's supply of cybersecurity workers as "very low." The Governor's High Demand Career Initiative notes cybersecurity as one of three focus areas, and the Georgia Department of Economic Development cites Georgia as the third-highest information security hub in the nation, with more than 115 cybersecurity companies and annual revenues of almost $5 billion. The impending move of U.S. Army Cyber Command to Georgia's Fort Gordon, which will be led by UNG alumnus Maj. Gen. (promotable) Stephen Fogarty, also raises Georgia's national profile in the cybersecurity field.
"The Bachelor of Science in cybersecurity will develop the next generation of cyber leaders who can securely provision systems, protect and defend networks, analyze threats and investigate incidents in industry, government or military settings both at home and abroad," said Ash Mady, head of the Department of Computer Science and Information Systems in the Mike Cottrell College of Business at UNG.
UNG's computer science programs in the Mike Cottrell College of Business have grown quickly in recent years because of student demand. More than 750 computer science and information systems students were enrolled at UNG as of fall 2017. Specifically, demand for cybersecurity courses has more than tripled in 2 1/2 years; while only 58 students were enrolled in two course sections in fall 2015, some 220 students enrolled across six course sections in spring 2018. Earlier this year, UNG also added a graduate-level certificate in cybersecurity.
UNG is designated as a National Center of Academic Excellence in Cyber Defense by the Department of Homeland Security and the National Security Agency and is one of six federally designated senior military colleges in the nation. UNG has offered a concentration in information assurance and security in the computer science program since 2004. The new degree is an extension of this concentration to create a more focused degree program aligned with the National Incentive for Cybersecurity Education (NICE) Cybersecurity Workforce Framework, also called the NICE Framework, categories of securely provision, protect and defend, analyze, and investigate.
Both new degrees expand upon existing academic programs at UNG; the DNP brings the number of graduate degrees offered by UNG to 18, and increases the number of doctoral degrees offered at UNG to three.  Both degree programs will begin accepting students this fall.