A car breaking down, a trip to the emergency room or a student loan refund being delayed can wreak havoc on a student's finances, especially if they are unexpected.
To alleviate the situation, the Student Money Management Center (SMMC) at the University of North Georgia (UNG) can offer students a safety net with its Nighthawk Emergency Loan Program.
Established in fall 2017, the loan program is designed to provide relief to students experiencing unanticipated financial difficulty. The zero-interest loan allows students to stay in school and continue their studies while repaying the loan on a timeframe based on each individual's financial situation.
"Our hope is that by keeping our students in school and helping them through one emergency, we will be able to work with them to gain the knowledge and skills to avoid similar situations in the future," SMMC Director Erick Jones said.
Jones explained the emergency loan program arose after he talked with students who incurred unexpected expenses while enrolled at UNG.
"It was actually spawned from students who were hungry or who didn't know if they would be able to keep their apartment because their roommate bailed," Jones said.
One of the most common situations occurs at the start of the semester and involves money for books.
"Several students don't realize that their refunds are not issued at the start of the school year, but after the drop/add date," Jones said, explaining students planned to use the funds to buy textbooks.
This is where the SMMC can help.
"For more than 80 percent of the students who come in to ask for an emergency loan, we are able to find a way for them to not incur any additional debt," Jones said.
He added the loan program is not just for campus-related issues.
"If a student has car trouble and needs to get it repaired to travel from home to work and school, we will help with up to $500," he said.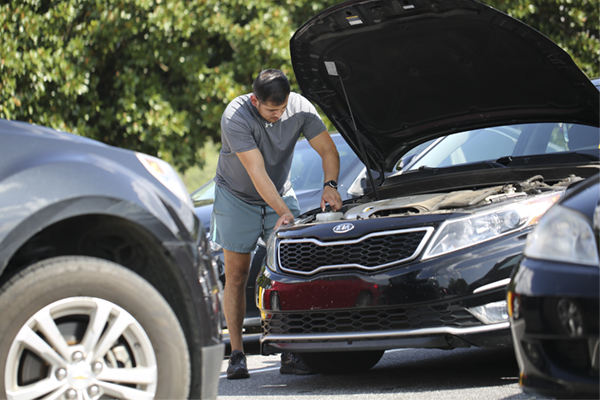 If University of North Georgia students have unexpected expenses such as a car repair, the Nighthawk Emergency Loan Program can help.
Students may apply for one loan per semester with a $500 maximum for fall and spring semesters and $150 maximum for summer semester, according to the SMMC webpage. The loan must be repaid in no later than six months.
The loan must be used for emergencies only. Tuition, on-campus housing, prior balances or study abroad payments are prohibited. Emergencies may include, but are not limited to:
Unforeseen medical expenses
Loss of employment
Death/illness in the family
Transportation problems such as accidents or mechanical malfunction
Off-campus housing or utilities bills which could not have been anticipated
Students eligible for the loan:
Must be an enrolled UNG student, at least 18 years of age, in good academic standing.
Must not have outstanding financial obligations to the university.
Must demonstrate financial need by presenting a bill, estimate for services rendered, legal contract, or other compelling evidence to a SMMC representative.
Must demonstrate the ability to repay the loan.
Must agree to financial counseling with SMMC staff with the intention of avoiding future financial distress.
To date 100 percent of students who have been awarded emergency loan funds have repaid the loan in full while maintaining their enrollment status for the semester in which the loan was issued and the semester following, Jones said.
"As someone who works with and mentors our students every day, we encourage them to recommend our services to other students they notice may need some financial guidance, whether they need an emergency loan or not," Jones said. "We really can help them take control of their financial lives."
Students requiring a Nighthawk Emergency Loan should make an appointment with the SMMC online at ung.edu/smmc or by emailing smmc@ung.edu.