Olmsted Foundation increases grant to UNG, HBCUs for overseas immersion
January 17, 2020
The University of North Georgia (UNG) has received additional funding for overseas cultural immersion trips for its cadets and cadets from historically black colleges and universities (HBCUs).
The Olmsted Foundation increased its annual grant for UNG cadets from $20,000 to 25,000 for calendar year 2020 and upped the grant for HBCU cadets with Georgia State University ROTC from $6,000 to $7,500.
"This is all part of professional development and talent management for our cadets," said Keith Antonia, associate vice president for military programs. "We want to expand our students' global competencies, whether they become Army officers or serve as leaders in other sectors of American society following graduation."
Retired Army Col. Mark Elfendahl, vice president of the Olmsted Foundation, said the foundation has been impressed with how UNG has used previous grants.
"We are very appreciative of the types of activities that UNG has been conducting and the overseas learning and exposure it's been giving to those young cadets who are preparing to be commissioned as officers in the Army," Elfendahl said. "It will help them be better leaders of soldiers."
UNG is one of four senior military colleges to receive Olmsted Foundation funds for overseas immersion experiences. It is the only senior military college to receive additional funding for the outreach that pairs HBCU cadets with UNG cadets on some of the trips.
The Olmsted Foundation, UNG and Georgia State ROTC in November 2018 entered an agreement for cadets from HBCUs Morehouse College, Spelman College, and Clark Atlanta University to be part of these overseas trips, which typically last one to three weeks. Cadets from those three schools participate in Georgia State's ROTC program.
Lt. Col. Donald Harris, professor of military science at Georgia State University, particularly appreciates the money earmarked for HBCU students who otherwise may not have the chance to go overseas while in college. He said he didn't leave the country until he was an Army captain, and even then, it was for vacation.
"To have the opportunity to do it as a cadet is outstanding," Harris said. "It helps round out their experience in ROTC and equip them better once they're commissioned."
Elfendahl praised the partnership that benefits HBCU cadets.
"The work UNG and Georgia State have already done together is something our board respects and appreciates. And it's absolutely in line with the intent of the board members when they established the program," Elfendahl said. "This partnership is growing and achieving exactly what it was intended to do."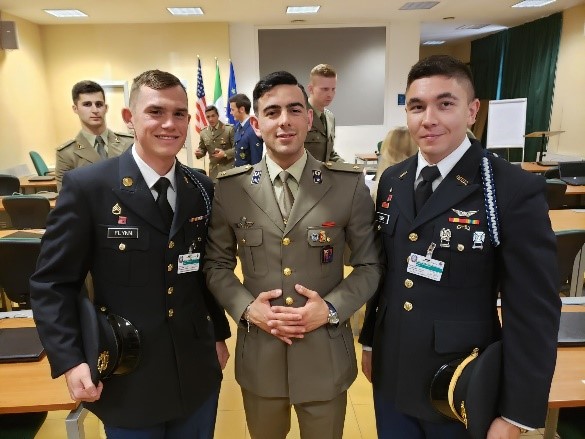 UNG cadets Robert Flynn, left, and Christopher Cobb, right, attended the May 2019 International Cadet Conference in Turin, Italy, thanks to the 2019 Olmsted Foundation grant UNG received.
UNG received a $10,000 grant from the Olmsted Foundation in 2017 and a $20,000 grant in 2018. The 2019 grant, the first to include the money for HBCU cadets, increased to $26,000, and the 2020 total is $32,500. Through the end of 2019, 27 UNG cadets and three HBCU cadets have been part of the overseas immersions.
Thanks to the Olmsted grant, cadets Garrett Wilson, Derek Whitmore and Nick Goodwin will represent UNG in the "Military Ski Patrol" international competition set for late February in Poland. Wilson participated in the event as a freshman and is thankful to return.
"We're able to have a fascinating experience and great Army training and work side by side with several other European militaries," said Wilson, a junior from Lawrenceville, Georgia, pursuing a marketing degree.
Goodwin, a junior from Clyde, North Carolina, pursuing a criminal justice degree, looks forward to the chance to learn from others.
"It's a good opportunity to share knowledge with allies," Goodwin said. "We're able to trade ideas and experiences."