CITI Certification/Training
All personnel involved in the research (principal investigators, co-investigators, faculty advisors, and data collectors/analyzers), including those involved in projects exempt from review, must complete ethical training. While undergraduate researchers that are not principle investigators (PIs) are allowed to take NIH training (instead of CITI training), all other UNG researchers need to have completed (or renewed) all applicable CITI training courses before they submit their application to the IRB.

There is no cost for the training, but registration is required. You may complete the training in one session or complete part of it and return. After completion of the training courses, you will receive a certificate. The certificate is applicable for three years from the date of completion. Please carefully study the CITI certification and training chart below and select the CITI courses that best match the type/s of your research you will be doing. Once you have identified them, please go to the CITI website and register for a new account (assuming you don't have one yet). Note: To make sure the registration process does not run into any major issues, please make sure that under Select Your Organization Affiliation you either enter or choose "University of North Georgia" and associate your CITI profile with your current UNG email address.  For UNG faculty and staff you should use the UNG email address that contains your first and last name (ex. FirstName.LastName@ung.edu). Students should use their UNG student email address (ex. abcde1234@ung.edu). The IRB's online application portal, IRB Manager, will check UNG researchers' CITI training when an application is submitted, but only for UNG researchers that have associated their CITI profile with their current UNG email address.
Which CITI Courses Do I Need to Complete?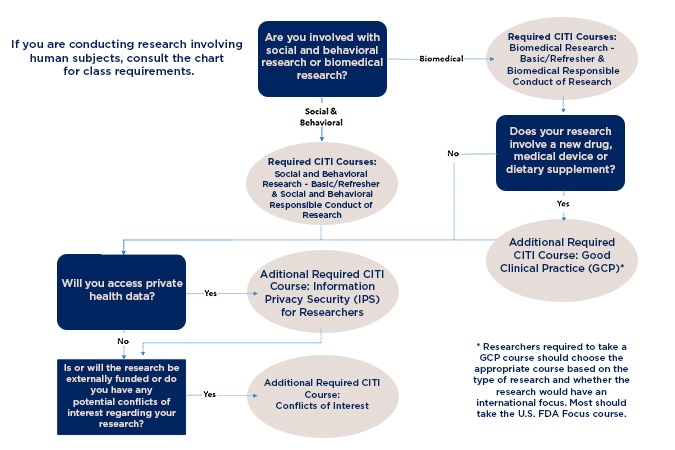 Note: For a text-based version of the above chart please visit this webpage: Which CITI Courses Do I Need To Complete?