IRB Guidelines and FAQs
IRB Guidelines
IRB FAQ Section
We have put together answers to the most commonly asked IRB questions. If after reading through the responses you still cannot find the information, please contact the IRB Chair at irbchair@ung.edu.
General Questions
What is human subject research?
Research is defined as: "a systematic investigation, including research development, testing and evaluation, designed to develop or contribute to generalizable knowledge. Activities, which meet this definition, constitute research for purposes of this policy, whether they are conducted or supported under a program, which is considered research for other purposes (for example, some demonstration and service programs may include research activities" [Code of Federal Regulations, 45 CFR 46.102d]). A human subject – according federal guidelines – means: "a living individual about whom an investigator (whether professional or student) conducting research obtains (1) data through intervention or interaction with the individual, or (2) identifiable private information" (Code of Federal Regulations, 45 CFR 46.102f). Any research that involves human subjects needs to go through the UNG IRB.
Can I conduct research using my staff as research subjects?
In most cases, you should not use subjects over which you have a power relationship, to prevent unintentional coercion. Depending upon the nature of the data gathered, the relative size of the population, and your ability to gather the data without identifying the subject, it may be possible to eliminate the risk. However, a careful plan would need to be devised and approved by the IRB.
Can I conduct research in my classroom if I am the teacher/instructor?
If the research you are proposing involves using your own students or students which you have some responsibility over, then there is an inherent conflict of interest. Special precautions need to be taken to ensure that this conflict is managed and there is no unintended coercion. Students may feel as if they will be punished, disappoint the teacher/instructor, or receive a lower grade if they choose not to participate in the project.
Considerations/solutions may include the following:
Students must either have the chance to opt out of the research entirely (without any possible penalty) or they must be given the opportunity to complete an alternative assignment.
The study can be presented by a colleague or somebody not involved with the students to allow students to make a decision without feeling obligated to comply.
The study can be completely anonymous. Data must be collected in a manner that does not allow the teacher to determine which students participated.
The teacher can collect the data and hold it for research use until after the class has been completed and grading is complete. This method can only be used where the same teacher will not teach the same students in the following semester.
In addition to these precautions, the consent form or assent form needs to state that the students will not receive any penalty nor will the teacher get upset, if they choose not to participate.
I already have access to data about my subjects because of my position. Can I use that data for research purposes without consent?
No. Data you access because of your position is entrusted to you for a specific use. Research use is not normally included in the intended use of the data. You may be able to access the same data, but would need to gain access through the same process that an outside researcher would use.
e.g., a pharmacist may not access patient drug purchase data without permission from the patient and acknowledgement from the pharmacy owner, though the data is available to that researcher in the role of pharmacist.
e.g., a teacher will have access to student grades, free-lunch status, IEP data, etc. for the purpose of education facilitation but does not have access to the data for the purposes of generalizable research.
Can I collect data from campus buildings, pedestrians, or random people on campus?
Yes, with certain restrictions.
Collection of research data is not allowed inside of building hallways, or near classrooms doors.
Collection is not allowed inside of classroom spaces unless prior arrangements have been made with a specific faculty member for a specified class period.
No data collection may be conducted near building doorways.
Data collection in food service areas must be unobtrusive. You may not approach individuals more than once and may not block traffic patterns.
Data collection in the library and other buildings must be registered with the facility office in advance.
Any data collection effort should not impede traffic on the sidewalk. Each subject may only be approached once.
I plan to conduct research that involves deception. What do I need to consider?
The use of deception in research is not prohibited by federal, state or UNG regulations. However, since this technique can violate the trust of the participant in the researcher (and potentially undermine the integrity of the scientific community), this method needs to be considered very carefully. Therefore, deliberate deception should only be used in situations where (1) withholding information about the nature of the study is necessary to ensure valid results, (2) other research techniques would yield questionable results and (3) participants would not object to the activities they knew the true purpose of the research.
To ensure ethical integrity, the researcher needs to disclose the true nature of the research as early as is possible – preferably at the conclusion of an individual's participation (but no later than at the conclusion of data collection). Participants need to be given the opportunity to have their data deleted from the analysis – if they choose to do so. To help the IRB evaluate the nature and impact of the planned deception, researchers should provide a clear justification for all their deception techniques and explain why they feel that there are no equally effective non-deceptive techniques available. For further guidance on deception in research, please also refer, for example, to standards 6.15 and 6.18 of the ASA's Ethical Principles and Code of Conduct.
When may I begin data collection for my study?
The research project cannot begin until the research team has received written approval from the IRB. This means that research cannot begin without a green light from the IRB (this includes – but is not limited to – participant recruitment, data collection, or data analysis). Any research activity before IRB approval cannot be used and retroactive approval is not possible. So, please make sure you are planning ahead.
How does the IRB view open records?
The Open Records Act (OPA) adds a difficult twist to the protection of human data. Freedom of Information Act (FOIA) data are technically public data but often contain much that could carry subject risk and may have been generated under conditions where there was a clear expectation of privacy. FOIA data collected prior to IRB approval could still be accessed for pre-study formation (like literature review material) but could not be used as research data (including pilot) prior to IRB review and approval.
The UNG IRB would look at public data through the expectation of a privacy filter and expect the researcher using such data to provide a method of mitigation for data that carries an inherent risk to the subject – (like a plan for data de-identification) to provide approval. The data would not be eligible for exemption unless obtained from the FOIA source as de-identified data.
What are considered "Conflicts of Interest"
Federal, state and institutional guidelines stipulate that researchers need to eliminate and/or minimize any potential conflicts of interest. Conflicts of interest include (I) non-financial interests (e.g. involvement in the design, conduct, or reporting of the research; involvement of immediate family in the design, conduct, or reporting of the research) AND/OR (II) financial interests (e.g. financial interests of IRB members and consultants, financial interests of immediate family members of investigators, financial interests related to the research). The PI (or in case of students being the PI, the faculty advisor) needs to guarantee that all members of the research team compliance (1) have no conflicts of interest and (2) that researchers have completed appropriate CITI training. If you have questions, please contact the IRB Chair.
IRB Application Process
What does "exempt review" really mean? Does it mean I do not need to submit an IRB application?
Human participant research activities – under certain circumstances - may be granted exempt status. The IRB of the University of North Georgia uses DHSS policies 45 CFR 46.101, 45 CFR 46.116(d) and 45 CFR 46.117(c) to determine whether a research project qualifies for exempt status and under what conditions informed consent can be altered or waved (also see DHHS guidelines).
While federal regulations allow certain categories of research to be exempt from IRB review, the University of North Georgia does not allow investigators to self-exempt their human participant research projects. The determination as to whether a project is exempt or not is an administrative review process handled by the IRB chair and/or IRB committee. In practical terms this means that each research team that seeks exempt status needs submit a regular IRB application (use IRB Form 1.1) along with other study-related materials (e.g., consent/assent forms [see IRB Form 3.1], surveys, questionnaires, interview scripts/outlines, recruitment flyers etc.) to the IRB (refer to the IRB application process).
If exempt status is granted, the research activity – unlike applications with expedited and/or full status – are not monitored by the IRB. Exempt status does not, however, lessen the research team's responsibility to adhere to all ethical requirements as outlined by federal, state and professional codes of conduct. Also note, that any proposed change to the "approved" research design/protocol will require a new IRB review to establish whether the research remains exempt from IRB review/approval [use IRB Form 1.4]
Does my teaching/research require a regular IRB application (IRB Form 1.1)?
The answer is "yes" if any of the following applies:
Your project contains a methodology for systematic data collection that will provide a conclusion applicable to situations beyond the one examined with or without current intent to publish. (e.g., evaluations that determine an individual teacher's effectiveness at delivery of a lesson are not generalizable; studies that determine the efficacy of a method of instruction to affect standardized test scores are generalizable.)
You will be using the data in your honors project, dissertation, or thesis.
The data will be published (including at the UNG library, any website or available for review by individuals other than the researcher or course instructor).
The data will be used to create a presentation, poster presentation, capstone paper, or similar and that product will be preserved as an independent work.
The answer is "no, but" if any of the following applies. In these cases you need to submit an "IRB light package" consisting of IRB Form 2.1 and 2.2 (and plus most cases IRB Form 3.1) 
You intend to collect the data only to improve your teaching skills, without sharing the data.
You will present the data only to the principal and/or direct academic supervisor.
You will be presenting the data only to your teacher, class members, and other UNG students and faculty (but not as a part of an honors project, capstone, thesis, or dissertation). In this case the project documentation will be treated as a normal class assignment and may not retained by the institution or instructor or reused by the student for any purpose.
If you are teaching a research methods course in which students will conduct independent practice research, you will need to apply for an instructor class exemption with the IRB (aka submit the IRB light package).
Note: If you have any questions, please contact the IRB Chair for further assistance. Please keep in mind, however, that the IRB cannot issue IRB approval retroactively. Make sure you have the right documentation in place before you proceed with your project.
I am planning to do an oral history. Do I need to submit an IRB application?
No, but please read on. Oral histories generally are aimed to provide a deeper understanding of specific historical events and actions. They do not involve "research" as defined by federal guidelines (e.g. studies aimed at producing "generalizable knowledge"). However, the IRB strongly encourages you to initiate a review of the project at a departmental level – especially for research that may involve more than minimal risk to the participants. Not having to submit an IRB application also does not absolve you from adhering to the strict ethical guidelines set by professional organizations such as the Oral History Association. Note: Please also see "What is Human Subject's Research?" in the General Questions Section.
Do I need IRB approval for my pilot study?
That depends. Read this entire answer before you proceed.
Generally, a pilot study is defined as a preliminary investigation to determine the feasibility of a study. It is usually done on a small scale (usually fewer than 10 subjects) and is exploratory in nature. Its purpose is to refine data collection procedures, instruments, or research design.
Pilot studies answer questions such as, "in what order should the survey instruments be distributed." These questions usually do not qualify as questions that will contribute to generalizable knowledge and thus pilot studies do not qualify as research and do not need IRB review and approval. Nonetheless, it is assumed that the proper steps will be taken to protect human subjects (e.g., use of informed consent, confidentiality, etc.).
NOTE: If sensitive data, vulnerable populations, or methods with more than minimal risk are to be used, a consultation with the IRB Chair must occur before data is collected without IRB review and approval. The IRB retains the right to require review of a project characterized by the faculty member as exploratory (pilot) in nature. If it is possible that the data collected in your pilot study will be used solely, or in combination with other data, for generalizable or publication purposes, IRB review and approval is required BEFORE data collection begins. Pilot data collected for the purpose of research process refinement without inclusion in an IRB approved protocol may not be repurposed as study data. The IRB cannot provide retroactive review. Researchers are cautioned not to confuse pilot data with preliminary data collection. Preliminary data collection is subject to the normal IRB review processes.
Does journalistic projects require an IRB review?
The reporting of current events, trends, newsworthy issues or stories about people or events generally does not meet the federal definition of 'human subjects research' and therefore requires no IRB application. However, reporting intended to draw conclusions and/or projects designed to create "generalizable knowledge" most likely require review by the IRB (please also see IRB application process).
Can the IRB approve projects "retroactively?"
Generally, no. There is no provision in the federal regulations that allows the IRB to approve research that has already been conducted. In rare cases, the IRB may determine that the data was collected for non-research purposes (e.g., program evaluations for library or educational programs not initially intended to be used for research). In these rare case, IRB approval may be sought for the data analysis going forward. Please contact the IRB if in doubt.
Informed Consent Process
What does "informed consent" mean? What are its essential components? Do I need one?
Fully informing participants of the risks, benefits, and procedures in a study is a standard requirement in most research involving human participants. From an ethical and legal point of view, consent is not considered "informed" unless the investigator discloses all facts, risks, and potential discomforts may influence a participant's decision to willingly participate in the research. It needs to be stressed that informed consent applies to all types of research including – but not limited to – surveys, interviews, observations, and experiments. Even research that does not collect any identifying information generally needs an informed consent (for alternative forms of consent please refer to the next question). For a guideline, checklist and sample of what a written informed consent form looks like please refer to IRB Form 3.1.
Are there different types of informed consent?
Yes. The informed consent process can take on different forms; here is a list of the widely used types:
Written Informed Consent: This form of consent is the standard expectation in research with human participants. It is a document that includes all major elements of the informed consent and is signed and dated by the participant and the researcher (see IRB Form 3.1). Both the participant and the researchers get a copy and the researcher is required by federal law to retain their informed consents for three years (identifiable information may need to be removed depending on the type of research conducted).
Written Informed Assent: Research involving minors (as determined by state law), in most cases, requires the assent of the "child" in addition to a signed parental consent form (see IRB Forms for examples). In rare cases, the IRB can wave the parental permission. Both consent (for adults) and assent (for minors) involve informing the potential participant about the research, its risks and benefits (as well as documenting their understanding and agreement to participate). In most research involving minors, a parent must give permission to allow the child to participate in the research, and children who are able to understand information about participation (think age) are asked to "assent" or agree to participate as well. For more information, please consult FERPA and DHHS guidelines or ask the IRB for further information.
Alternative Forms of Consent: In rare circumstances, investigators may wish to seek alternatives to the standard informed consent procedures. In these case, researcher may consider one of the following:

a waiver for using a signed consent form (note: if the proposed study is truly "anonymous" meaning that there are no coding for identifiers collected (e.g., names, social security numbers, drivers' license numbers, etc.), a modified informed consent form may be used. This so-called information sheet – must contain all of the elements of consent (see checklist in IRB Form 3.1) but the signature is replaced by a statement that informs the participant that a completed survey will be considered an implied consent. A waiver, however, generally cannot be given for procedures that involve more than minimal risk and/or biological sample collections).
a waiver of a written consent form (e.g. an oral consent procedure is being used à for examples of an oral consent please see the IRB Forms website)
a waiver for some or all of the elements of the informed consent or assent (e.g., in project that involve deception, implied consent; state-sponsored education research)
If in doubt, please consult FERPA and HDDS guidelines or contact your IRB.
How is the informed consent process handled for Internet-based or phone-based research?
Federal, state and professional codes of conduct require most types of research to have an informed consent. This means that both internet-based and phone-based research will need to have some form of informed consent.
Internet Based Consent: To make the informed consent process as transparent as possible, the University of North Georgia IRB encourages researchers to give (whenever possible) participants a modified version of IRB Form 3.1 (rather than simply using an implied consent). For internet-based survey research, for example, the signature could be replaced with a phrase like below. 

If that is impractical for any reason, the researcher may email the consent form to participants. The participants then can fill out the consent form by typing name and date into spaces provided and return it to the researcher via email.
By clicking on the "Next" button, I indicate that I have the information above carefully and that I agree to participate in this study as described.
Phone-Based Consent: For studies that use phone surveys, interviews or procedures, oral consent generally must be obtained (see IRB Forms for a sample). To comply with federal state and institutional policies, at a minimum, the following information needs to be communicated to the participant:

the purpose, nature and procedures of the study

what exactly the participant will be asked to do

the amount of time the survey/interview/activity will take

the voluntary nature of participating in this study

the participant's right to withdraw freely from the study at any time

the confidentiality of all information that will be collected

an offer to provide the participant with a contact information for the researcher and/or the IRB (if desired)

any other information (depending on the nature of the study) that may be important for the participant to "consent" in an "informed" manner to the study
I will be collaborating with another institution. How does that affect my IRB application process?
If you are a student, faculty or staff member at the University of North Georgia, you must seek IRB approval regardless of where the research takes place. However, if you collaborate with another institution in the United States you may qualify for a simplified IRB application procedure. If your research collaborators have already obtained IRB approval through their own institution, you will only need to submit the following documents to the UNG IRB chair (irbchair@ung.edu):
IRB Form 1.5 – Simplified IRB Application
a copy of the IRB approval from the collaborating institution
a copy of the grant proposals (if externally funded)
Depending on the nature of the proposed research, however, the IRB at the University of North Georgia reserves the right to request further documentation if deemed necessary. Please keep in mind that the research cannot begin until the IRB Chair has green-lighted the project (that includes – but is not limited to – to the recruitment of study participants, collecting data etc.). If in doubt, please contact the IRB Chair (irbchair@ung.edu) for further information. 
Do I need to submit an application to the UNG IRB if I intent to conduct research in a foreign country?
Yes. If you are student, faculty or staff member of the University of North Georgia, and you are the person responsible for the conduct of the study (i.e. principle investigator), you must get UNG IRB approval regardless of where the research takes place. Be aware, however, that your project most likely will need local IRB approval (or the equivalent ethical review) in addition to the approval of the UNG IRB. The fact that many (especially developing) countries do not have established IRB oversight committees does not absolve you from seeking local oversight. In many countries, state, federal or professional agencies or organizations may also help you.
Reporting Requirements (e.g. Problems, Completion & Protocol Modifications)
What qualifies as an "unanticipated problem" or "adverse event" during my research? What are my responsibilities as a researcher to address these issues?
Any unanticipated problem, experience, incident or outcome occurring during the research is considered an "adverse event" and/or "unanticipated problem".  These "incidences" include any undesirable sign, symptoms and/or medical or psychological conditions that occur during the research (even if the event does not seem to be related to the research protocol/design). An "adverse event" also encompasses any undesirable and unintended effects that the research protocol/design may have on human subjects as a result of the collection of identifiable private information.  Moreover, "adverse events" include any problems that may arise from the use of investigational devices and/or research protocols that end up adversely affecting the rights, safety or welfare of subjects.
Serious Adverse Events (SAEs) – in contrast – involve any of the following events:
the development of a fatal and life-threatening condition,
prolonged inpatient hospitalization,
persistent and/or significant disability/incapacity,
development of a congenital anomaly or birth defect,
a medical development that is considered as serious by the investigator
serious psychological and emotional distress resulting from the study participation (e.g. events that necessitate the need for professional counseling and/or intervention).
Furthermore, any adverse experience, event, incident, interaction or outcome that is 
not 
identified in nature, severity or frequency in the study documentation (i.e. protocol, consent, investigator brochure, package insert etc.) is considered an "unexpected adverse event".  Moreover, any event that is previously 
not
 known or anticipated to result from an underlying disease, disorder, or condition of the human subject or the study population may also be considered an unexpected event. For more information please also see
DHHS guidelines.
To report adverse events please complete IRB Form 4.1 and submit it to the IRB as soon as possible (ideally within 48 hours of the incidence). Keep in mind, however, that the IRB may not be the only entity to which your adverse event must be reported.  Make sure you have all the angles covered …
I have an approved IRB application but I would like to make changes to the research protocol/design. What do I need to do to remain IRB compliant?
Any proposed changes to approved research protocols, research design and/or research personnel need to be reported to the IRB and may necessitate not only necessitate a new review but potentially also a change of the approval status (e.g. a changed from "exempt" to "expedited"). To seek approval for proposed changes please submit IRB Form 1.4 and any other necessary documents. Please keep in mind, however, that you cannot implement the proposed changes until you have received proper IRB documentation (this includes – but may not be limited to – recruiting new study participants and/or collecting new data).
I have completed/terminated my IRB-approved research (either due to problems or as originally planned). What are my responsibilities as a researcher/PI now?
Assuming that all research-related activities with human subjects have been completed (including data collection and analysis of identifiable private information/specimens), then the human subjects research – as far as the IRB is concerned – is deemed "as completed". This means that the investigators no longer are required to obtain continuing IRB review and approval. However, UNG researchers should submit IRB Form 1.3 documenting the "final status" of the project (and, if applicable, briefly explain the reasons for termination). Investigators may keep the data they have collected (including identifiable private data) but only if this data treatment is consistent with the IRB-approved research plan. Moreover, investigators need to continue to honor any promises with respect to confidentiality made to the participants (as well as any other commitments stipulated in the approved IRB application such as providing information about study results to research subjects, and/or honoring any commitments made with respect to subject compensation).
HIPPA Requirements
Must I have the IRB review and approve patient authorizations for use or disclosure of protected health information related to human subjects' research activities in order to satisfy requirements of the HIPPA Privacy Rule?
Under HHS regulations at 45 CFR 46.117(a), the IRB must review and approve patient authorizations for use of protected health information if the authorization language is going to be part of the IRB-approved informed consent document for human subjects research.
HHS regulations at 45 CFR part 46 do not require that stand-alone authorizations for use or disclosure of protected health information, not incorporated into the IRB-approved informed consent document, be reviewed and approved by the IRB.
How do I receive approval from IRB to use an existent database of protected health information from a HIPPA covered entity?
To acquire permission to use a limited data set from a HIPAA covered entity, investigators must complete both IRB Form 6.1 – HIPPA Data Use Agreement and IRB Form 6.2 – HIPPA Privacy Authorization.  The Data Use Agreement specifies how the limited data set can be used and shared with others, and gives the covered entity the authority to terminate the investigator's right to the data if the agreement is not followed.  The Data Use Agreement must be signed by the P.I. and a responsible representative of the information holder ("covered entity").
Under what conditions may I receive a waiver of authorization for the use of protected health information?
To grant a waiver of the HIPAA Privacy Authorization requirement, the IRB must determine that your project involves no more than minimal risk to the privacy of individual participants and meets all of the criteria listed in the Privacy Rule. To receive a waiver you must submit IRB Form 6.3 - Application of Waiver of HIPPA Privacy Authorization.
What does the HIPAA Privacy Rule say about a research participant's right of access to research records or results?
With few exceptions, the Privacy Rule gives patients the right to inspect and obtain a copy of health information about themselves that is maintained by a covered entity or its business associate in a "designated record set." A designated record set is basically a group of records which a covered entity uses to make decisions about individuals, and includes a health care provider's medical records and billing records, and a health plan's enrollment, payment, claims adjudication, and case or medical management record systems. While it may be unlikely that a researcher would be maintaining a designated record set, any research records or results that are actually maintained by the covered entity as part of a designated record set would be accessible to research participants unless one of the Privacy Rule's permitted exceptions applies.
One of the permitted exceptions applies to protected health information created or obtained by a covered health care provider/researcher for a clinical trial. The Privacy Rule permits the individual's access rights in these cases to be suspended while the clinical trial is in progress, provided the research participant agreed to this denial of access when consenting to participate in the clinical trial. In addition, the health care provider/researcher must inform the research participant that the right to access protected health information will be reinstated at the conclusion of the clinical trial.
Where can researchers obtain additional information on the Privacy Rule?
As part of its oversight role, the Office for Civil Rights (OCR) is providing a number of publications on implementing the Privacy Rule through its web site at http://www.hhs.gov/ocr and http://www.hhs.gov/ocr/hipaa/. As the research community, the Department of Health and Human Services (HHS), the Office for Civil Rights (OCR), and the National Institutes of Health (NIH) gain experience with implementation of the Rule, additional FAQ's and publications will be posted on these OCR web sites. National Institutes of Health (NIH) staff can provide assistance in locating educational materials on the Privacy Rule. 
IRB Manager
IRB Manager FAQs
Do I need to create a username and password for UNG's IRB Manager?
All UNG faculty, staff, and students with a current UNG username and password can use those login credentials to login to UNG's IRB Manager. Non-UNG researchers must follow the link on the login page to register for an account.
How do I begin a new IRB application?
After logging into IRB Manager (UNG IRB Manager Login), click the link in the left hand column entitled "Click here to start the IRB Application Portal." From there you will have the option to start a new regular IRB application (Form 1.1), a new alternative application (Form 1.5), or a notification about course-related research (Form 2.1). The IRB Application Portal also includes a tool to determine which application is required for your projects, as well as tool to determine which CITI Training modules are required for your research.

How to do I submit a form for an existing IRB approved study (i.e. research modification)?
For existing studies approved by the IRB, you must navigate to that study's page on IRB Manager to submit forms for that study. A listing of studies you are associated with are on your IRB Manager homepage/dashboard under the "My Studies" section. To navigate to the study's page, click on the study number. When you are on the study's page, click the "Start xForm" link in the left had column, and click the link entitled "IRB Protocol Portal." Once you are in the IRB Protocol Portal, you have the option to begin forms for your study, including forms for continuing review (Form 1.2), notification of completion of a study (Form 1.3), research modifications (Form 1.4), and reporting of an unanticipated problem or adverse event (Form 4.1).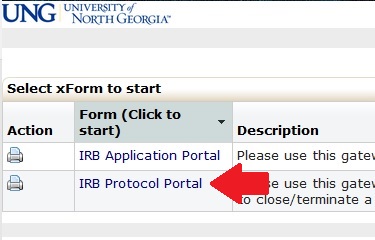 Can I see the questions on an application/form before beginning to complete the application/form?
Yes. Each form has a header section, which includes a drop down menu to the various pages of each form. Using this drop down menu, you can view the main questions on each page. Please note that answers to these main questions may trigger additional questions asked.

I started a form earlier, but did not submit it. Can I go back to that form to complete it?
Once you can begin a form, your progress will automatically be saved, and you can return to the form and continue to edit any response to a question before submitting the form. You can find your forms in progress on your IRB Manager homepage/dashboard under the "xForms" section. Those forms will be marked "unsubmitted."

When I am entering research personnel in the application, I am receiving a "Contact not found" error message. What do I do?
If you receive a "Contact not found" error message, you can add this contact by clicking the link entitled "To add a new contact not in the system, click here." This will open up the Add Contact form which will enable you to add the contact's information into IRB Manager. Once you have submitted the Add Contact form, you can return to your application and add the contact to the Research Personnel table.

Where do I attach my CITI training documents to my application?
CITI training for all UNG faculty, staff, and students listed in an IRB Form 1.1 is automatically checked by IRB Manager at the time of submission. Based on the type of research listed in the application, IRB Manager will check for expiration dates for the appropriate training for that research. These expiration dates will appear on the "CITI Certification Check" page in the application. IRB Manager also checks for completions of the CITI IRB Chair and IRB Member Courses, as those courses can be substituted for other required training. If an UNG student has completed NIH training, a copy of the completion report should be attached in the "Other UNG-Based Research Personnel" table on the "Basic Information" page. Please note that NIH training is only accepted for undergraduate UNG student researchers that are not the principal investigator (PI). Graduate student researchers and undergraduate PIs should complete the appropriate CITI training. To determine which CITI training courses should be completed for IRB approval, please visit the CITI Certification/Training page.
Where should I attach the CITI training documents for research personnel who are not affiliated with UNG?
In Form 1.1, you can attach CITI or NIH training from non-UNG research personnel in the "Other Non-UNG Research Personnel" table on the "Basic Information" page. For non-UNG PIs, you can attach your CITI training documents on the "Other Information and Documents" page, which is one of the last pages of the form.
Why is my or my research team's CITI training listed as missing on my IRB application (Form 1.1) even though it has been completed?
This could occur for two reasons. IRB Manager uses your UNG email to check for CITI training. Please ensure that your UNG email address is listed as your primary email address in your profile on the CITI website. For UNG faculty and staff that email address must be your FirstName.LastName UNG email address. Also, IRB Manager captures CITI training data every 24 hours. If you or a research team member completed CITI training on the day you are completing your application, it is possible that IRB Manager has not captured that data yet. If you know this to be the case, it is recommended that you wait 24 hours to submit your application. When you return to your application after that 24 hours, the completed CITI training should be indicated the CITI Certification Check page.
Can I edit a form after it has been submitted?
No. Once a form is submitted in IRB Manager, it cannot be edited. If the IRB requires changes or clarifications regarding a submitted form, it will be returned to you, and at that time you will be able to make edits and resubmit the form.
My application has been returned to me for changes or clarifications. How do I make changes and resubmit the form?
In the email you receive requesting the changes or clarifications to your application, there will be a link to your application. Clicking that link will allow you make any changes necessary, including attaching any additional or revised documents. You can also find any form that has been returned for changes or clarifications on your IRB Manager home page/dashboard. Those forms will be in the "xForms" section and will be mark as "awaiting your attention." Please ensure you click the "Submit" button on the last page once you have completed your changes. Failure to click the "Submit" button will result in the IRB not receiving your changes and could delay your application's review.

I am submitting a Notification of Course-Related Research (IRB Form 2.1). How do my students complete their form (IRB Form 2.2)?
When a faculty member completes and submits the first portion of a course-related research form, he or she will receive an instructions on how students should complete a Form 2.2, including a link to the form. Once all students/student groups submit their Form 2.2, the faculty member should return to the Form 2.1 and complete the second portion of the form and submit the form to the IRB. Please note that if student research may result in publication or conference presentation, a regular IRB application (Form 1.1) should be submitted, not a course-related application.