A team of eight marketing students from the University of North Georgia (UNG) took first place at the National Collegiate Sports Sales Competition hosted by Mercer University in conjunction with the Atlanta Hawks on Nov. 4. Dr. Cindy B. Rippé, an associate professor hired this fall to launch the sales program within the Mike Cottrell College of Business (MCCB), trained the team for the event, which was its first competition.
The strong performance was one of multiple areas in which the Marketing and Management department within the MCCB offered students tangible experience that enhanced their classroom learning this fall. The sales program also held its inaugural Elevator Pitch Competition held Nov. 20, in which almost 50 students presented elevator pitches of 30 to 60 seconds for nine paid internships with State Farm agents, who sponsored and judged the contest and provided three cash prizes.
Additionally, part-time faculty member Clark Jones' advertising and integrated marketing communications class helped nonprofit Hands of Love USA.
"I believe these are valuable experiences for our students that go beyond classroom learning," said Dr. Mohan Menon, department head of Marketing and Management at UNG. "Any time we are able to bridge the gap between the business world and the classroom, it enlightens students and facilitates experiential learning."
In the national event, Dani Berry placed third individually, Sam Aiken fourth and Brooke Wertz seventh as UNG students faced students from 20 other schools, including the University of South Carolina, Texas A&M, Texas Tech, and Kansas State. The sales competition featured three rounds of students pitching to judges who posed as corporations who would consider buying Hawks tickets as incentives for their employees.
UNG students Seth Burruss and Chris Campbell advanced to the second round, while Berry, Aiken and Wertz made the final round. Other team members were Michael Young, Parker Winton and Jake Cowan.
Rippé said the experience provided her students a major boost.
"Statistics show us students who have this type of experience are more productive their first year in their job and ramp up their sales faster," Rippé said. "All of them received outstanding experience that will affect their future career."
Berry, who graduated in December 2019 with a degree in marketing with a sales concentration, said the result made her stand out in the job search process. She has already accepted a job with Syfan Logistics.
"Through this process, I got to sell and see what it would be like in the real world," Berry said.
Berry also earned the $1,000 first prize in the State Farm Elevator Pitch event. Brandon Jordan took second place in that event for a $750 prize, while Aiken won $500 for third place.
"The competition was a great opportunity. I'm thankful to the Mike Cottrell College of Business for providing such a beneficial event for us," Aiken said. "I'm also thankful for all the people from State Farm who donated their time and money to help further our education and success."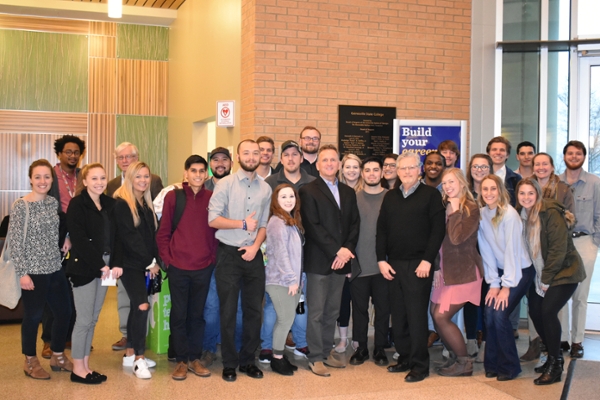 Clark Jones' class helped nonprofit Hands of Love USA by presenting possible advertising plans to the organization.
Jones' students met with some of Hands of Love's donors and director to gather information and then present an advertising plan to promote Alpharetta, Georgia-based Hands of Love USA. The nonprofit rescues abandoned babies and children in Uganda and helps meet their basic needs through a sponsorship program.
"I have enjoyed contributing my advertising efforts to such a purposeful organization," said Lauren Turner, a senior from Jefferson, Georgia, pursuing a degree in marketing with a minor in environmental studies. "I am not only humbled after learning more about Hands of Love, but I am also thankful that Professor Jones introduced me to a real-life example of how my education and knowledge can better the world around me."
Jones has been grateful for the partnership.
"The partnership is proving to be a very effective, real-world way of allowing my advertising students to learn about the communication development process by doing it," Jones said.