Adventure Trips & Events
Get Started - Choose Your Trip or Event!
Spring 2021 Trips & Events
Free
Orienteering
February 18, 2021, 5 - 6 p.m.
Learn the basics of map reading and compass use to better navigate in the outdoors.
Recycled Ropes and Crafts
March 4, 2021, 5 - 6 p.m.
Upcycle retired climbing rope into something new! Create bracelets, chalk bags and whatever else you can think of! 
Flora & Fauna Clinic
March 18, 2021, 5 - 6 p.m.
Learn more about North Georgia wildlife and vegetation.
Cooking
April 15, 2021, 5 - 6 p.m.
Learn to prepare food and cook in the backcountry with the wonderful Outdoor Pursuits staff.
There will be some costs involved with the trips. Dates and details will be updated here when available.
Paint & Hike
February 27, 2021
Explore and paint North Georgia scenery with Outdoor Pursuits.
Kayaking
March 27, 2021
Take a ride down the Chestatee River with Appalachian Outfitters.
Free
Belay School
February 5, 12 and 19, 2021
Learn the ropes! Take your climbing further and learn how to belay at the climbing wall. 
Strava Art Challenge
February 1 - February 28, 2021
Showcase your creative side and create a dazzling GPS art masterpiece during your run/walk!
Floor is Lava
February 22 - 26, 2021
See who can stay on the longest! Fall into the lava and your time ends. Your score will be posted at the climbing wall and whoever has the longest time at the end of the week is the winner! 
Route Setting Clinic
February 26, 2021, 4 - 5 p.m.
Learn the art of setting and become eligible to set problems for the upcoming Seven Summits of Dahlonega challenge.
Climbing Wall Setting Week
March 1 - March 28, 2021
Those who attend the route setting clinic can set problems and routes for this week.
Outdoor Pursuits Passport
March 1 - April 30, 2021
Explore what North Georgia has to offer and fill up your OP Passport in order to be eligible for prizes. Locations and details will be updated here when announced.
Outdoor Pursuits Passport
The University of North Georgia's Outdoor Pursuits program wants to encourage you to explore more!
We would love to see where you spend your time outdoors and all the new places you discover. When you share your experiences with others by submitting photos of yourself enjoying the outdoors, you can earn fun prizes!
Our incentive program allows you to win fun prizes and/or be entered into a raffle when you submit photos of you spending time outdoors to our email: northgeorgiaoutdoorpursuits@gmail.com.
*Prizes:
Five (5) photo submissions = sticker pack
Ten (10) photo submissions = OP t-shirt or socks
*As supplies last
Disclaimer Statement:
When going outdoors, please remember to check the location's websites and follow their guidelines concerning parking fees, COVID-19 procedures, and daily use.
Seven Summit of Dahlonega
March 8 - March 19, 2021
How high can you climb? Visit the climbing wall and track your climbing prowess while summiting local landmarks from your bunk bed to the fire tower! Each boulder problem achieved moves your score higher and higher! 
Crate Stacking
April 8, 2021
Swing by the climbing wall and see how many milk crates you can stack without falling! 
Previous Trips & Events
Rec it Out
August
Come hang out with the Rec staff and experience all the fun and adventurous elements at Pine Valley during our annual Rec It Out event! We'll open up daring elements on the course, have intramural games to compete in, a fitness challenge, and tubing down the river! Earn points for completing tasks and win a grand prize if you win!
Shuttles will be picking up and dropping off at the mouth of the drill field for a free ride to Pine Valley!
This is a FREE event!
Stand Up Paddle Board Trip
Fall
Come float with us in Chattanooga, Tennessee! Hike and explore Julia Falls and then let the stress of school flow away and enjoy exploring the beautiful Tennessee River on a self-guided paddle board tour with our trip leaders.
Howl-O-Ween Swing
October
Join us for our family-friendly Annual Howl-O-Ween Swing to benefit TLC Humane Society! 
Puppies, rides, raffles, a bouncy house, pumpkin carving, costumes, camp stove classes, and MORE!
This is a FREE event!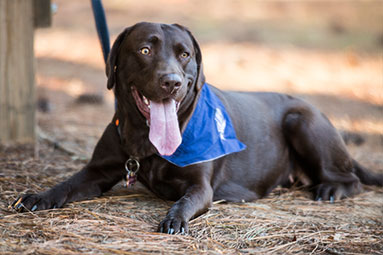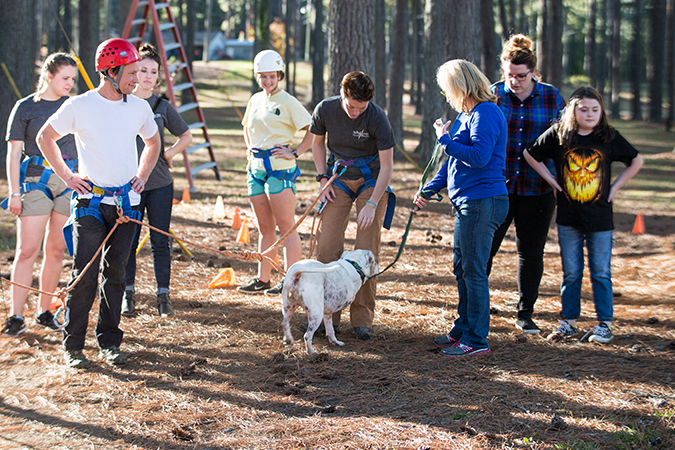 Thunderhead Summit Challenge
September-November
Can YOU reach the summit? Come and challenge yourself with the Rec Center Climbing Wall's 3rd Annual Thunderhead Summit Challenge, where participants strive to climb a vertical mile.
It doesn't matter if you've never climbed before or if you're a seasoned climber: this challenge is for everyone! Reach any of the five levels and get a prize. Be one to reach the Thunderhead level and receive all level prizes PLUS a free T-shirt!
Level 1: Tallulah Gorge (30 total climbs)
Level 2: Lookout Mountain (72 total climbs)
Level 3: Yonah Mountain (96 total climbs)
Level 4: Blood Mountain (135 total climbs)
Level 5: Thunderhead Mountain (160 total climbs)
Other prizes may include the first male and first female to complete the challenge, the male and female with the farthest total climbs, etc.
Come to the Climbing Wall during open hours (Monday-Thursday 3pm-8pm, Friday 1pm-4pm) and join the Challenge!
This is a FREE event!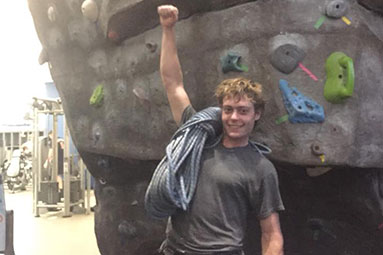 Ski Trip
January
This two night ski trip is great for both the novice and the experienced skier. Choose between either skiing or snowboarding at Wolf Ridge Ski Resort in North Carolina. The price includes your ticket, basic rentals, dinner, breakfast, and lodging for the night. 
Cost Varies
Skydiving
Summer
Always wanted to jump out of a perfectly good airplane? Now is your chance! Come experience the thrill of a lifetime and join us on our Annual Skydiving trip to mark this adventure off your bucket list. We'll be skydiving with Skydive Monroe. The cost of skydiving and transportation are included in the price. Additional costs may incur if you would like pictures or video of your flight.
Cost Varies
Zorbs n' S'mores
November 
We've got Zorbs and we've got S'mores! Fuel up with a s'more, then put yourself in a giant bubble and learn some Zorb Games. We've got music, vendors, an equipment showcase, and a cooking class to accompany all of your favorite event needs.
This is a FREE event!