Indoor Climbing Wall
Are you new to climbing? Are you an experienced climber? Either way, we've got the place for you to be. Our friendly staff are passionate about climbing and ready to share their knowledge with you, regardless of your skill level. If you've ever wanted to try climbing, come see us! Or, if you climb as often as you drink water, come try out a new problem every week.
Top-rope climbing is climbing that is done utilizing a safety rope that is connected to an anchor point at the top of the climb. One end of the rope is attached to the climber, and then runs up to the top of the climb, through an anchor, and back down to a safety person (known as a belayer). As the climber climbs, the belayer will take up the slack in the rope. If the climber should slip, they will not fall to the ground as they are attached to the safety line and caught by the belayer. After reaching the highest point that they can, the climber is gently lowered safely back to the ground by the belayer.
Top Rope Hours:

Mon - Thurs: 3 p.m. - 8 p.m.
Fri. 1 p.m. - 4 p.m. 

Please Note: No Top Rope Hours during facility closures or summer.
33 feet high
3 lanes
Routes changed throughout the semester
Bouldering is climbing at a level low enough to the ground as to reduce the chances of getting hurt in the event of a fall. Climbers participating in bouldering are generally less concerned with how high they climb, and focus instead on the difficulty of the climbing moves they can accomplish. Bouldering is a great way to train specific technique and to develop real climbing strength.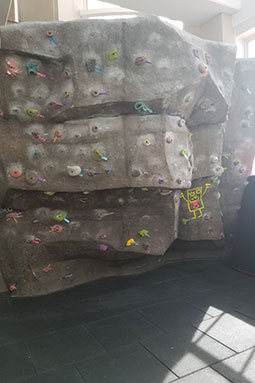 Bouldering Hours:

Mon - Thurs: 3 p.m. - 8 p.m.
Fri. 1 p.m. - 4 p.m. 

Please Note: No Top Rope Hours during facility closures or summer.
10 feet high
3 crash pads available
Routes change throughout the semester
Do you want to learn how to belay? Do you already know how and want to be certified at the UNG Climbing Wall? Come out to our Belay School Hours and let us teach you, or show off your skills and claim your certification! All you have to do it take a quick written and practical test and you'll be belaying like a boss in no time!
Belay School Hours:
Mon and Wed: 5:30-7:30 p.m.
Tues and Thurs: 4-6 p.m.
Please Note: No Belay School during Finals Week.
Outdoor Pursuits' Annual Cosmic Climb is a neon lit night. Whether you are working on your New Year's resolution or are one of our regulars at the wall, come put your skills to the test on our 10' Bouldering Wall and Rock Wall. No climbing experience is needed to come out to this event; only a positive attitude, a little bit of arm strength, and an open mind.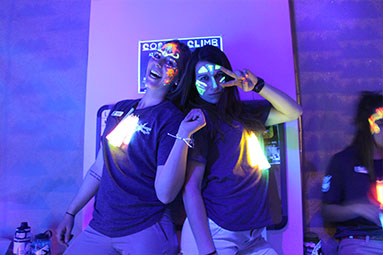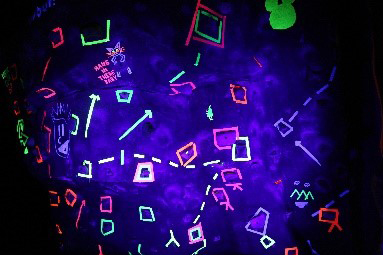 General Policies
Guests passes are not eligible for Climbing Wall.
The University of North Georgia (UNG) climbing wall is available for use by members of the Recreation Center.
There is no additional charge for climbing.
Patrons may only climb when the wall is open and must sign-in with the climbing wall staff before they begin to climb.
All climbers must respect gear, ropes, and other climbers at all times.
Helmet use is recommended. Helmets are available at no charge.

Participants may choose to assume the risks associated with not wearing a helmet and have stated that this is understood with a signature on the Climbing Wall Use Agreement.

Climbers may have an unlimited number of attempts to climb, but must rotate with waiting patrons.
Climbers should not make contact with the windows, window sills, railing, or suspended lights.
Only the climbing wall staff and persons with current belay certifications from the UNG Department of Campus Recreation and Wellness may belay at the climbing wall.
The metal bolt hangers and metal equipment on the wall should never be used as a hold or touched.
All problems such as loose holds, rope problems, accidents, etc. should be reported to and handled by the climbing wall staff.
Only climbing wall staff may change holds, routes, or gear on the wall and boulder.
Refusal to follow the climbing wall policies or safety instruction of the climbing wall staff may result in being banned from usage of the climbing wall.
Attire
All climbers must wear a shirt and proper shoes while climbing/bouldering.

Banned: Water shoes, any open-toed shoes, bare feet, street shoes, hiking boots, and military boots.
Only climbing shoes and athletic/tennis shoes are allowed on the wall.

All shirts should be tucked into harnesses.
Long hair should be tied back.
No necklaces, bracelets, or other jewelry that may get caught on the wall or in the belay devices may be worn in the climbing area.
Equipment
Harnesses, helmets, ropes, and all hardware are provided at the climbing wall.
No gear belonging to UNG should leave the climbing wall area.
Participants must use UNG hardware.
Only ATC style belay devices may be used to belay participants.
Personal climbing equipment is not allowed except for shoes, harnesses, and chalk bags (only liquid or ball chalk may be used.)

All personal equipment is subject to inspection by the climbing wall staff.
Climbing wall staff may refuse to allow personal equipment for safety reasons.
Bouldering
When bouldering, no body parts besides hands are allowed on the top of the boulder.
Spotting is strongly recommended especially when feet are higher than hips.
Use of a crash pad is required when bouldering.