UNG Recreation Center - Dahlonega
Campus Rec - Dahlonega - Operations Update
Rec Center Facility capacity is currently limited to 65 patrons at a time.
Memorial Hall Pool capacity is currently limited to 6 patrons at a time.
Please call 706-864-1458 to check current capacity. 
Spring 2021 Rec Center Safety Measures
The UNG Rec Center on the Dahlonega Campus has implemented healthy practices to help reduce the risk of COVID-19 exposure. We spent numerous hours coordinating with other schools, confirming guidelines from USG, UNG, the CDC, and industry standards set by NIRSA and ACSM. 
Effective July 15, 2020, USG institutions will require all faculty, staff, students, and visitors to wear an appropriate face covering while inside campus facilities/buildings where six feet of social distancing may not always be possible. Face covering use will be in addition to, and is not a substitute for, social distancing. Anyone not using a face covering when required will be asked to wear one or must leave the area. Repeated refusal to comply with the requirement may result in discipline through the applicable conduct code for faculty, staff, or students.
Things to Consider When Exercising With a Mask
Consider masks that are breathable, comfortable, moisture-wicking with multi-layer microbial fibers for working out. If you are new to exercising or haven't exercised in a long time, pay extra attention to your breathing and recovery.
Give your body extra time to adapt to change in the flow of oxygen when working out with a mask. If you do feel lightheaded, dizzy, or extremely short of breath when working out with a mask, you should sit down, notify staff, and take a break.
Consult with your doctor before working out with a mask if you have any underlying issues.
The additional policies are effective, Wednesday, August 12, 2020.
It is each patron's responsibility to do a daily self-evaluation. If you are running a fever, have a cough, show any sign of sickness or have been exposed to anyone that tested positive for COVID-19, do not enter the Rec Center.
Facility layout has been updated to allow for social distancing wherever possible.
Facility capacity is limited to 65 patrons at any given time (not including staff, Group Exercise classes, or the Climbing Wall).
The Rotunda, Basketball Courts, and Group Exercise Room are closed (Group Ex classes are allowed).
Bring your own water bottle – water fountains and dispensers are turned off.
Bring your UNG Nighthawks Card. Make sure you have an active membership. No day pass or guest pass allowed due to limited facility capacity.
No Equipment check out provided at the front desk. (Example: weight belts, wrist straps, bands, etc.).
The Chalk Bin, Mats, Yoga Balls, Balance Balls, Couch, and Chairs have been removed.
Showers and day-use lockers are unavailable.
Floor markings and signage show which way traffic should flow.
Additional gym wipe dispensers are placed throughout the facility – patrons are responsible for cleaning all equipment used before moving on to the next machine. (Example: bench, barbell, plates, weight clips, etc.).
Hand sanitizer dispensers are placed throughout the facility for patrons to use as they see fit.
The dress code has been streamlined and clearly defined to have less skin to surface contact. Review the updated dress code and the rules and regulations.
Please do not congregate. Please workout and exit the facility to allow for the next patron.
If you are requesting to speak with a Professional Staff member, please request their business card from the front desk to schedule an appointment. Per social distancing guidelines, patrons cannot enter individual offices.
Please understand that our priority is to incorporate safety precautions to protect our patrons and staff. We greatly appreciate your understanding and compliance with these additional procedures.
All of the above (including facility hours) are subject to change based on guidelines provided by the CDC, Georgia Department of Health, USG, UNG and/or industry standards.
About the Rec Center
The Recreation Center opened to students October 13, 2008, after many months of construction and planning. The Student Government Association was the driving force that made this idea a reality, and they have shown this by voting for fees that predominately support the operation of the facility as well as the cost of construction.
All students, faculty, staff, patrons, and guests agree to abide by the Rec Center Rules & Regulations at all times.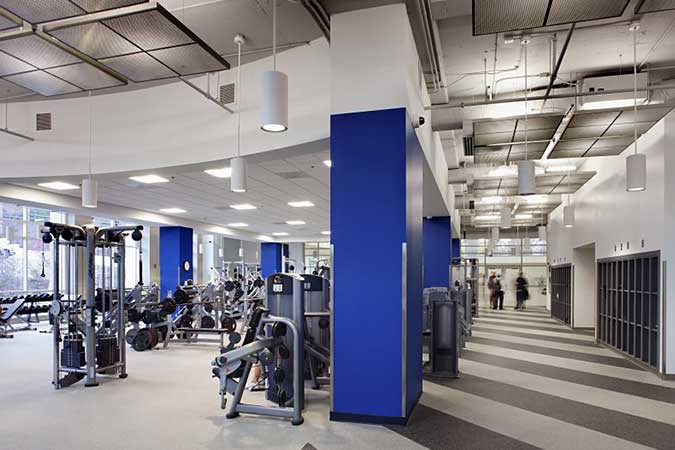 Address
198 Church Street
Dahlonega, GA 30597
Building Attributes
Department of Campus Recreation and Wellness Offices
The Rec Center is home to the Department of Campus Recreation and Wellness offices. They are located through the door to the right after you enter the building.
First Floor Building Attributes
Strength Training
Our Facility has a variety of Life strength training equipment including Hammer Strength with Motion Technology. 
Benches (Incline, Decline, Flat, Bench Press and Adjustable Benches)
Selectorized Machines
Plate Loaded Machines
Cable Motion Stations
Half Racks

 

Arm Curl Benches
Smith Machines

 

Dual Adjustable Pulley Machines

 

Free Weights ranging from 5-100 lbs
Pre-loaded weighted bars
Gymnasium
Climbing Wall & Boulder
The climbing area has limited hours, please see the Climbing Wall Page for more info. 

Wall
33 ft. high
Three lanes wide
Routes are changed throughout the semester
Boulder
10 ft. high
Three pads available
Locker Rooms
Restroom and Shower Facilities
Changing Area
Day Use Lockers (Bring your own lock)
Semester Use Lockers can be purchased through the Department of Campus Recreation and Wellness. Lockers are $10 per semester (cash or check only) and a lock is provided. To purchase a locker, visit the Rec Center back office during University business hours.
2nd Floor Building Attributes
Gender Neutral Restroom and Dressing Room
Cardio Equipment
Treadmills
Ellipticals

Upright Bikes

 

Stair Climbers

 

Summit Trainers

 

Recumbent Bikes

 

Spin Bikes

 

Rowing Machines

 

Octane Total Body xRide

 

Sci-Fit Upper Body Ergometer

 
Other Equipment
Plate Loaded Machines

 

Five - 35 lb dumbbell rack with three benches

 

Back Extension/Ab Platform
Track
1/10 mile track.
Stretching mats and exercise balls to use in the corners of the track or Group Ex Room

 
Ab Area
Weighted Core Balls

 

Stability Balls

 

Back Extension
Stretch Partner
Decline Bench

 

Hammer Strength Elastic Bands

 

Stretch Cords

 

Calf Stretch Platform

 
Table Tennis
Two ping pong tables
Balls and paddles are available for check-out at the Front Desk
Group Exercise Room
One large room or two smaller rooms

 

Shock absorbing wood flooring

 

18 Speakers for uniform, clear sound
Memberships
Students
Currently enrolled students that take the majority of their classes on the Dahlonega Campus automatically pay the Rec Center Fee and have access to the facility.
Students enrolled on other campuses can access the Dahlonega Rec Center by visiting the Business Office and asking them to assess the Dahlonega Rec Center Fee.
Faculty, Staff, & Retirees of University of North Georgia
Full-time, benefited UNG employees can join the Dahlonega Rec Center for a discounted rate. This discounted rate is available for eligible dependents and retirees as well.
Alumni and Community Members
Members of the Alumni Association and Community Members are eligible for Rec Center memberships. Please contact Professional & Continuing Education for more information at (706) 864-1918.
Rec Center Rules & Regulations
Mature and respectful conduct is expected and required at all times. Rec Center Staff has authority over facility conduct and use of equipment. A patron who fails to follow Rec Center rules and regulations may be given a warning. If a patron refuses compliance, the patron may be asked to leave the Rec Center. Failure to comply with requests or disrespect towards staff may result in student conduct sanctions; including suspension of Rec Center access.  
General Rules
Patrons are only allowed in the facility during normal operating hours.
All patrons must swipe their University of North Georgia ID card at the gate upon entering the facility. Only valid patrons with valid ID Cards are allowed in the Rec Center. 
Individuals under the age of 15 are not permitted in the Rec Center. Individuals under the age of 18 must be directly supervised by a parent or guardian.
Rec Center staff shall monitor overall facility conduct, equipment, sound system, televisions, and thermostat.
All bags and personal items must be kept in designated areas. Neither the Department of Campus Recreation and Wellness nor staff are responsible for lost or stolen items. Patrons should report missing items to Facility Staff as soon as items are noticed missing.
Food and drinks are prohibited in the Rec Center. Water or sports drinks in a sealed container or bottle are allowed.
Bikes, roller-skates, and roller-blades are prohibited. Skateboards must be stored in the designated area.
Animals are not permitted, with the exception of trained service animals.
Photography and Videography in the Rec Center requires permission from Campus Recreation and Wellness Professional Staff.
Photography and Videography in locker rooms is prohibited.
Personal Training in the Rec Center can only occur through Campus Recreation and Wellness Trainers.

Any other personal training, whether for pay or not, is strictly prohibited due to safety concerns and to ensure that no state facilities are used to advance private enterprise.

If equipment or the facility is lost or damaged, the patron will be responsible for the cost of the repair.
Patrons must demonstrate courtesy towards others in the facility at all times. To ensure an inclusive environment:

Consistent or excessive yelling/grunting/noise is prohibited. Rec Center staff reserves the right to determine if any noise level is unacceptable.
Use of headphones is required when using a personal listening device.

Respect for equipment, facilities, and staff must be demonstrated at all times. The Rec Center is a place for everyone to feel welcome.
A closing announcement will be made approximately 15 minutes prior to closing. All participants are expected to finish their activity, re-rack all weights, and exit the Rec Center by closing time.
The use of alcohol, illegal drugs or any form of tobacco or vaping is strictly prohibited.
Fitness Area Rules
Patrons are required to use the provided gym wipes to wipe down equipment after use.
There is a 30 minute limit on cardio equipment, if people are waiting.
Bars, weights, and dumbbells must be returned to the proper plate holders or rack after use.
Slamming or dropping dumbbells or weight stacks is prohibited. Always maintain control.
Olympic Lifts are not allowed, including but not limited to, cleans and snatches.
No equipment may leave the facility without prior approval from Campus Recreation and Wellness Professional Staff.
Spotters must be utilized, when necessary, on free weight equipment. Facility Staff may spot if needed.
Weight Clips are required on all barbells with plated weights, at all times.
Immediately report any injury or equipment irregularity to Facility Staff.
Facility Staff is available to assist patrons with the operation of equipment in order to prevent injury from improper usage.

For in-depth training, fitness assessment, exercise prescription, and personal training, please see the Graduate Assistant of Fitness. 
Dress Code
Athletic Attire must be worn in all areas of the Rec Center. Street clothes are prohibited.
Tops or altered shirts must cover the midriff, stomach, ribcage, pectorals, nipples, and back.

Shirts must be worn at all times.
Shirts that have an armpit gap must be less than the palm of your hand.
Shirts must cover full torso and not expose skin below bra line in the back.
Stringers are prohibited.
Mesh shirts are prohibited.

Shorts must cover the buttocks and groin area at all times.
Shoes must have a rubber sole and be athletic in nature.

Sandals, open-toe or open-back shoes, hard-soled shoes, slip-on shoes, Sperry's, Vibram Five-Fingers, and boots are prohibited.

Singlets, full body, one-piece suits, made of spandex, spandex-like material, or tight cotton cannot be worn alone; a t-shirt and/or shorts must be worn in addition.
Clothing with obscene or offensive language, gestures, or slogans is prohibited.
Appropriate support and undergarments are required.
Apparel changes are restricted to locker rooms or gender neutral facilities.
The appropriateness of attire is at the discretion of Campus Recreation and Wellness Staff.
Locker Room Rules
Parents or guardians are responsible for their children in the facility.
Children over four years of age are not permitted in the locker room of the opposite sex and are only allowed in the locker room under the supervision of the same sex parent or guardian.
Campus Recreation and Wellness Staff may assist in checking availability of the locker rooms should other accommodations need to be made.
In some recreation facilities, family changing rooms are available. Please see Campus Recreation and Wellness Staff for availability of these rooms. Should Campus Recreation and Wellness staff not be available, it is the responsibility of the parent or guardian to make arrangements for their child.
Posting Restrictions and Guidelines
All postings must be directed to the Facilities Coordinator for approval.
Commercial advertising is prohibited.
Posters must advertise an event sponsored by a registered student organization or department.
The name of the sponsoring organization or department must appear on the poster.
Limit of one flyer per event.
Postings are only allowed on the designated Marketing Board.