Public Safety Academy (PSA)
Interested in a Career in Public Safety?
The Department of Criminal Justice's Public Safety Academy provides Georgia Peace Officer Standards and Training Council (POST) basic law enforcement certification to students who declare a major in criminal justice and meet all POST mandates and requirements for acceptance into the POST program from the baccalaureate program on UNG's Dahlonega campus.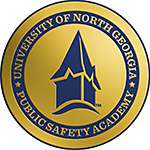 Be Without Fear in the Face of Your Enemies
What Can I Do with a Career in Public Safety?
Federal Agencies
How Does This Program Prepare Me to Go into Public Safety?
Certification through the Public Safety Academy at UNG ensures you will be "job-ready" at graduation. Our academy also provides extensive training including in-service that exceeds far beyond the basic certification requirements. The following certifications are included:
Basic Certification
Basic law enforcement mandate certification (including First Aid/CPR, emergency vehicle operations, and firearms, pepper spray) at the time of graduation with a Bachelor's of Science in Criminal Justice.
Additional Certifications Included in UNG's Academy
Taser certification
ASP baton certification
Patrol rifle familiarization
Standardized field sobriety
Radar/Lidar
"... it gives you more training than just the regular police academy. It gives you more time in the classroom, more time with the firearms, more time with instructors, basically just overall more training that gets you prepared."
Alexis Sutton, '19
Student, career goal to become an FBI homicide detective
 "The Peace Officers Standards and Training Council (P.O.S.T.) is delighted to have had a hand in establishing this unique and dynamic program at the University of North Georgia to train the best and brightest law enforcement officers in Georgia and beyond. With a college degree, P.O.S.T. certification, and your good work ethic and enthusiasm you will be putting yourself on a fast track with any local, state, or federal law enforcement agency."
Ken Vance, Executive Director
Georgia Peace Officers Standards and Training Council
Public Safety Academy Students in Action
Find out more about the Public Safety Academy at UNG!
Questions?
Be sure to check out "Requirements and Application Process" for how to enroll in our program.
You can also reach us by phone or email. We'd be happy to answer any questions you may have regarding our program!