Camp Logistics: Movin' It From Here to There!
Explore college or career options with Camp Logistics
Camp Logistics is designed to help you think about your options after high school, be it going to college or starting a career in one of the hottest areas in business and in Hall County – Logistics.

You will learn about the field of logistics. You will do this by meeting and networking with the experts in the mornings then visiting local companies in the afternoons to see how the industry functions. Lunch is included every day.

Camp Logistics is a 5-day Camp from June 22 – 26, 2020 at the UNG Gainesville Campus.
Requirements
To attend this camp you must be a rising freshmen, sophomore or junior in a Gainesville – Hall County metro high school.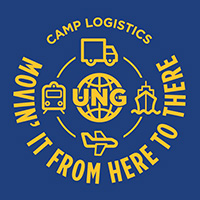 When & Where
June 22 - 26, 2020
9:00 a.m. - 4:30 p.m.
UNG Gainesville Campus
Contact
Tracy Nichols
tracy.nichols@ung.edu
706-867-2190
Why Camp Logistics?
Logistics is growing in significance among business functions and as an in-demand career field.  It has also become a priority in the North Georgia region. With the proposed inland port project and a growing number of businesses operating in the logistics space, there is a need to train the workforce for distribution, transportation, warehousing, and related jobs.
The Greater Hall Chamber's 2020 report on logistics estimates 4,800 direct jobs supported by 80 logistics services businesses. These jobs are likely to be filled by both college-educated and high school educated citizens.

The idea for Camp Logistics is to invite a group of interested freshmen/sophomore/junior students from area high schools and help them learn about the movement of products from around the world to their favorite stores. Thus, the objectives of the program are two-fold:
Camp Logistics offers a glimpse into a fast-growing area that is becoming popular in college curricula and plants a seed for possible entry into the supply chain management (SCM) program at MCCB;
If entering College is not in the students' immediate plans after high school, the Camp offers them a peek at a career pathway in the field of SCM.
Either way, Camp Logistics offers high school students a great opportunity to consider their next steps that contributes to the workforce development initiatives in the region.
The Collaboration
Camp Logistics is a collaborative effort between UNG, Hall County School system, and local businesses or organizations to benefit you:
The Experience
At Camp Logistics you will learn how products and goods are transported until it reaches the store or the final customer. What is involved in planning and coordinating the various transportation options available – trucks, ships, trains, airplanes, etc. 
Camp Logistics is a one-week exploration of the industry and College options with learning activities, games, guest speakers, etc., in the mornings and industry visits in the afternoons.  Field trips include visits to companies such as Kubota, Georgia Poultry Laboratory, UPS, PPG, Wayne Farms, Syfan Logistics, Georgia Mountain Food Bank, etc. where you see the practical side of logistics – packaging, handling, shipping, transportation, and the related functions involved.