Brian Harrin, originally from San Antonio, TX is a graduate of UNG's MAIA program. He said that from his early childhood, he got to travel and experience different parts of the world. He believes this instilled his desire to learn about other cultures and ultimately pursue the MAIA program.
Like other programs, MAIA is offered at countless other schools. We asked Harrin what sold him on UNG's program.
"I liked what I saw as far as what the program consisted of," said Harrin. "I got to talk to Dr. Harris before-hand and ask him quite a bit of questions and compare to other universities and got his feedback. The biggest factors were the online access, 24/7 and the affordability with tuition."
In his last year at UNG, Harrin was looking into the Boren Fellowship. He applied with the help of Dr. Hightower, but unfortunately, did not receive the fellowship. He did not let that deter him and remained determined to broaden his horizons by studying abroad. He chose to study Arabic and found a Department of State affiliated institute overseas – the Noor Majan Training Institute in Oman. Harrin self-funded a trip and was in Oman for one month. Because of the program's 24/7 online access, he was able to continue his classes while learning Arabic.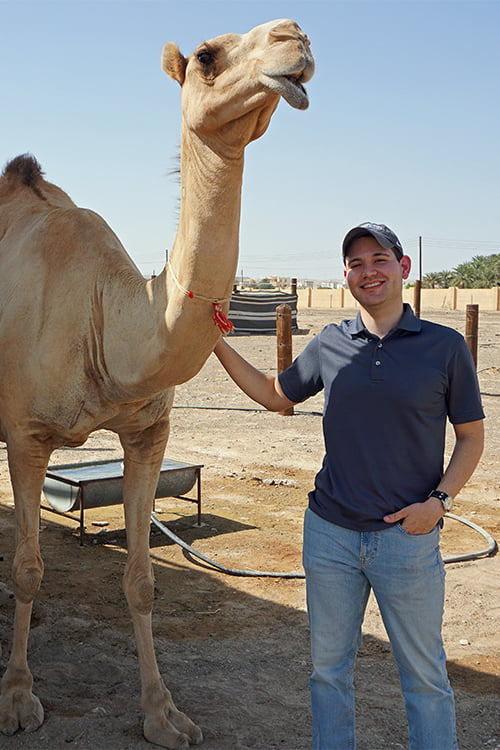 Harrin recently accepted a new job in the intelligence field and he explained what initially got him interested in that field. He told us that during his undergrad time at Texas A&M- San Antonio, he took an elective class called Introduction to Intelligence Analysis and truly enjoyed it.
"Intelligence is a competitive field to get into, especially if you do not have a military background," Harrin said. "It took time and a lot perseverance. With anything in life, you have setbacks and you don't want to give up. You just want to keep pushing forward. Ultimately, it did happen for me and I accepted a very competitive position as an Intelligence Specialist in a developmental program for the Air Force Civilian Service."
Harrin would like to share some advice with future and current students of the MAIA program.
"If you are considering the MAIA program, do your own research, but ask questions like I did beforehand," said Harrin. "My biggest piece of advice is that even though it will be a remote process, because it is an online program, talk to your classmates – you will learn a lot from them. Give your full effort into every paper and assignment you have, because it will pay dividends later on."