CLEP Testing
CLEP Ticket Extensions
Test takers whose registration tickets expired on or after March 1, due to the impact of COVID-19 are elgible to receive a CLEP exam voucher that would allow them to take an exam any time between now and June 30, 2021. Please contact CLEP for further assistance. 
CLEP contact info: clep@info.collegeboard.org | 800-257-9558
College-Level Examination Program (CLEP) tests are computer-based, consisting of five general areas and twenty-nine subject areas, for students interested in earning college credit for material they already know.
CLEP ID Requirements
DANTES Funding
DANTES does not pay the exam fee for a previously funded CLEP exam. Retired service members are not eligible for DANTES-funded CLEP testing; however, they may be eligible for reimbursement for CLEP exams and administrations fees. Authorized Reserve component spouses are also eligible for DANTES-funded CLEP testing. DANTES will no longer fund CLEP exams for spouses and civilians of the Air National Guard.
Retest Policy
Candidates may not repeat a CLEP exam of the same title within three months. Scores of exams repeated earlier than three months will be canceled and test fees forfeited.

A student who has earned a grade other than a W in the course may not earn CLEP or DANTES credit for the course. A student may earn CLEP or DANTES credit for a course in which he/she is currently enrolled provided that the student withdraws from the course no later than the last date in the term to withdraw with a W.
"Freshman Year for Free"
Modern States, dubbed "Freshman Year for Free," is a program that was established to make college more accessible and affordable. The courses prepare students for introductory CLEP exams in Economics, Sociology, Algebra, and other areas. 

There are no prerequisites for the 32 courses that will be offered, and all of them are self-paced. After you complete the coursework and practice questions, request a CLEP voucher code from the Modern States website.
What to Expect
✔ You must provide a valid government issued photo ID and CLEP ticket.

✔ Your name on your registration and your name as it appears on your identification must match exactly.

✔ If you arrive fifteen minutes after your scheduled appointment time, you may not be allowed to test.

✔ Calculators are NOT allowed in the testing lab, there is a calculator built into the test for your use. 
 
✔ Scores will be provided immediately.
✔ Length of Exam: 90 minutes/120 minutes – College Composition.
Resources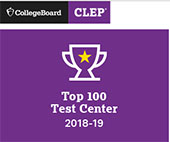 Register for Your Exam
Step One: Pay the CollegeBoard CLEP Fee
Pay the CLEP fee of $89.00 by visiting College Board's website.
Step Two: Pay Administration Fee 
Pay your $35 administration fee payable by credit/debit card via RegisterBlast. All testing fees are non-refundable and non-transferable.

Note: You must use a different web browser other than Internet Explorer.
Dahlonega Testing Center
Dahlonega Campus Test Dates
Monday, June 29, 2020 - Canceled due to College Board Maintenance
Tuesday, June 30, 2020
Thursday, July 9, 2020

8:30 a.m., 10:30 a.m., 1:00 p.m.

Monday, July 20, 2020

8:30 a.m., 10:30 a.m., 1:00 p.m., 3:00 p.m.

Thursday, August 20, 2020
Gainesville Testing Center
Gainesville Campus Test Dates
Friday, June 12, 2020
Monday, June 22, 2020

9:00 a.m., 10:00 a.m., 11:00 a.m., 1:00 p.m., 2:00 p.m.

Friday, June 26, 2020
Tuesday, June 30, 2020

9:00 a.m., 10:00 a.m., 11:00 a.m., 1:00 p.m., 2:00 p.m.

Monday, July 27, 2020

9:00 a.m., 10:00 a.m., 11:00 a.m., 1:00 p.m., 2:00 p.m.

Monday, August 3, 2020
Thursday, August 13, 2020
Tuesday, August 18, 2020
Oconee Testing Center
Oconee Campus Test Dates
Wednesday, June 24, 2020

8:30 a.m., 10:30 a.m., 1:00 p.m., 2:30 p.m.

Thursday, July 9, 2020

8:30 a.m., 10:30 a.m., 1:00 p.m., 2:30 p.m.

Tuesday, July 28, 2020

8:30 a.m., 10:30 a.m., 1:00 p.m., 2:30 p.m.

Wednesday, August 5, 2020
Thursday, August 20, 2020
Tuesday, August 25, 2020